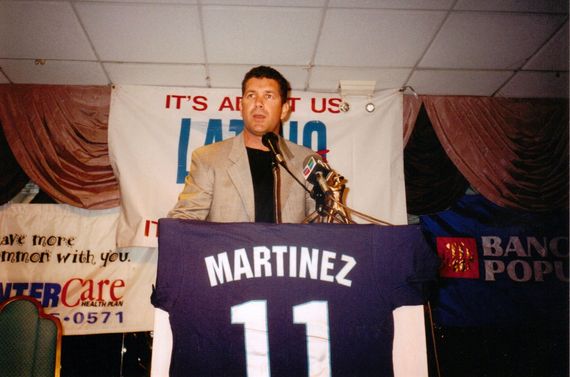 Though Christmas and the Holiday spirit might be over in the states, here in Puerto Rico the holiday spirit only gets stronger as it approaches one of the most popular holidays on the island, Three Kings Day on January 6th, 2014.
On this day Santa Claus takes a back seat as families exchange presents and children of all ages take in more gifts than on the 25th of December. Thus, many in the sports world wonder out loud if the Three Kings will bring retired slugger, Edgar Martínez his greatest gift, induction into the Baseball Hall Of Fame on January 8th when the inductees will be announced?
There is very little argument that this former Seattle Mariners slugger is considered the greatest Designated Hitter of all time. His .312 lifetime batting average is the highest of all designated hitters followed by Paul Molitor with .308. His on base percentage of .418, 2,247 hits, 309 home runs, 1,261 RBIs, his 11 Silver Slugger awards and his LatinoMVP award in 1995 definitely make Edgar a reputable candidate over the contention of some that a designated hitter does not play defense, therefore, not a complete player. However, the fact that Major League Baseball named the best designated batter award the Edgar Martínez Award speaks volume to the fact that a designated batter is as much part of the overall game as any other player, even if it's just in the American League.
Unfortunately for Edgar I don't believe that the Three Kings will bring him this much sought after award this year. Especially when this year's list include Greg Maddux and Tom Glavine two 300 game winners and six Cy Young awards between them. In addition, this years ballot includes popular names like, Kenny Rogers, Mike Mussina, and Frank Thomas. In addition, this year's ballot will once again have a few players that were involved in the steroids scandal like Barry Bonds, Roger Clemens, Sammy Sosa and Rafael Palmeiro.
I believe Edgar will eventually be inducted before his eligibility expires in 2024 when more National League sports writers begin to see the value of the designated hitter in baseball.
What do you think?