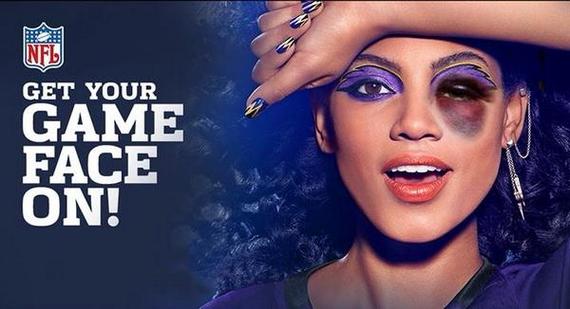 When football season rolls around, some of the biggest fans of this sport are my female friends and colleagues. Whether it's strategically selecting their line-up for fantasy football or tailgating at a Miami Dolphins game, women are die-hard fans of this American pastime.
I'm personally more of a baseball and basketball fan, someone who strictly watches the Super Bowl for the commercials and half-time show. But when it comes to women and football, the numbers speak for themselves. Women make up an estimated 45 percent of the NFL's more than 150 million American fans. Female fans represent the league's biggest opportunity for growth. Not to mention, would mothers want their boys to grow up and play football when violence is accepted on and off the field?
It's so disturbing to me -- as it is for so many people -- that the issue of domestic violence, which has been prevalent in NFL, has been benched for way too long. This, of course, changed when we all watched the horrific TMZ video of Ray Rice knocking out his then-fiancée -- now his wife -- Janay Palmer in an Atlantic City casino hotel elevator back in February. Left with no choice, the Baltimore Ravens cut Rice and the NFL suspended him indefinitely.
NFL Commissioner Roger Goodell called the video "sickening" and claimed that neither he nor other league officials had previously seen it. Really? I highly doubt that he failed to watch the video in its entirety the first time it was released. And wouldn't the unconscious Palmer lying outside the elevator be enough to get Rice suspended?
Fortunately, women are challenging the play. They are hitting TV shows, radio programs and advertisers to raise awareness and hit the NFL where it hurts more -- in their pocket. Case in point: CoverGirl, the "official beauty partner of the NFL." The cosmetics company recently launched a football-themed campaign, touting eyeshadows and makeup looks to coordinate with teams' colors. Well, the campaign became a protest tool when a Photoshopped version of the Cover Girl model with a black eye went viral with the hashtag #GoodellMustGo.
Women helped NFL revenue top a record $9.5 billion last year, and Nielsen data shows women have grown to represent more than a third of the league's average viewership.
Whether Goodell is guilty of a cover-up or not, female fans represent a huge segment for the NFL and the bottom line is that it needs to change the playbook for women. Advocacy groups are putting major pressure for him to resign.
Additionally, in light of the Rice scandal, the NFL just announced the creation of a team of four women to address domestic violence. They tapped one of its female executives to run a "social responsibility" team and hired three domestic violence and sex crimes experts as advisers.
While this might be too little, too late, at least it is a start.