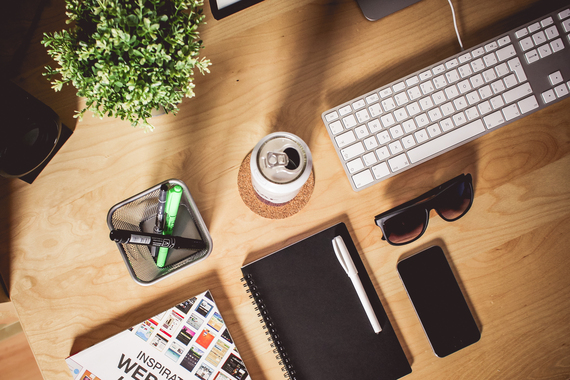 Strange things are happening since Arianna Huffington came into my life. Six weeks ago I registered for the Thrive O Course and now I don't recognize myself.
Last week when I left the house to walk my dog, I noticed I didn't have my cell phone. So what, I thought. I can take a walk without my phone. My heart wasn't pounding. I walked my dog without my phone, and I was fine. I saw trees bursting with color. The same trees have been blooming for weeks, but I hadn't noticed.
I'm a last-minute rusher and a terrible time manager. I'm usually late which gets my heart pumping as if I'm in a 10 burpee set. Oddly, this past week I've been ready on time. No rushing. No craziness. Just calm, cool, and ready to go.
Marie Kondo's Japanese magic came into my home. I've Kondo'd my drawers, given away bags of clothes, papers, and magazines that do not "spark joy" within me, as Marie recommends in her book. She's right. I feel light and free. That junk that I thought I loved weighed me down. It was silently whispering nasty "shoulds" in my ear. My clothes, papers, and magazines were telling me I should lose weight so I can fit in that shirt again. I should return that outfit with the tags still on it. I should read the magazines, stop making paper piles, and stop being such a messy person. It was a joy to get rid of them.
The biggest surprise of all is that I delete all unimportant emails immediately after opening them. Now I have to work on the 10,142 unread emails in my inbox.
Do you want to know what happened to me? Arianna Huffington's Thrive O Course is transforming me and I didn't realize it. I listen to the weekly lesson, watch the videos, and track my actions. The pièce de résistance is the Thursday night calls when Arianna shares her experiences, wisdom, and program for a healthy, productive, and joyful life.
THE GOOD LIFE
My mother's wise words are no longer alone in my head. Arianna's mother is whispering beside her. I see her in the kitchen stirring moussaka, asking her daughters, "What is a good life?" It was only recently that Arianna discovered the answer, "A life in which you thrive."
Ancient wisdom defined success as being happy with whatever you have, to have purpose and meaning in your life.
In today's world, the definition of a good life has become distorted. Success is based on your salary, your house or how high you climb the corporate ladder. And women are climbing higher breaking through the glass in the ceiling. Unfortunately, our physical needs combined with societal pressure has taken a toll on our values, perspective, lifestyles, and wellbeing.
YOU CAN BE SUCCESSFUL AND PRODUCTIVE WITHOUT BURN-OUT
Exhaustion has become a badge of honor, simply regarded as the essential price of success.
Your performance is judged on how many hours you stay late at the office. You stare at a glowing blue rectangle all day and night. Cell phones are flashing lights glaring in your face all day and night. The dinging notifications cause an urgent feeling inside you. You've become accustomed to responding immediately to every ring, ding, and chime like an emergency room doctor always on call. Stress is a state of being.
It's not just you. It is happening to everyone. Stress is taking its toll on our lives. Sadly, we don't recognize it. If we're not burnt out, we're not good enough. We get ahead if we stay late and answer emails at 1 a.m. It's time to change... to be good without burning out.
According to Belgian philosopher, Pascal Chabot, burnout is "civilization's disease. It is also a disorder that, like a mirror, reflects some excessive values of our society."
RENOVATE YOUR LIFE
Change is never easy. You want to stay in your comfort zone, even when it's uncomfortable. You like what you know. "Maybe the hell you know is a lot better than the one you don't," to quote Nora Ephron. However, change is easier when you have a supportive how-to program to follow. Enter the Thrive O Course.
As the lesson says -- wake up before your wake call. You don't have to wait for a giant life shock to initiate change. Yes, it is possible. You can create change before your life forces you to change.
WRAP UP
Start auditing your life. Don't hit the snooze button when the little warning signs appear. Don't travel on Heart-Attack Highway or Stress City. Check in on yourself. Be present within your body. Become self-compassionate. Be self-aware. Make time to start loving your life.
As Arianna says, "Small changes, microscopic steps, can make a big difference."
What microscopic step will you take today to create change?
Follow me as I blog the weekly lessons in the Thrive O Course.
The next lesson: Sleep Your Way to the Top.
All the content above is based on the Thrive O Course and the Thrive book, and of course, Arianna's mother.