The past month has been fairly busy for me and my work fighting against the coal industry. I've traveled all over the east coast speaking at colleges, including Brown university who's board recently decided not to divest from coal. I really hope the students there who listened to me talk about the realities of living in a community of extraction will continue pressuring their institution to do the right thing. After my tour of a few colleges where I spoke and raised awareness about the coal issues in my home state I went to Powershift.
For those who are unfamiliar, Powershift is a conference of a few thousand college students who are interested in climate change or extraction issues. It's a pretty good platform for people on the front lines of fights against whatever extractive industries are poisoning them and their community to raise awareness and support, as well as recruit volunteers and interns. At least that's what it should be for, but from my perspective, and the perspectives of other people on the front lines of extraction it was an event for big green organizations to co-opt the struggles of people from marginalized communities. I mean, sure there were a few token panels and discussions on the front line fights against extraction, but many of them were scheduled at the exact same time.
After Powershift, I returned to West Virginia to set up and get ready for the Mountain Justice fall summit, which was held at the Coal River Mountain Watch volunteer house in the heart of the Coal River valley. We raised huge tents, got the wood stoves going inside them, set up a security station at the end of the drive way, got the outhouses in working order, as well as numerous other things to get ready for almost two-hundred people camping in our yard. I was particularly nervous because at this same event and location last year we were harassed by coal industry supporters who called me out by name and threatened my family. This year though, we only got a few honks. It seems that industry folks prefer more covert and underhanded tactics nowadays, like attempted murder. The fall summit went off without a hitch though, and we took almost everyone there up to the top of Kayford mountain to let them see first hand the destruction of surface mining.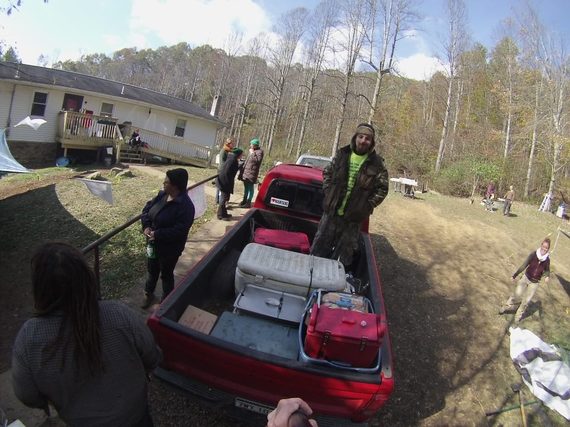 me, at the fall summit
You might be thinking to yourself now "Dang!, why didn't I know about the fall summit before hand so I could go?" To that I say sorry, but maybe next year. Also, I'd say that my friends at Hands-off Appalachia are having an action camp in Connecticut that starts November 19th. The camp will be targeting one of the largest financiers of surface mining in Appalachia, UBS, which is a Swiss bank that only deals with corporations and people with large amounts of money. One final bit of news, my friends in northwestern Pennsylvania are also having an action camp this week targeting fracking in their area. We're certainly giving them hell anywhere extraction rears it's ugly head.