5: Health Impacts From Surface Mining: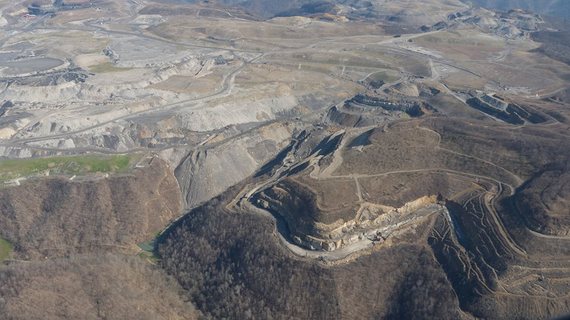 In recent years a number of scientific studies have been released detailing the health impacts for people living in the vicinity of mountaintop removal mines, including high risks of birth defects and cancer.
It wasn't that long ago, up until the '60s and '70s in some places in West Virginia that coal companies owned entire towns. Homes, stores, churches, everything was owned and operated by the coal company. If the people living in the company owned houses lost their job in any way, or were hurt or killed in the mines then their whole family would be out on the street. The workers weren't even paid with real money; it was company scrip, which could only be spent at the company store, amounting to indentured servitude.
3: Surface mining destroys the economy: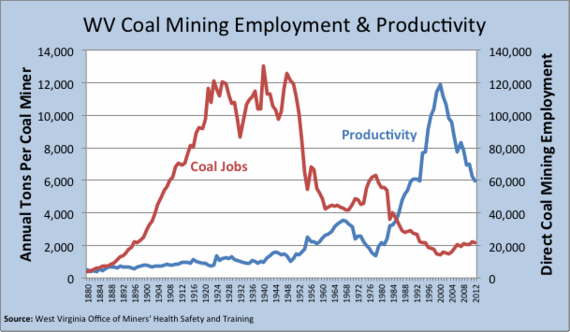 The coal industry's only argument when confronted about objections to what they do is "jobs, jobs, jobs!" While the truth is in the 1980s West Virginia lost more than 36,000 coal industry jobs. This decline wasn't due to any environmental regulation, it was because the coal industry switched from under ground coal mining to highly mechanized large-scale mountaintop removal surface mining. Let's also not forget that West Virginia has a whole economy based around digging roots from the mountains that are being decimated by this practice.
It's also worth mentioning that Alpha Natural Resources is ramping up activity on Coal River Mountain, the last intact mountain in the Coal River watershed. This summer they will be destroying previously untouched forest, some of the most biologically diverse forest in the world. Any interest in helping us defend this mountain should be directed to Coal River Mountain Watch and the RAMPS campaign.
2: The Battle of Blair Mountain and the Mine Wars: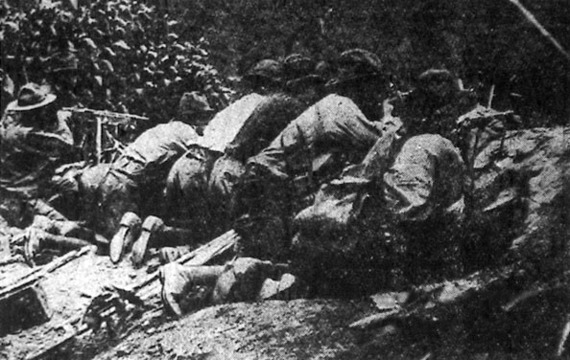 In 1921 over 10,000 coal miners took up arms and marched from Charleston West Virginia, they were on their way to Mingo West Virginia. They were met on Blair mountain by deputies in machine gun bunkers. A five-day battle ensued, the largest insurrection in United States history since the civil war. On the fifth day the U.S. army was brought in, they dropped bombs from planes on the coal miners. this was followed by decades of bloody strikes and struggles through West Virginia's coal fields.
1: West Virginia Is a Resource Colony: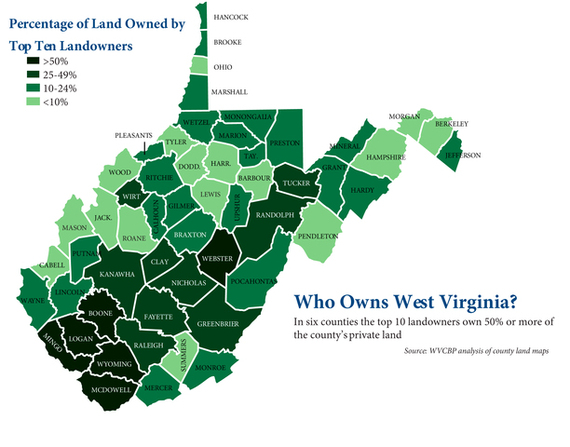 For the past hundred years the majority of the land in southern West Virginia has been owned by large corporate interests. Literally 98 percent of the land in Boone county is owned by land holding companies. (Which happen to have very lucrative leases with coal companies.) This has the added effect of keeping people from hunting, digging roots and finding delicious morel mushrooms to eat.
If you want to help resist coal company repression, and hopefully save a few mountains, there are a number of groups you should check out including the RAMPS campaign, Coal River Mountain Watch, and the Keeper of the Mountains foundation.