The major problem we have today in the social space when it comes to measuring influence is that we do not yet have a solid definition of what online influence is. Real influence is not based on just celebrity or popularity.
Marketers already have plenty of tools at their disposal that claim to measure online influence, but all these tools really do is measure awareness. True influence is the ability to change behavior. When someone hits "like" on Facebook or retweets a message that may be a sign of agreement or interest, but it is not necessarily an indicator that any behavior has changed.
In addition to their failure to define influence properly, current measurement methods do not take into account that the flow of information itself is constantly changing, or that influencers can change from one topic to the next. They also do not consider the ability of people in a network to make a decision or create relationships. These companies believe influence can simply be boiled down to a formula of how many people are following or liking a specific person. For a potential consumer to take an action based on information a marketer puts out to the social media universe there must be commonality on which to build a relationship. But is it possible to predict which people in a particular sphere of influence will take an action and move a message forward?
A new enterprise technology company out of Portland, Oregon says they have the answer to helping brands achieve a more meaningful and exponential reach through behavioral analytics. Tellagence developed a product that can help analyze conversation relationships in social media. This concept is truly unique in the social media world and unlike the offerings of Klout, Kred or Traackr, it may actually be helpful. While still not a tool that specifically measures influence, Tellagence can help marketers find potential relationships that could exponentially expand their influence.
Tellagence rolled out its first product, Tellagence for Twitter, at DEMO Fall 2012, the Launchpad for emerging technology, and received strong reviews. Matt Hixson, CEO and co-founder, says his predictive social marketing analytics tool can accurately predict the flow of content on social networks. His product is not necessarily seeking to find who has the greatest number of followers, but looks to point out those who have the greatest potential to pass along your information.
Tellagence begins by understanding a brand's objectives and building a contextual network around them. In Figure 1 the gray area represents the network a marketer would like to reach, with the blue areas indicating the current brand advocates.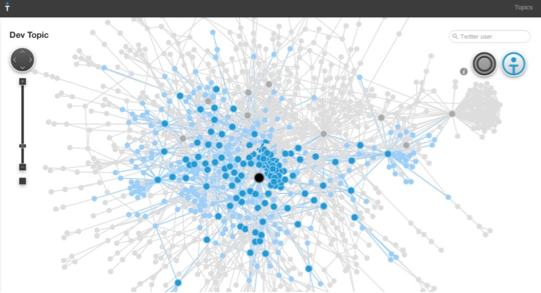 Tellagence can then predict how much bigger a network could grow and what combination of potential advocates will help a brand get there, as seen in Figure 2.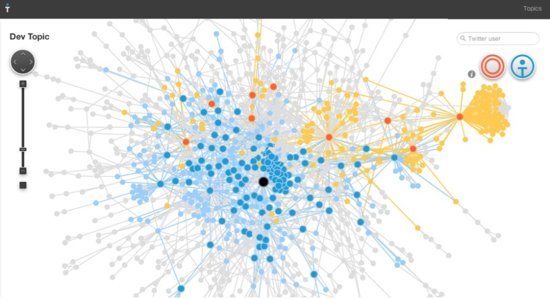 Most importantly, the product helps the marketer understand who the potential advocates are talking with and what they are talking about amongst themselves. This information can be used to build new relationships. As seen in Figure 3, Tellagence can actually recommend the top ten relationships for the marketer to pursue to strategically strengthen its network.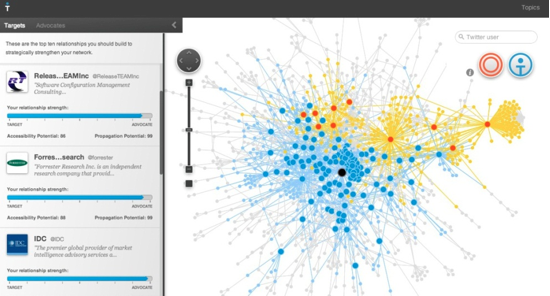 Imagine how powerful this information could be. Instead of identifying the so-called top social media influencers and trying to motivate them to say something about a brand, product or service, a marketer can go directly to those who might already have an interest and are more likely to pass the message on to their followers. Communicating the right message to the right people builds the relationships that can inspire engagement and change behavior. Targeting a message to the right group of relationships is much more powerful than mass marketing to as many people as possible. This ability can enable marketers to maximize the impact of branding messages and campaigns.
By using Tellagence to focus on genuine relationships that are willing to take action and advocate on a brand's behalf, marketers can finally begin using social media as a personal communications tool. More needs to be done in terms of anthropological understanding and behavioral analysis, but this is a great step forward in the world of social media marketing.
While it still may not be able to tell marketers who the influencers are, Tellagence for Twitter is a great way of finding targets and advocates that can help increase their reach. Once it has helped to identify the potential movers and shakers, it is up to the marketer to use this knowledge to build those relationships and strengthen its network. If they can take us away from the notion that influence and popularity are interchangeable concepts and make us think about digging deeper into online relationships, then Tellagence really will be the next step in social marketing intelligence.
As a matter of full disclosure: I do not have any professional affiliation with Tellagence or any of Tellagence employees. I am not receiving any financial benefits from Tellagence. The opinions stated in this post belong solely to me.