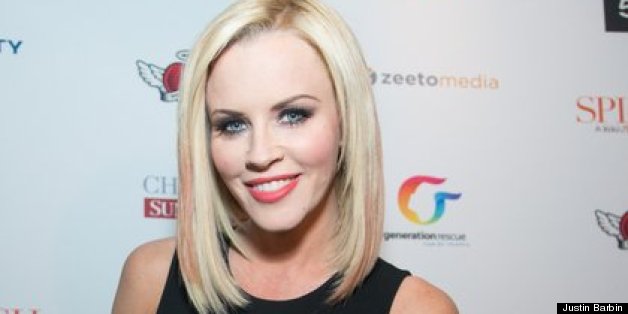 The red carpet rolled out at Studio Paris nightclub in Chicago for Jenny McCarthy and a sold-out crowd, as the model, actress, talk show host, and author hosted the Sixth Annual Rescue Our Angels fundraiser for Generation Rescue. McCarthy is president of Generation Rescue, the leading national organization providing hope, information and immediate treatment assistance to families affected by autism spectrum disorders. Rescue Our Angels, founded by Chicagoans Pete and Michele Doyle, is an event that aims to raise awareness of autism and generate funds to support families dealing with an autism diagnosis. Just six years ago, the Doyles threw a small party in the Loop to educate their friends about their daughter's autism diagnosis and raised $8,000 for the autism awareness charity, Generation Rescue. Last year, thanks in large part to the Doyle's supportive family and friends, Rescue Our Angels raised a staggering $100,000.
As guests sipped champagne and enjoyed Paris Club's finest hors d'oeuvres, McCarthy shared about her family's autism journey and made a big announcement: Generation Rescue, which has provided medical grants to a record-breaking 400 families to date, is launching a new campaign to raise $1 million and reach an additional 400 children by December 31, 2013. McCarthy also honored Rescue Our Angels founders Pete and Michele Doyle with an honorary award at the event, which featured a live and silent auction and special musical guest vocalist Madi Wolf. VIPs at the celebration included Jacqueline and Chris Laurita (The Real Housewives of New Jersey), Doug Clerget (The Bachelorette), Alexis Wineman (2013 People's Choice Winner, Miss America) among many other notable Chicagoans.
Alexis Wineman, the first autistic contestant to compete at the Miss America Pageant, shared words of advice to children living with autism as she greeted the media on the red carpet, "I want to tell them to accept themselves. Autism can be a life adventure if they want it to be, but they have to open the door to get out of their comfort zone. Never underestimate yourself. No matter what your challenges are nothing is stopping you from trying."
A rousing live auction was the highlight of the event with the highest bids of the night going towards a trip to NYC to attend a live taping of The Jenny McCarthy Show. The successful evening raised more than $200,000 for Generation Rescue's treatment and support programs.
For more photos on Chicago culture and events visit: www.ChicagoHooked.com and www.JustinBarbin.com.