I am currently on vacation with my wife on the West Coast. Obviously it is not a complete vacation because I am doing some work while I am here, but unfortunately that is the reality for a lot of us. The upside is that it has forced me to think a lot about incorporating a better work life balance into my schedule.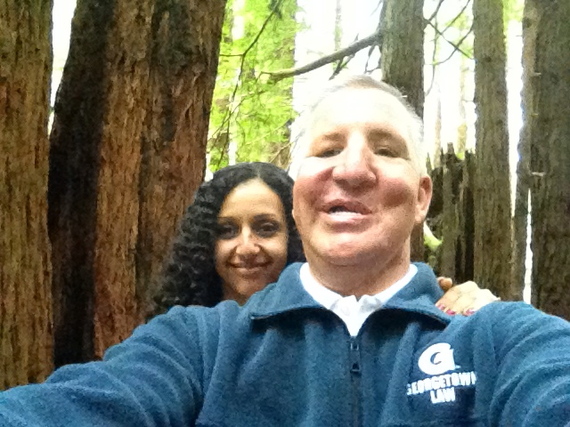 On our way out here I talked with my wife about trying to do some yoga in the mornings. I have read a number of articles about the benefits of yoga for men and for wounded warriors, but have yet to really attempt it. However, after our visit to The Refuge in Carmel, I am now firmly committed to establishing a healthy and holistic work life balance, and I recognize that it will take personal leadership to make that happen.
This is not an infomercial for The Refuge, but since our afternoon there was such a refreshing experience, I want to quickly elaborate on it. First off, it is an outdoor spa that includes a steam room, a sauna, various sunny sitting areas, and a number of pools that range from frigid to hot. Also, nobody is allowed to talk there, so it is completely silent. Whether you want to or not, you will silently contemplate what is going on in your life, address your challenges, analyze your successes, and think about your priorities. You will also just relax and think about nothing at all.
Moving from the steam room to the sauna to the cold pool to the 104-degree hot tub not only left me feeling clean, relaxed and with a renewed sense of energy, it also left me wondering how I could incorporate something like this into my daily life. Just like with anything else in life and business, I have to take charge of this plan or it will never happen. Here are some of my ideas:
1. I already exercise fairly regularly, but I will also include various classes, such as spinning and abs, in my regimen because I work out harder in a group environment.
2. Before I start work in the morning, I will spend time in quiet solitude. If nice weather permits, this will be in my back yard on my patio. This will be a short period of reflection and contemplation, where I will think about what I want to accomplish that day, and what my immediate and long-term goals are. Once I start working, I simply won't have an opportunity for that meditation.
3. I will start taking some yoga classes. Not only will the physical health aspect of yoga be good for me, especially since I am not very limber, but the mental aspect will help too. One thing I learned during my recovery after being inured in Iraq is that our mental outlooks are so important to our successes (as well as our downfalls), and yoga certainly helps with that.
4. I will pick a time to stop working. I run my own business and work from home, and therefore I don't have a "typical" work schedule. It is not unusual for me to send emails late into the evening, but I don't know how helpful that really is. My goal will be to stop working at 7:00 PM, and to make a list of everything I want to get done the next day. That way my brain will think about those things while I sleep.
5. I will ensure that the way I spend my time truly matches up with my priorities. For example, if I determine that my top three priorities are my family, my business, my continued recovery from my injury, but I spent half of my day responding to incoming emails, I will never make any progress. Therefore, I will take the time to list out my top three to five priorities, and included therein my short and long-term goals. I will then write out how I can best focus on those priorities and achieve my goals, and structure my schedule accordingly.
I hope some of these ideas resonate with you or encourage you to make your own lists and action plans. If you have already done so, or have any further suggestions, I would love to hear from you here.