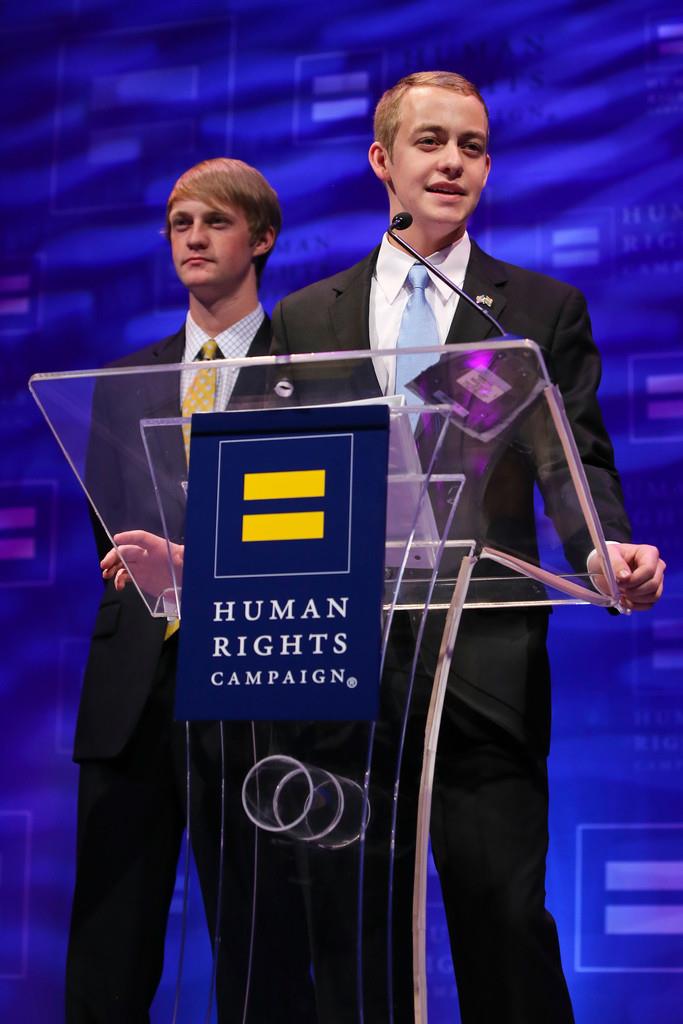 No one likes a long wait. However, we find ourselves anxiously awaiting the U.S. Supreme Court's decision on California's Proposition 8. This possibly landmark Supreme Court case could potentially shift the momentum behind the gay rights movement.
Though colloquially referred to as "the Prop 8 case," the full case name is Dennis Hollingsworth, et al., Petitioners v. Kristin M. Perry, et al. As the record reflects, Kristin "Kris" Perry and her partner, Sandra "Sandy" Stier, filed suit against multiple California state officials, including then-governor Arnold Schwarzenegger, in response to the denial of their marriage license as a same-sex couple.
However, the case record doesn't reflect the Perry family's many contributions to the fight for equality outside the courtroom.
A recent high school graduate, Spencer Perry, son of Kris Perry and Sandy Stier, has already proven himself to be a member of the next generation of young civil rights activists. Though Perry was only in eighth grade when California passed Proposition 8 in November 2008, he sought to play whatever role he could in the fight for marriage equality.
Today, Spencer Perry continues to support his parents' courtroom battle by taking advantage of every available opportunity to get more involved in social activism and outreach.
Perry explained that he has two personal goals to which he directs his contributions, the first being the legalization of same-sex marriage throughout the United States, and the second being the complete integration of LGBT relationships in greater society.
Many years may pass before America realizes these goals. When asked if he took the opinions of others any more personally because of his proximity to the Prop 8 case, Perry highlighted the instances when he came into contact with individuals who possessed divergent opinions.
"[I] find that it has always been healthy to keep in mind that everyone comes from a different background and environment," he said. "[As] much as I may disagree with their views, I respect their right to them all the same."
The fact that his parents couldn't marry had always been his reality. Perry has never known anything else. Because of this, Perry hasn't always been able to exude such patience for others. Over time he's learned to empathize with those who posses contrarian viewpoints.
"When I was younger, I had a great deal of difficulty coping with homophobia and homophobic comments made by others," explained Perry.
Disregarding the social awkwardness, Perry would often find himself asking if friends and strangers alike would refrain from using "faggot" and "gay" in the pejorative sense of the term. He further explained to me how, today, he opts to hold his tongue when confronted with similar situations. But he doesn't cease to take offense with these illustrations of hate.
"The difficulty isn't that I feel that people in my community are homophobic; it's that such [derogatory] terms are socially acceptable and don't have the same connotation for heterosexual people as they do for gays and lesbians," he explained.
Spencer Perry's contributions have evolved from discussions in the hallways at school to press conferences during daytime news. When given the opportunity, Perry shares his views at nationally aired press conferences, and at events hosted by the Human Rights Campaign (HRC).
It truly is a family effort, explained Perry. In addition to his parents, Kris and Sandy, who are both heavily involved in the court case, his twin brother, Elliott Perry, participates in many of the same events, functions, and conferences that he himself attends.
Contrary to what one might assume, the Perry family has maintained a great deal of normality in their day-to-day lives.
"Excitement comes in waves, typically focused around when a major development is made in the case," Perry said.
This Supreme Court case has been many years in the making. But however arduous one might view this fight for equality, the experience has given Perry a profound faith in the ability of a small group, if not an individual, to effect change.
When asked if he felt at all as though his family had to speak on behalf of all gays and lesbians in this larger fight for equality, Perry responded "no."
"Our family doesn't pretend to represent all gay families," he said. "My parents are simply two people who hope for their civil right to marry -- and we believe many others share that hope."
Many of those who have interacted with Spencer Perry -- or any member of the Perry family -- have come away feeling inspired. Perry noted that this doesn't add undue pressure as much as it emphasizes the necessity to make a conscious effort to avoid offending anyone's beliefs when in public settings.
But this consciousness is finely masked by Spencer Perry's confidence. He's never been shy in sharing his views.
When asked what he sees as the largest takeaway from the case, Perry directed my attention to the broader picture.
"The takeaway is that human rights deserve protection, and it's up to the citizens and the government working together to enact change," he said.
As he transitions to college in D.C., Spencer Perry hopes to remain actively involved with HRC. He further explained that his fight for equality does not end with the Supreme Court's decision in his parents' case.
"I hope to continue to fight for equal rights well into my professional career [in] whatever capacity I can," he shared.
As for the time being, the Perry family -- and with them a nation -- awaits the Supreme Court's decision, which is slated for release this month. Until then, Spencer Perry predicts that home life will continue as usual, and that his family's efforts to create a more equitable society will continue.