It was 5:30 p.m., and Tamara was rolling a few hours late. She had been riding since 6 a.m. She had texted us earlier in the day to report an injured rider and her delay. She was sweaty and exhausted. I asked my friend, out lesbian and former supermodel Honey Labrador, to check her phone to see if there was an update from Tamara. Nothing yet.
We came to Ventura with another gay-mous friend on Day 6 of the seven-day AIDS/LifeCycle Ride to End AIDS benefitting the San Francisco AIDS Foundation and the Los Angeles Gay and Lesbian Center, to welcome our friend and join the evening's candlelight vigil. But it turned out to be more than a visit and vigil. Much more.
As we made our way to the Day 6 finish line, we saw a half-full box of cowbells on the ground for friends, family and fans to welcome the riders with ringing fanfare. There were only about 10 people when we arrived on the bike trail located on the sandy dunes of Ventura Beach, Calif. We settled into our standing position when something profound happened: We all looked at each other and were overwhelmed with emotion as tears began to well up in our eyes. We talked about the amazing success of the ride after learning how much money was raised to fight a disease that continues to take so many lives in our community and around the world.
As I spoke with my friends, we spotted bikes of riders heading our way and started our collective and authentic show of appreciation. Screaming "thank you!," "heroes!" and "welcome to Ventura!," the riders seemed to appreciate our sincerity and drove their bikes to our side of the trail to give us high-fives.
Our other friend, Ant(the comedian), began having fun with our welcome mission and lightened the mood by declaring to the riders, "Breaking news! The good news is we have quinoa! The bad news is they have extended the ride to Guatemala!"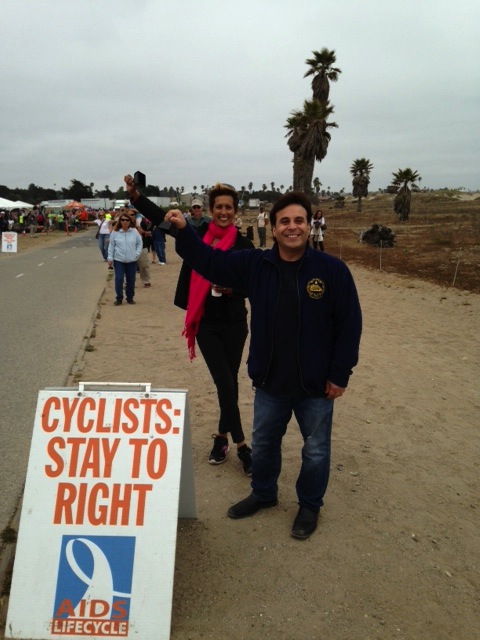 Honey Labrador and Ant welcome riders in Ventura, Calif.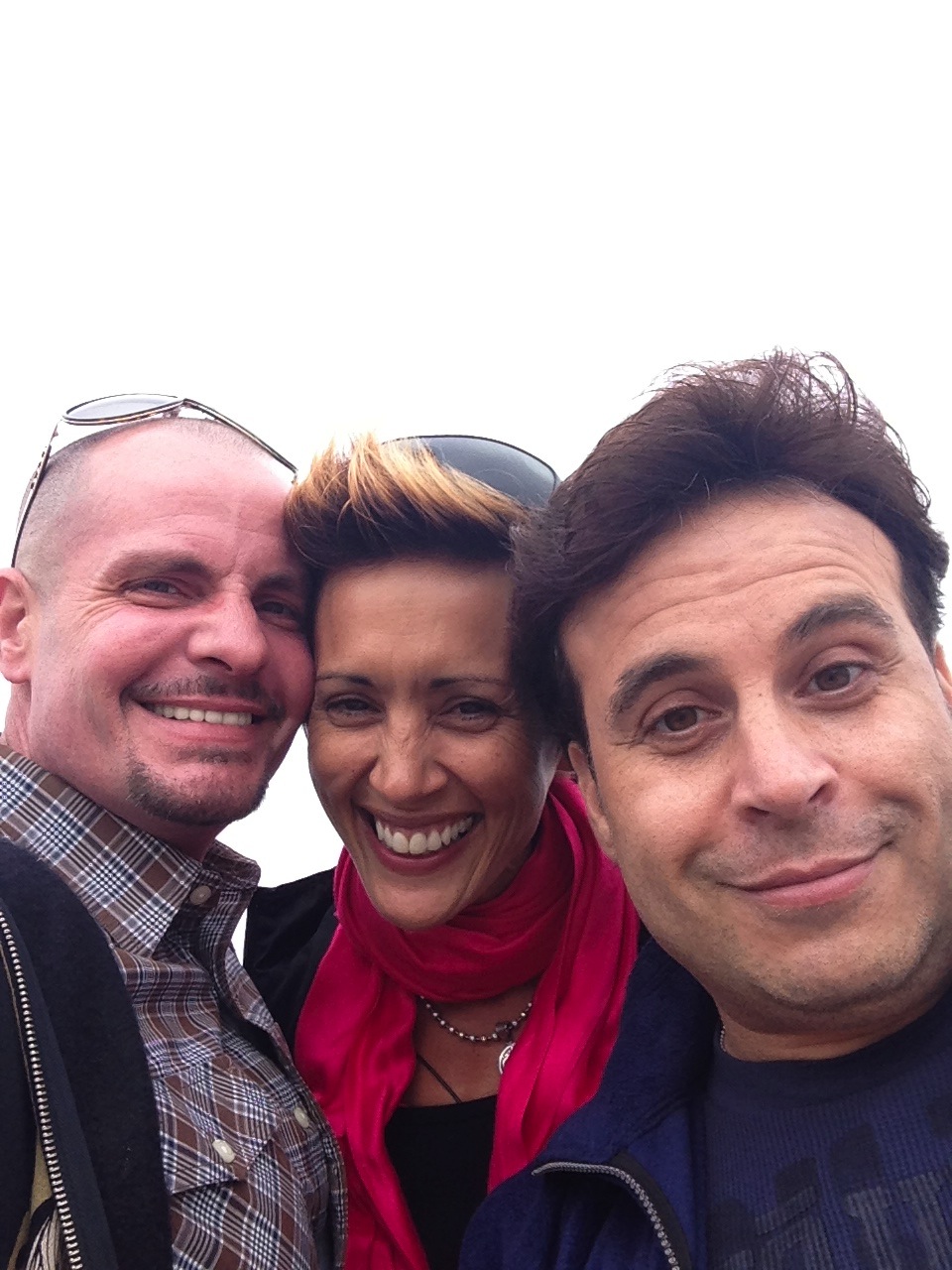 Justin Reed Early, Honey Labrador, and Ant
We all looked at each other and laughed, knowing we were right where we were suppose to be -- in that very moment -- honoring and supporting some pretty awesome people who stood taller than most and who literally shed more blood, sweat and tears during this one ride than most people will in a lifetime.
But the reality of what they were riding for and had accomplished and, most of all, the struggle we still face was very much in our hearts and minds. Here are some of the staggering numbers:
Riders: 2,203
Miles per rider: 545
Total miles: 1,200,635
That is almost three round trips to the Moon (238,857 miles each way).
"ALC broke the record for funds raised to fight HIV/AIDS, $14.2M, and also raised awareness that AIDS is not over," said Neil Giuliano, CEO of the San Francisco AIDS Foundation. "We rode on behalf of all lost to this disease and will ride till AIDS is no more." Mr. Giuliano was also a rider and came in sixth place, fundraising over $38,500 for the two beneficiaries. It was his third ride.
One of the many proud HIV-positive peddlers, Tom Swan, a healthy man, raised $155,000.01. It was the all-time record-breaking amount raised by an individual rider since the ALC started 20 years ago.
I reached out to our friend Tom, and he told me, "I will try to raise even more next year, but I want to emphasize that this is a 'we' thing, and its success is dependent on everyone involved: riders, roadies, staff, and all the donors. I am proud of my accomplishment but even more grateful to just be a part of this amazing community." Well, we are pretty proud of Tom, and we are also proud to be part of this and his community.
When you add the participants' miles, more than 1 mile was ridden for each American diagnosed with AIDS since the epidemic began (1,155,792, according to the Centers for Disease Control and Prevention). Approximately 636,000 of those diagnosed have died.
My brother George was one of them. Richard, Ant's partner of eight years was one of them. The man who discovered Honey Labrador was one of them. Anyone you know who has died of HIV/AIDS was one of them.
Although HIV infection rates have remained stable in recent years, the amount of incidence among youth, particularly African-American males, has increased significantly. The CDC estimates that of the 4,900 documented infections among young people aged 13 to 24, 45 percent of those were African-American. One in three homeless youth will engage in survival sex and are at high risk for contracting HIV.
Yes, it is still personal, and no, it's not over, not until we end AIDS, not only in America but across the entire world. It's not over, and that is why unless a cure is discovered this year, Honey Labrador, Ant and I will be joining the ride next year (as riders and roadies) so that we can contribute and hopefully ride with some of the most amazing heroes I was so honored to meet, so that we too can help end the epidemic that has ravished our country and stole so many of our close friends and loved ones.
Yes, until AIDS is over, they will still ride. And now, so will we.