Any organization, big or small, has some sort of mission statement that they use to internally and externally promote what they are all about. The Cleveland Indians are no different except we prefer to call them "Guiding Commitments" and there are four of them. These commitments define what we seek to accomplish as an organization.
One of those Guiding Commitments is to positively impact our community. Through this commitment, we have created a program called "Fill the House for Charity," which has just finished its fourth season.
The Fill the House for Charity program provides 12 Northeast Ohio nonprofits the opportunity to raise much-needed funds and the opportunity to raise awareness for their specific cause. Launched in 2009, "Fill the House for Charity" has raised more than $2 million in monetary and in-kind donations for local non-profits.
The way it works is simple. Each nonprofit is assigned a Tuesday night home game. The Indians donate $5 from each ticket sold by the participating non-profit organization back to the charity. Also, $1 from every overall ticket sold for the Tuesday game is donated to the designated charity. The total dollars and in-kind support donated from the 2012 Fill the House program was over $427,000!
The Cleveland Indians were proud to make their largest Fill the House donation in its history this past season to the local nonprofit Guidestone. The mission of Guidestone is to equip and empower children and families to reach their potential and become contributing members of a strong community. A check of $54,097 was presented to Laurel Wirtanen-Siloy, Special Gifts Officer at Guidestone for their fundraising efforts!
"We actually serve over 13,000 kids and families in the area and 90 percent of them are living through the inconvenient truth of poverty. Fill the House for Charity allowed us to empower them with the resources they needed to ultimately improve their lives," Wirtanen-Siloy said about the program.
She continued to praise the program, referring to the dollars raised, stating that "it helped us give hope and faith to people in our community and made children and families stronger in the process."
Along with receiving dollars from their selected nights, the organizations also get the chance to throw out the ceremonial first pitch, attend batting practice prior to the game, stay in a suite for the game, have a concourse presence inside the ballpark to raise awareness for their cause and have an in-game check presentation.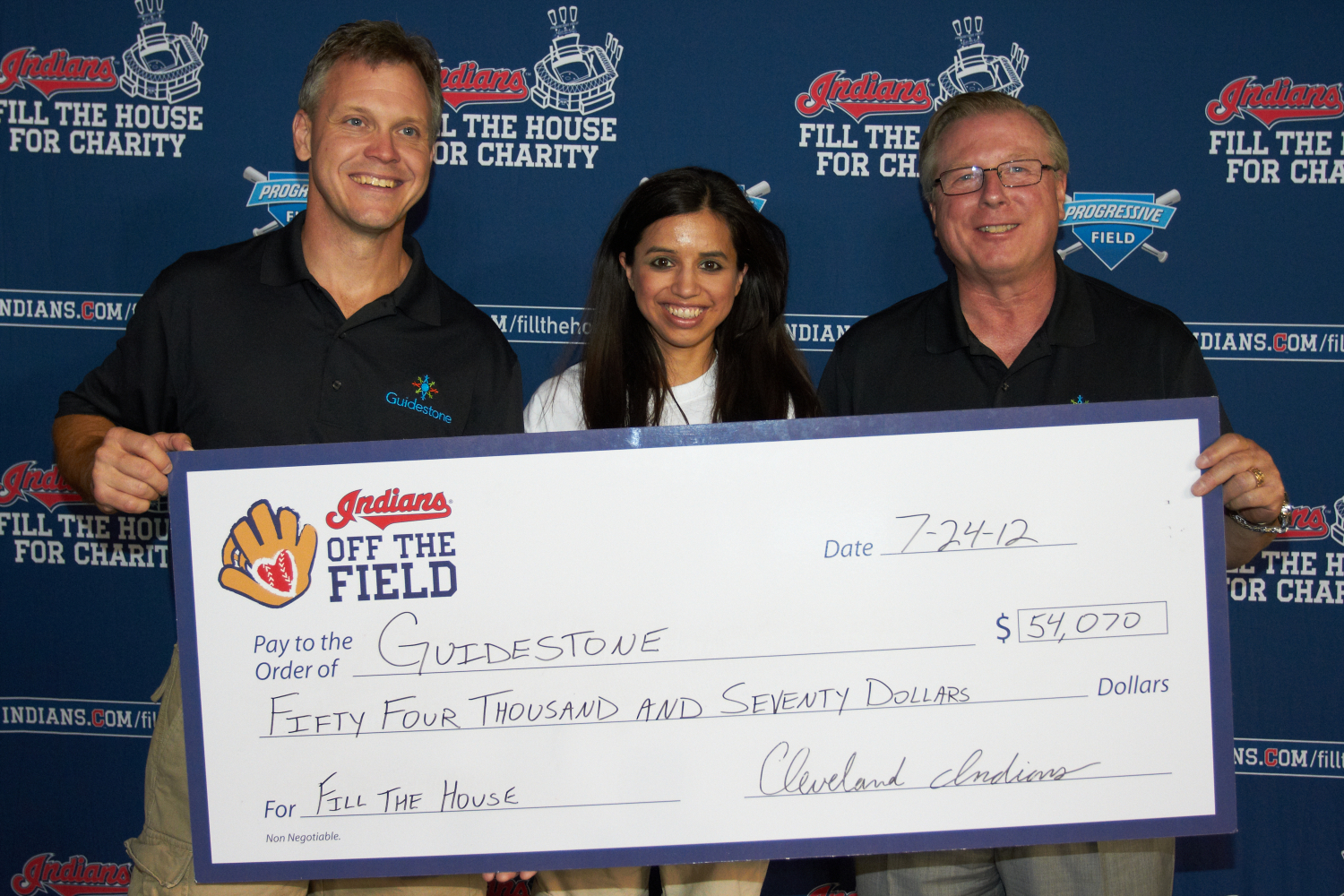 To learn more about the Fill the House for Charity program and the charities involved, go to www.indians.com/fillthehouse. For more information on Guidestone, check out www.guidestoneohio.org