"As a true 4-H'er, I pledge my Head to clearer thinking, my Heart to greater loyalty, my Hands to larger service, and my Health to better living, for my club, my community, my country and my world." -- 4-H Pledge
"4-H is a youth development program for kids aged 5-19 that focuses on agriculture, science, engineering, technology, public speaking and youth leadership."
I can say that sentence off the top of my head without even thinking about it. As a 4-H member for the last seven years, I've gotten used to very quickly explaining my program. 4-H has been around since a partnership between land grant universities and the USDA formed it in 1905, but in today's world, not a lot of people know what it is. Even if they do, they think we just raise cows. As someone who only learned how to show a steer this year, I can officially tell you that our program goes so much further than that.
Just some background on how I ended up bleeding green: I am a Girl Scouts drop-out. It was just never my jam. I sold cookies and moved out. I was a homeschooled 10 year-old with nothing to do and no one to do it with. Then we went to my first 4-H meeting and that was that. This was my place and these were my people.
Let me set a scene for you: 4-H clubs are run by a youth board with usually one or two adult leaders. This is a full partnership. The adults are not "in charge," and the kids that sit at that head table work year round to run the club. You have a president, a vice president, a secretary, a treasurer and usually a sergeant at arms. Clubs vary on how many officers they have, and how long the terms are, but that's the basic start. They usually sit at the front of the room in uniform, (full whites, hat and scarf/tie) and lead the the club meetings. To my 10 year-old self, these 14 and 15 year-olds were like superheroes. They were basically the coolest thing I'd ever seen, and in that moment, I knew that was what I wanted to do.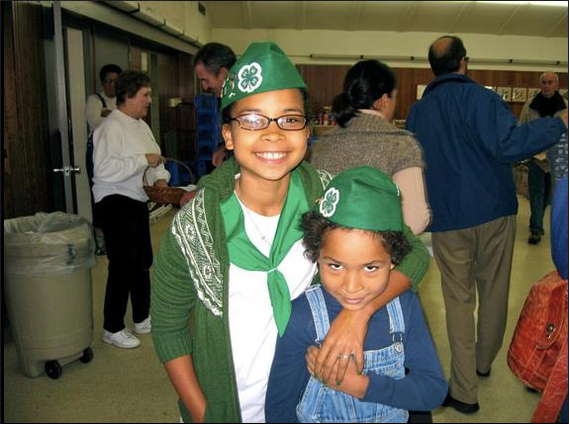 My brother and I in our first year of 4-H, 2007.
At this point you're probably thinking, "Well, great, the 10 year-old wants to emulate her hero. That's super interesting and different." Bear with me a little longer, because this is an important part. In 4-H, we work for all of our titles. You write speeches and campaign to become an officer. You fill out applications and go to extensive interviews to become an All-Star or an ambassador. It takes sweat, tears and an unfortunate amount of animal poop to make this program work. In that moment, my 10 year-old self didn't know any of that. All I knew, was that I was going to make it happen. I went home from that meeting signed up for five different projects, (The only way I can think to describe a project is a year-long group activity centered around a specific subject. They can range from rocketry to rabbits, and all are led by an Adult Leader and a Teen/Junior Leader.) and made my Five-Year Plan. I wanted to be an officer, president of the club, county TLA (Junior All-Star), All-Star and finally, the crowing glory: California 4-H State Ambassador (our equivalent of an Eagle Scout). I had no idea what I was getting myself into.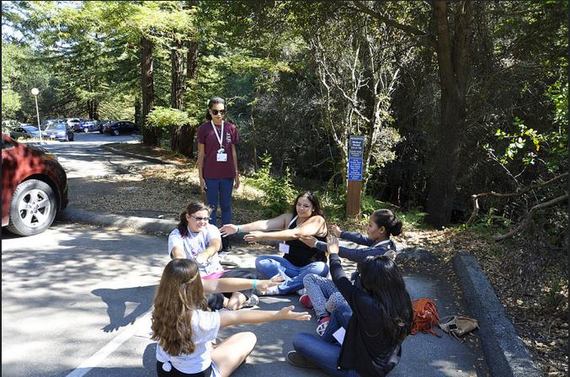 Leading a Healthy Living activity at the 2014 California 4-H State Leadership Conference.
I'll spare you the gory details of six years of long speeches, ridiculously early mornings, boot blisters and just tell you that it has been the greatest time of my life. I did everything my 10 year-old self wanted. I have held every officer position at club level, served as both a County TLA and All Star, and this past May, because a 2014-15 California 4-H State Ambassador. I am also the 2013 California 4-H Golden Clover Member of Excellence, and represented the State of California at the 2014 National 4-H Conference in Washington, D.C. There, I presented at the USDA to the Deputy Secretary of Agriculture, Krysta Harden, on the future of agriculture and AG-based youth programs. I have spoken to thousands of people about 4-H, and worked at 4-H summer camp for three years, where I spend my days having water balloon fights. I've gotten to travel, and made friends from around the world. I'm not even done yet!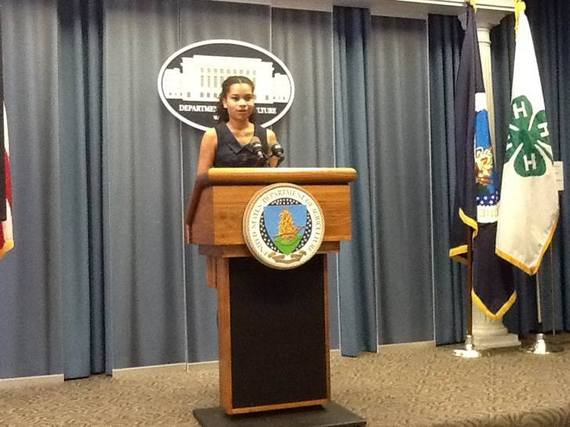 Presenting at the USDA during the 2014 National 4-H Conference.
4-H teaches so much. It gave me, a city girl who was basically by herself, a platform to grow skills I didn't know I had. I love giving speeches and talking to an audience about things I am so passionate about. We host a State Fashion Revue competition, which I was honored to be asked to speak at this May, in my capacity as a fashion blogger. I was absolutely blown away by the sheer talent some of the members exhibited. I saw a 10-year-old in a dress she sewed herself that I would have definitely thought was designer if I saw it on the street.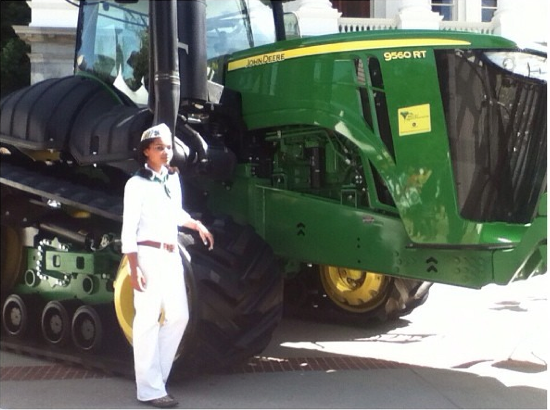 AG Day at the Capital, checking out my new ride.
There are so many things that make 4-H important. I can't explain them all, because we'd be here for years, but let me get you some bullets points:
1. 4-H does not discriminate by age. Nineteen year-olds work alongside 9-year-olds, and everyone learns from each other. We all participate in the same activities. The only exception being competition, where we only judge 9 years and older. Boards have officers of all ages, and if you have something to teach another member, it doesn't matter if you're five or 15. It's wonderful system, and if you don't believe me, you can read this.
2.Youth/Adult Partnerships. This is one of the things that is truly unique about 4-H. We (the youth) work WITH Adult Leaders. Keyword: WITH. Not under, not without, WITH. In each of my leadership positions I've had the opportunity to work with amazing Adult Advisors who have truly shaped my 4-H career. (Mr. Dennis, Mrs. Chris, Jenna? You guys are rad. Shout-out to my County Program Rep Jen, who truly embodies the spirit of that and always answers my 2,959,298,708 million questions.)
3. We are all encouraged to find our spark in the program, whatever that may be. 4-H was founded in a time when agriculture was the main industry, but the world has changed and so has 4-H. While we're still a massive force in AG education, we go far beyond that. Over the years, I've taken cake decorating, local history, recycled art and community service.
4. Community service is something we do for fun. Have you ever seen a 7-year-old volunteer to work at a food bank for three days in a row? I have. 4-H is all about your community, and we do a lot of community service. It's not a requirement to be a member, but once you spend some time in the program, it feels right. I've worked at the same holiday food bank for seven years now, and it's more important to me than the actual holiday.
5. You learn about the food process. It teaches kids who would have never known otherwise where their food comes from. In our country today there is a huge disconnect between the farm and your plate and 4-H is bridging that gap, one kid at a time. My family buys all our meat from my friends in the program, who raise their own animals with a love and passion you will not find anywhere else. I swear, one of my friends treats her pigs better than my mum treats me.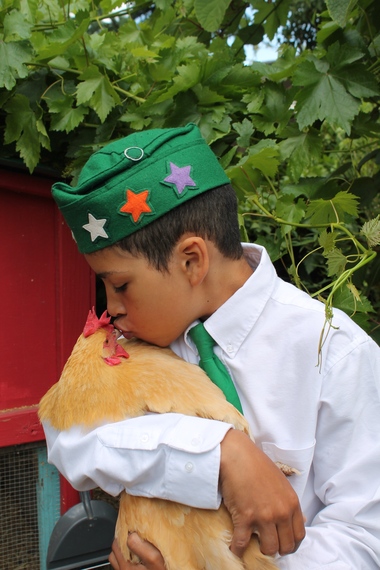 My brother with one of his pet egg-layers.
It's the end of National 4-H week right now, and every year when this rolls around, I am reminded of the diversity of my program. I've never raised an animal, and I have friends who have never done anything else. We bake cakes, and give speeches at the Department of Defense. We wear hats that weigh more than our heads, because we keep all our pins there, and show muddy animals in 100-degree days. There's weeks spent at fair and weeks spent at camp. In California in particular, every summer, 400 of us head to a university campus for four days of leadership training and activities. I may never be able to truly explain my love for this program, and the impact it has had on me, but I hope it comes through to you. In 4-H, our motto is "to make the best better." Being a 4-H member means working to be the best, but always getting better.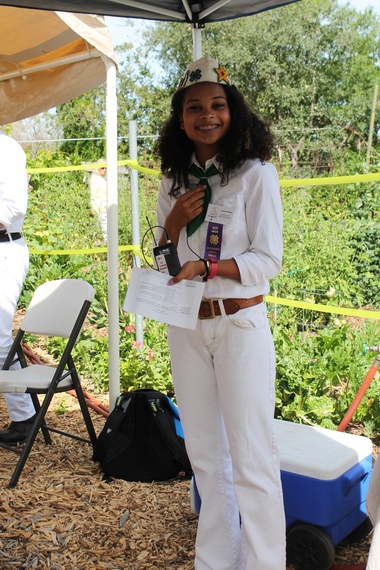 Me mc'ing a county event in the community.
To learn more about 4-H, and find your local club, visit here. To see more 4-H'ers in action, check out the #IAm4H hashtag on Instagram!