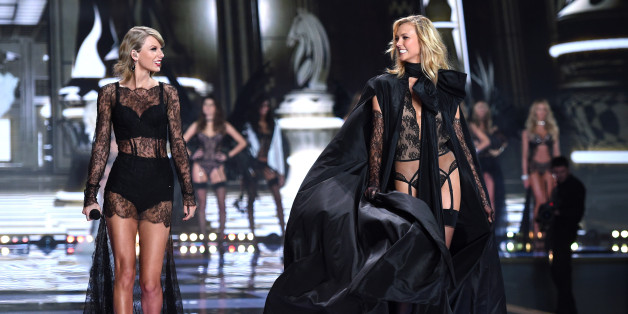 "Wait, you WATCH that?"
Last night was the 2014 Victoria's Secret Fashion Show in London, where 47 models, including the famed Victoria's Secret Angels, strutted the runway in a immense spread of fairytale undergarments. They've done it every year for nearly 20 years (I've been watching since I was 12), and every year, that runway goes right into a pile of people who don't like it and don't think I, a teenage girl, should either.
When I look at the Victoria's Secret Angels, I see gorgeous, happy women, who work for a company that sticks with many of them for the long haul -- a rarity in this industry. Sure, they're thin, but they're not fragile -- they're toned. I mean, legs like that don't come from eating carrot sticks and water. They look like they really enjoy what they do. I mean, who wouldn't? I'd like to try and frown when I'm strapped into that much sparkling wing acreage. Watching the show is a glimpse into their world. You get these little moments that are usually confined to the pages of a catalogue or a six-foot poster in your mall. Taylor Swift sings a song that perfectly describes your life in the background, and Hozier smizes at you (and everyone else watching, but it was a special moment). It's a fun fantasy. That's why it bothers me so much when people use it as a negative factor in the body image conversation, especially targeted at teenage girls.
I'm a 17-year-old girl. A lot of people would tell you that puts me in the prime "issues with her body" range. I shouldn't be inspired by these charismatic and successful women and their amazing careers in an industry they love. Because I enjoy the show, I'm obviously some sort of bimbo who doesn't understand that I'm being negatively influenced, and that everything they do is fake and that they're just famous for looking good in underwear. I shouldn't appreciate the hard work it takes to do what they do and attempt to emulate that work ethic. I most certainly should not feel serious confidence and girl power after watching them do their thing for an hour in beautiful underwear. I should probably be looking at them and comparing my ankles to theirs, and be trying to stretch my spine three inches, and destroying myself in a gym attempting to recreate their abs. I should feel incomplete, like I am not measuring up. My self-confidence should be shattered every time Karlie's faces beams at me while I sit on my couch eating kettle corn. I shouldn't feel content with my body and the way I am, because I don't look like these Angels. Or at least, that's what the media is telling me and other girls (and boys) my age and beyond. If they're telling you that too, let me give you a piece of advice: ignore it. I say this thing a lot because it applies to a lot of things, including loving the Victoria's Secret Angels: If you love it, own it. Taylor Swift agrees with me on this. (Probably.)
every year during the VS fashion show I see less self hate and more girl support on my TL and I think that's pretty important.

— window syl (@surrenderer) December 10, 2014