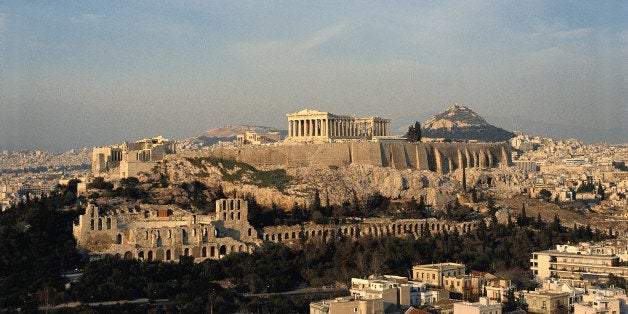 Athens is not only the Acropolis, Kerameikos and a plethora of museums and archaeological sites. For the Greek capital stretches far away to the sea, intersecting with Piraeus and its beautiful circular port, and reaches the Saronic Gulf, offering numerous marinas and beaches along the way, beginning at Faliron and continuing far beyond magical Cape Sounion.
As such, Athens is not simply souvlaki and tzatziki but a city that offers a seafood dining experience second to none. A panoply of refined culinary proposals centered around an abundance of fresh fish and other marine delicacies are what comprise the finest of gourmet Athens.
Although very difficult to choose amongst the many excellent restaurants or "fish tavernas," I would recommend all visitors indulge in any, or all for that matter, of the following three top fish destinations.
Starting from the city, a must is the aptly named "Kollias," the domain of Tassos Kollias, located at the corner of Amfitheas and Syngrou avenues.
Apart from the mouthwatering freshest of fish (from sea bass to seabream to blackfish), Kollias offers delicacies such as squid cooked in all matter of heavenly ways apart from the traditional crisp fried. One can also find excellent accompaniments such as Kollias' superb eggplant salad and other such specialties bearing the influence of Instabul on offer here.
Kollias often features amazing crab claws or "kavourodagkanes," spaghetti tossed with morsels of lobster or shrimp or urchin, three kinds of homemade breads and some 35 types of raki and ouzo from all over Greece. Tassos Kollias has created a simple but chic "resto" in the heart of Athens and, all this, with very affordable prices for such excellent quality and polished service. Known for years for his other eatery in Piraeus, "Tabouria," Kollias has become the relatively new, trendy hangout, populated by those who appreciate top-notch seafood and including many amongst Greece's political and cultural elite.
The iconic fish restaurant "Varoulko," with renowned chef Lefteris Lazarou, recently returned to its natural digs in Piraeus. With its simple yet abstract modern dᅢᄅcor, it literally touches the sea, resting as it does right in front of the small picturesque harbor of Mikrolimano.
Chef Lazarou features classic Greek fish dishes with a sophisticated touch. Little dashes of creativity and imagination are added to traditional servings such as the white fish roe salad, or "tarama," and a herring salad that mesmerizes with its distinct smoky aroma.
For lunch, the menu includes popular staples like the aforementioned fish roe and herring salads, grilled sardines and steamed clams all tweaked with Lazarou's signature in some way. For the more adventurous, there is a wonderful lobster "moussaka" and all this is at very reasonable prices.
Lefteris Lazarou has established an enticing tasting menu paired with ouzo or raki featuring many small specialty "tapas" for 20 to 22 euros. The prevalent "varoulko," or winch, is there to remind of the original restaurant and Lazarou has, once again, created a must destination for fish in Piraeus.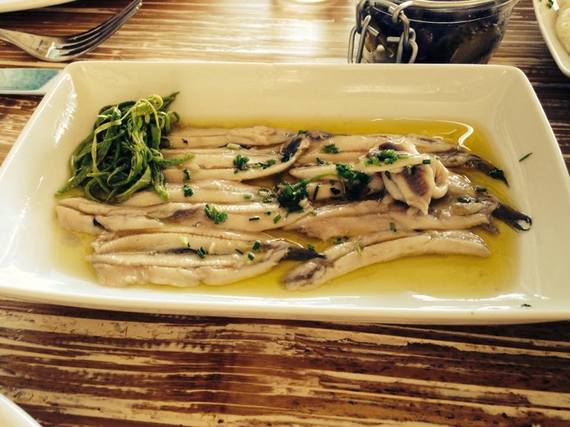 Tsirosalata at Varoulko, a special taste!
For those desirous of combining exquisite seafood dining with a cooling swim, there is none better than "Lambros," in Vouliagmeni. Located just opposite the lake of Vouliagmeni, the restaurant was built back in 1889 when Vouliagmeni was a vacation getaway for Athenians.
Resting at a strategically spectacular angle of Vouliagmeni Bay overlooking the Saronic Gulf, the restaurant was established by Lukas Lambrou and is now run by his sons, Dimitri & George. At first, the entire structure was comprised of old stone, part of which still adorns the remodelled restaurant's entrance today.
The elegant environment with its tasteful dᅢᄅcor and exemplary service is sure to satisfy the most demanding of guests at lunch and dinner.
For years, Lambros' reputation has resulted from the freshness of its fish and seafood. The freshness of the products served have made this restaurant synonymous with all that is the delight of the Greek seas. Lambros' strength lies in the numerous exclusive collaborations that the owners have made with fishermen from all over Greece, enabling them to continuously offer seafood that is the purest and the freshest. One can usually find mullet, grouper, sea bream, sea bass, crayfish, lobster, shrimp, squid and smelts to name but a few.
Of course, on a personal note, I would opt for Lambros' famous shrimp salad and the cooked greens, or "horta," which, for years, have remained a classic. Lambros restaurant remains a favorite respite during the typical Athenian heat wave.
Photo: Justine Frangouli-Argyris