I never thought my little brother would start stealing my beauty products. Food and drink? Certainly. The car when I needed it? Absolutely. I guess I never realized that boys need almost as much grooming as we do. Primping, however, is up to us.
My brother Christian has taught me how to share, him being the second child and all. We have always shared a bathroom and my beauty products were always up for grabs, but hasn't been tampered with until the past year.
Christian is starting to feel a little more comfortable "borrowing" some of my beauty products. I've also felt more comfortable testing a couple products on him.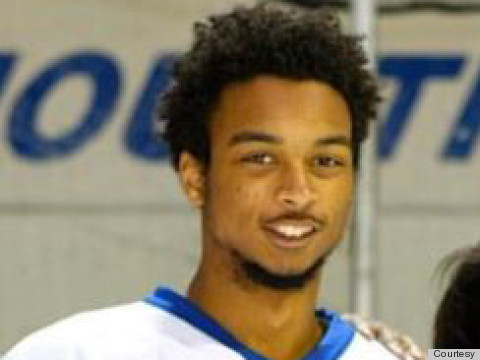 My little brother Christian.
Quite frankly, he's lucky to have me. In his teenage years, he's won the battle against hormonal acne, grown out a curly, kinky Afro (he's now up for the "best hair" superlative at his school) and has created his own signature scent (I'll get to that in a minute). He did this all without purchasing one product with his own money.
Christian is just fortunate enough to be my curious, needy, bothersome little brother. But I'll be honest, I also love having him as my lab rat. Here are a few of the products he regularly steals from my beauty stash:
SoftSoap Juicy Pomegranate and Mango Infusions Body Wash
He absolutely adores the scent of this fruity body wash; a bit of a surprise considering the color, but the entire bathroom smells like a tropical wonderland (since we both use it). We've gotten used to buying the two-pack bottles in our house, which are a steal at $5.99.
Lotus Moon D20 Hydra Mist
This is from one of those trial-and-error moments. I wanted to see if it would make him feel refreshed post-workout. He said it smelled "nice," and the mist wasn't too harsh. That gives me the go-ahead to throw it in my gym bag!
Mario Badescu Drying Lotion
Let's face it, this product is pretty much unisex; it's basically a magic potion that zaps zits overnight. Being 18 and an athlete, acne plagues my brother quite frequently. And now he only has to apply it once a week.
Miss Jessie's Leave-In Condish
I use this leave-in conditioner to smooth out my roots on my relaxed hair; it really helps with that line of demarcation. I knew this would be good for his locks, and I told him to try it before he went on a date one day. Next thing you know, I had to give him his very own bottle. This stuff keeps his curls moisturized, bouncy and defined. He wants to grow his hair as long as possible (at the moment, he's looking like a curly lion cub), and this stuff keeps his hair healthy.
Nexxus Shampoo and Conditioner
Christian uses whatever shampoo and conditioner is in the shower. He doesn't know the price per ounce, how far you had to drive to get it, how many Amazon sellers you had to scroll through; he'll just use it. He likes the way these products smell, and they don't dry his hair out. I cast these aside to use other products I'd heard about on the blogs, but soon enough realized that my hair missed the hydrating combo.
Anything, and EVERYTHING, from Bath & Body Works
There's a reason why there's no space in this store for men to sit. There's also a reason all the men's products are at the back; they have to make their way through the delicious-smelling hand soaps and candles first. My brother enjoys the candle scents from here -- I'm not complaining as I'm a candle hoarder myself-- and when my mom and I gifted him with a couple of the men's fragrances, he fell totally in love. He even follows some of my fragrance tips and mixes and matches them to create his own unique scent!