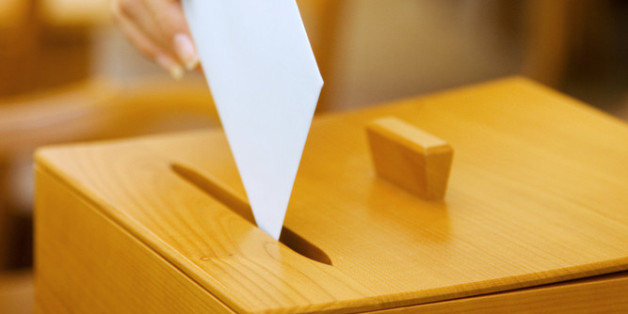 On November 6, Americans will cast votes in the other election -- deciding the outcome of more than 170 ballot measures across the country. Ballot-measure campaigns this year cover everything from jobs to women's health and will cost as much as $400 million.
Here are just a few of the big issues at stake:
Marriage
This year marks a historic moment in the fight for marriage equality. As public support has increased from the Oval Office to neighborhood churches, voters appear more likely than ever to support the rights of all loving couples to marry.
The landscape today is a dramatic reversal from what we've seen in years past. By passing Question 1, Maine voters could make their state the first to legalize marriage equality by ballot measure. Voters in Washington (Referendum 74) and Maryland (Question 6) will have an historic opportunity to uphold marriage equality laws passed by their state legislatures. And Minnesotans can defeat a ban on same-sex marriage (the Minnesota marriage amendment). This is a huge momentum shift from just six years ago.
Workers' Rights
In 2010, conservatives took control of statehouses across the country, promptly using their new clout to target the working poor and middle class, with attacks on collective bargaining rights in states including Wisconsin and Ohio. The battle continues in this election with an anti-worker measure in California and pro-worker efforts in Michigan.
Proposition 32 in California is not what it seems. It masquerades as balanced campaign finance reform, while actually creating special exemptions for billionaires and Super PACs, giving them even more power and silencing the voices of working people. No wonder billionaires and a shadowy super PAC linked to the Koch brothers are funding it.
On the flip side, Proposals 2 and 4 in Michigan are opportunities to protect working families by protecting collective bargaining rights and protecting home health care. Proposal 2 would give workers a voice, helping them come together with employers to negotiate fair wages, benefits and working conditions, while protecting them from arbitrary behavior by employers. Proposal 4 would help ensure Michigan's middle class can afford safe and quality home care for seniors and people with disabilities.
Public Services
Even in these tough economic times, anti-tax extremists keep churning out deceptive gimmicks that would slash the public services we all depend on, such as schools and law enforcement.
In Florida, voters will consider a strict spending limit put on the ballot by the conservative legislature that would force deep cuts to schools, roads and health care. Amendment 3's proponents are trying to pull a fast one by calling it a "smart cap." Unfortunately, there's nothing smart about it. The measure is a retread of a spending cap from Colorado, which was such a failure that voters suspended most of its provisions. Disastrous tax proposals are also on the ballots inMichigan and Washington, while progressives have put forth positive ideas to protect revenue for critical services in California and Oregon.
Women's Health
For decades, ballot measures relating to women's health have been used to divide voters and score political points. This "war on women" continues this year in Florida and Montana, where measures that would harm women's health are on the ballot. In Florida, Amendment 6 is a misleading attempt to put politics where it doesn't belong -- in personal medical decisions. And in Montana, LR 120 would require parental notification for a minor to get an abortion regardless of violence or abuse in the home.
Voter Restriction
In Minnesota, voters will get to have their say on the voter restriction trend because the legislature placed a photo ID amendment on the ballot. The measure will make it harder for law-abiding Minnesotans to vote -- especially senior citizens and members of the armed services, who are fighting to protect our freedoms abroad.
Education
In several states there are ballot measures that will affect students and teachers. Amendment 8 in Florida is being pushed by its supporters as a matter of religious freedom when it would actually allow the state to publicly fund religious schools and institutions, taking away resources from public schools. And in Idaho, teachers are opposing Propositions 1, 2 and 3 -- in an effort to overturn the so-called "Luna laws." These harmful education laws are named after the state's schools Superintendent, Tom Luna.
Immigrant Rights
Immigrant rights are also on the ballot. With Question 4, voters in Maryland have the opportunity to protect the DREAM Act, which allows all Maryland students who have paid Maryland taxes and graduated from Maryland high schools to pay in-state tuition at Maryland colleges and universities regardless of their immigration status. And in Montana, voters will confront LR-121, a measure that would prevent immigrants from having access to state services.