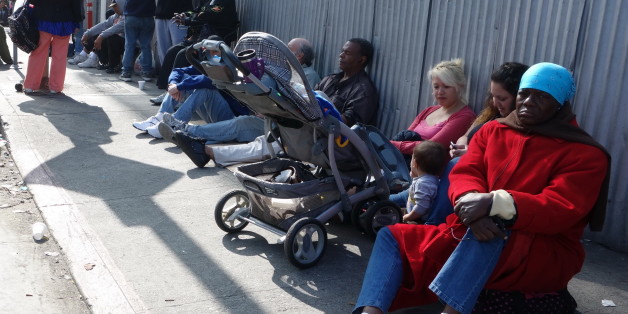 You just walked out of an Elevator. Fourth floor. You feel a little afraid. The walls are stark white, coldly lit and institutional. You close your eyes to calm yourself. You imagine serene color, a sense of ease, and some sign of human warmth. When suddenly you see it: An envelope with your name on it rests on the reception stand. You feel summoned to something, a little like Alice, entering Wonderland. You open it. "Help me I am homeless" reads the note in handwriting clearly that of an eight year old. Suddenly the bright paint you had imagined fades. An acrid scent of unpleasant odor fills the air. Your self-protective waking dream melts away. You are in Down Town Los Angeles. Welcome to Skid Row. Welcome to the underbelly of reality.
Pimps and prostitution, alcohol and drug abuse, criminal activity and the general urban
tension of systemic poverty, looms every few feet on 6th and San Pedro Street. Tents, makeshift shacks, cardboard protections, and shopping carts form the street life here, commonly known as the Third World of the United States. But there is a beacon of hope on this gone terribly wrong side of town. It's the Union Rescue Mission, one of the largest homeless shelters in the country. It shelters one thousand people per night.
Women and children reside on the fourth floor in shared rooms filled with bunk beds. Yes, you heard me, children, women -- homeless. Every Monday night, however, something really unusual happens here. Elon Musk, the founder of SpaceX, Tesla and Pay Pal might stroll through the halls. Maybe Tom Shadyac the Hollywood director of I Am, Bruce Almighty and Liar Liar will share a laugh with the toddlers. Possibly Christine Van Loo an Olympic acrobat will perform in a community room.
These luminaries are here for 'Mondays at the Mission,' a career and life skills class for homeless teenagers founded by its director, Christopher Kai, who visited the shelter in 2010 and upon leaving said "I just could not imagine these children living this way, so I did something about it."
Once a week at 7 PM a dedicated team of mentors, guest speakers and loving volunteers show up to lift, motivate and encourage the students. It is tough enough to be an adolescent in the 21st century, let alone to be homeless in a neighborhood where even being outside is dangerous. How do we implement strategies for personal growth when survival is the lynchpin for all the rest? Often the classes have themes such as problem solving, goal setting, positive thinking techniques or anti-bullying. These volunteers try to convey to the often depressed and frightened teens that they have the possibility of finding that they have beauty on the inside and that having survived such hard experiences they have a genuine heroic strength.
The program has helped hundreds of homeless students stay in school, apply and secure jobs, and prepare to matriculate into colleges. The class has been visited by Johnny Strange, the youngest person to summit all of the worlds highest peaks, Matthew Van Fossan who, though blind, is a published author, Jean De Die Gatete, a Rwanda genocide survivor who became a medical doctor, and hundreds of celebrity musicians, artists, thinkers and motivational speakers who have invested themselves in this people powered program.
Before the clock strikes midnight (precisely 8:30 PM) the volunteers and mentors exchange heartfelt hugs with all the students as they go back to their rooms, encouraged now to get through the coming week, hopefully with a new seed of true learning planted in their minds and perhaps, more urgently, in their spirits. The class is full of fairy dust and you can tell by the look in the children's eyes, as well as the mentor's, that it is real.
There are 1.68 million homeless kids in the United States and 15,000 of them live in Los Angeles. Forty-six percent are physically abused, 16 percent are sexually abused, and they have a higher rate of anxiety, depression, pregnancy, HIV and suicide. And yet, if only I could reach through the computer screen and teleport you to meet our students, you would see they are some of the most witty, compassionate, charming and knowledge-hungry kids you will ever know.
It's clear to me that if everyone gave just one hour each week to engage with at risk youth the world would change. Compassion is not random acts of kindness. I've discovered that it means talents are to be shared, experiences exist to shed light, and giving positive reinforcement heals. Compassion is. How can I empower a seventeen-year-old pregnant female? How can I hold a weeping girl who's best friend just committed suicide? Sometimes it's just by creating a safe haven where they can pause life and step into their own self-reflection. From popular culture, to the kids they go to school with, to the despair in the streets, constant messages are telling these kids to be anything other than who they are. The shelter program starts by applauding each and every student not for what he or she has done or what they will do, but simply for who they are. Never have I felt more a part of that village it takes to raise a child, than at 'Mondays at the Mission.'
Christopher Kai is the founder and executive director of Mondays at the Mission, a career and life skills program for teenagers at the Union Rescue Mission. The Union Rescue Mission is the largest and oldest homeless shelter in Los Angeles and was established in 1891. It is currently under the leadership of CEO Andy Bales. For more information about Mondays at the Mission, please contact Christopher Kai at chris@christopherkai.com.