Stockholm is one of the most desirable cruise destinations on Baltic and Northern European itineraries for good reason. Most cruise ships dock right in the city center, but you won't fall into a tourist trap. Indeed, this city is anything but touristy, although it is an ideal and welcoming place to be one.
One of the most beautiful and cosmopolitan cities in the world, Stockholm has a rich history and culture that dates back to the 13th century. Spread across 14 islands in the picturesque Lake Malaren, Sweden's royal capital offers dramatic scenery and striking architecture. A city where urban sophistication intersects with nature, visitors rave about its impressive historical sites, museums, boutiques and restaurants, but what they marvel at most, perhaps, are its friendly, multi-lingual people and the natural beauty that envelopes the city.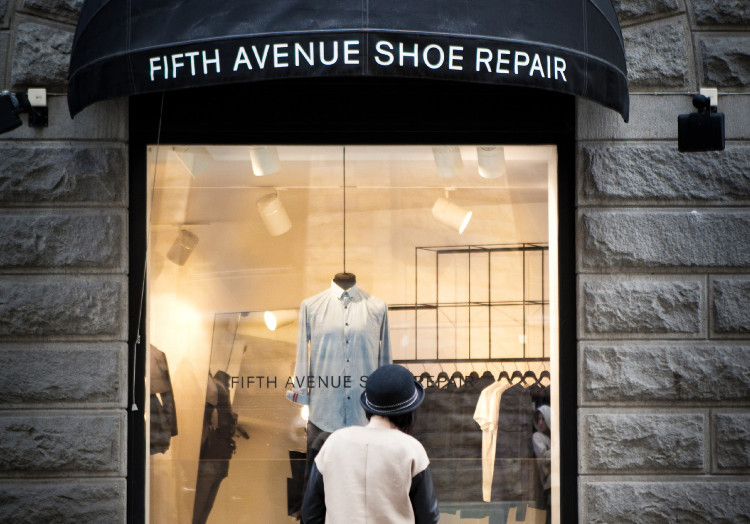 JustLuxe recently spent several days in Stockholm, and found it to be one of the cleanest, friendliest, most accessible cities in the world. It is a wonderful city to explore on foot, though it is also easy to navigate by public transportation, which includes a subway system, buses and ferries. Stockholm has everything a world traveler seeks, from culture and world-class shopping to award-winning restaurants. Like us, you will undoubtedly leave Stockholm with a heavy heart -- and with high hopes for a longer future visit.
Our advice is to begin your time in Stockholm with a sightseeing tour. While there are several bus tours that have received high marks (with some offering tours by boat and bus), we opted to see our first glimpse of the city via a canal cruise. There are several from which to choose that vary in length and destinations. We selected the "Royal Canal" tour, which lasts a mere 50 minutes and offers views of the lush island of Djurgarden with a recorded audio program in English and 10 other languages. (Photo courtesy of Visit Sweden)
Culture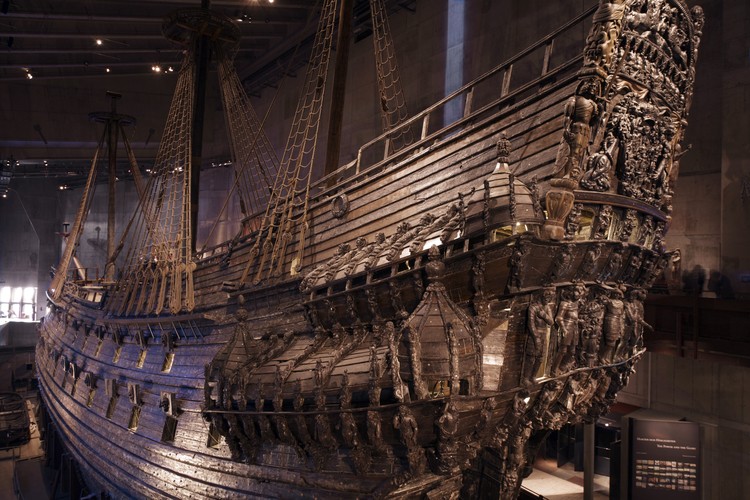 The cultural scene in the city will satisfy all visitors, both young and old. There are more than 100 museums in Stockholm, making it one of the world's most museum-rich cities.
Highlights that should not be missed include the Vasa Museum -- the most visited museum in all of Scandinavia. This must-see destination features the only preserved 17th-century ship in the world. The regal warship sank on its maiden voyage in 1628 and, after 333 years under water, it was rescued mostly intact. The restored ship now resides inside a beautiful museum with interesting displays, from well-preserved uniforms worn by the sailors to the period porcelain used in the Captain's quarters. (Photo courtesy of Ola Ericson/ImageBank.sweden.s)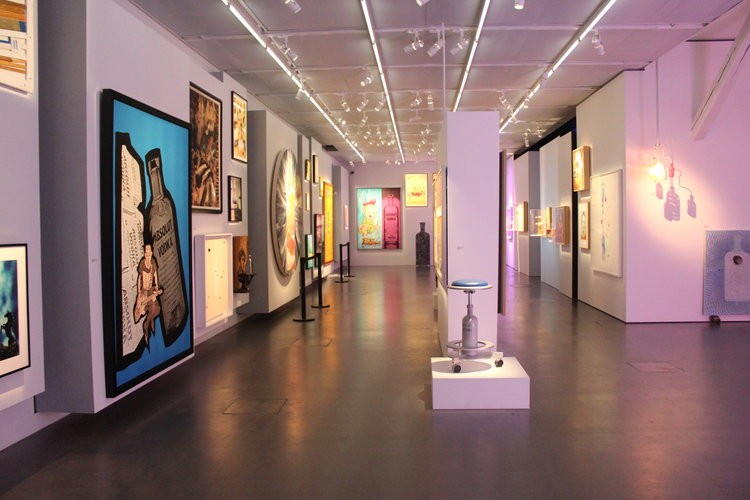 The Museum of Spirits (Spiritmuseum) offers interactive displays as well as an impressive art collection. Art enthusiasts will marvel at the Absolut art collection, which includes 69 works by such internationally acclaimed artists as Andy Warhol, Damien Hirst and Keith Haring. There's also a tasting room where visitors can enjoy a variety of Swedish libations and a restaurant. (Photo courtesy of Ola Ericson/ImageBank.sweden.s)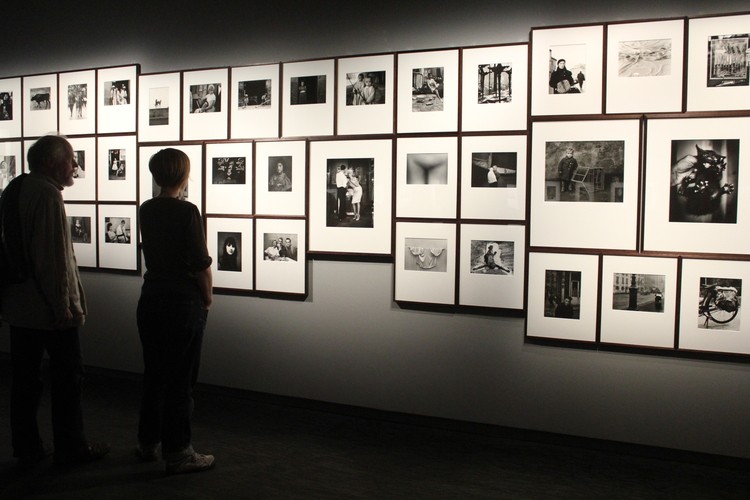 At 60,000 square feet, the Fotografiska is one of the world's largest museums devoted to photography. Open since 2010, exhibitions at this museum feature some of the most recognizable international photographers in the world. A restaurant on the top floor of the museum offers a festive place to have a cocktail or meal with large picture windows with spectacular water and city views. (Photo courtesy of Ola Ericson/ImageBank.sweden.s)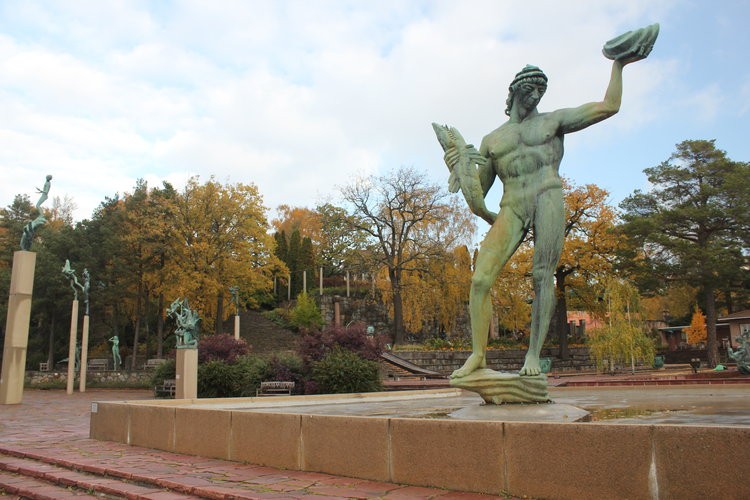 Art lovers will also want to spend time at Millesgarden, which is the former home of Carl Milles, Sweden's foremost sculptor. Milles, whose repertoire includes some of the best-known fountains and sculptures around the world -- including an example at Rockefeller Center in New York -- lived and worked at Millesgarden. Here, visitors can tour his home, studio and sculpture garden in a spectacular waterfront setting. Located in a residential section of the city, Millesgarden is a relaxing respite while its cafe offers a lovely cafe for a peaceful lunch or coffee.
Built in 1898 by one of the wealthiest families in Sweden, the Hallwyl Palace is a veritable jewel box in the heart of the city. The palace was built for the Count and Countess of Hallwyl and has been kept untouched since their deaths. A visit to Hallwyl is like stepping back in time 100 years. The couple's impressive collection of art, artifacts and porcelain is nothing short of world-class. Visitors learn first-hand how the upper class of Stockholm lived at the turn of the 20th century in a home that featured one of the earliest indoor bathrooms in all of Europe. A current exhibition there now features glamorous gowns and servant's uniforms used during the filming of TV series "Downton Abbey," seen alongside clothing worn by Hallwyl family members and staff. The exhibition brings the palace to life and will run through January 6. (Photo courtesy of Ola Ericson/ImageBank.sweden.s)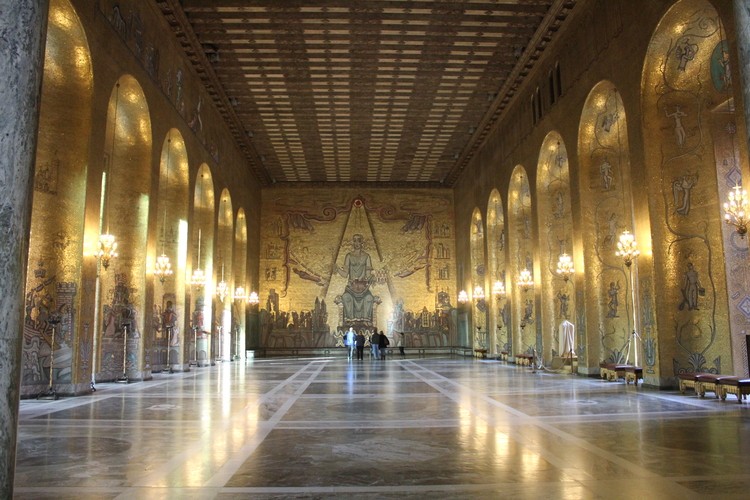 Situated in the lush island of Djurgarden, Skansen is the world's oldest open air museum. Founded in 1891 on a 74-acre park-like setting, Skansen is a collection of more than 150 historical buildings that were relocated to the island from every part of Sweden. Often referred to as "Sweden in Miniature," Skansen is a venue for traditional annual festivities, markets and folk dance displays. There's also a zoo that features animals found throughout the Nordic countries. Skansen is a great option for those who want to spend the day outdoors as well as for families with young children.
Visitors will marvel at Stadshuset, which is Stockholm's City Hall, where the formal banquet honoring Nobel Prize winners is held each year. Visitors are also able to tour through the Golden Hall which is decorated with a spectacular golden mosaic. (Photo courtesy of Ola Ericson/ImageBank.sweden.s)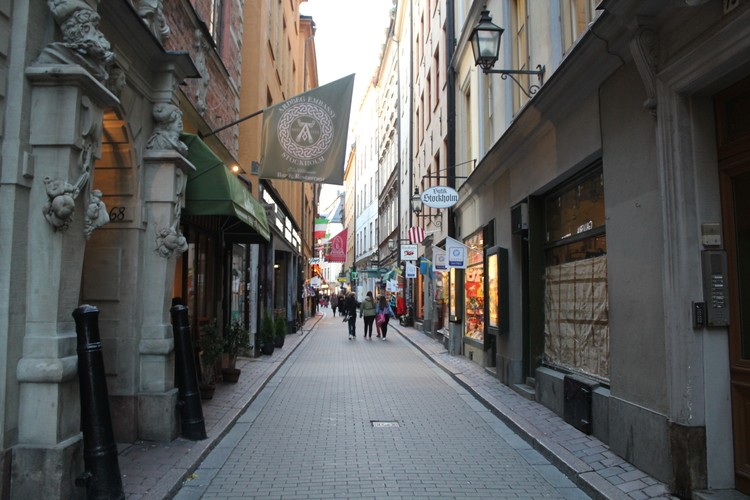 Be sure to take a walk through the medieval Gamla Stan (Old Town) section of the city where the Kungliga Slottet -- the official royal residence of the royal family of Sweden -- is located. The Royal Palace is open for tours and even offers a daily changing of the guard ceremony. As you walk along the quaint, narrow cobblestone streets of the Old Town, you will find boutiques, artisan's galleries and antique shops as well as quaint restaurants, all in buildings that date back centuries. (Photo courtesy of Ola Ericson/ImageBank.sweden.s)
Dining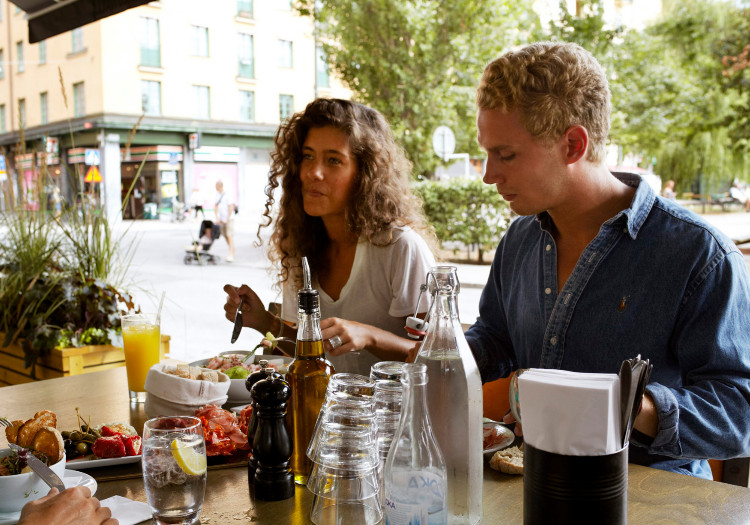 Stockholm is known for its world-class restaurants, several of which have been awarded one or more stars by the acclaimed French gourmet Michelin Guide. Restaurants range from those that are modern and eclectic to others that are traditional with some dating back to the 1700s.
Some of our favorites include:
Lux Stockholm, located on the scenic and mostly residential Lilla Essingen Island, is a hip loft-like space. The sleek restaurant, which boasts one Michelin star, features an inventive menu that celebrates fresh ingredients found within Sweden and seafood caught daily in the waters that surround the city of Stockholm. The restaurant's concept is based on typically Swedish flavors: salty, sweet and sour, smoky and spicy. Guests marvel at the beautiful views of Lake Malaren seen from the dining room. (Photo courtesy of Visit Sweden )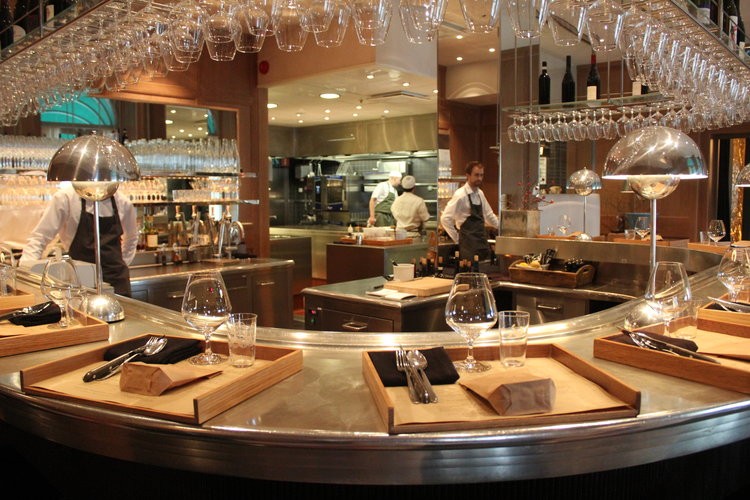 One of Sweden's best-known celebrity chefs, Mathias Dahlgren, operates two restaurants located within the beautiful Grand Hotel. The Mastal "Dining Room" (two Michelin stars) and Matbaren "Food Bar" (one Michelin star) offer two sides to the menu -- one that features Swedish produce and products with the other being globally inspired. Each offers a tasting menu. Both restaurants are sleek, contemporary and intimate with seating for only 30 or so patrons at a time.
Den Gyldene Freden restaurant, located in a medieval building in the Old Town section of Stockholm near the Royal Castle, offers traditional and classic Nordic home-style fare ranging from beautifully presented meatballs to herring and deer. A restaurant has existed at this location since 1722; the building's construction was completed the previous year. Den Gyldene Freden is also where the Swedish Academy congregates for its Thursday evening dinners each week.
Sturehof restaurant, which dates back to 1897, is a well-known classic restaurant in the chic Östermalm district of Stockholm. A classic brasserie, the eatery has a trendsetting menu that combines Swedish and French brasserie classic dishes with a twist.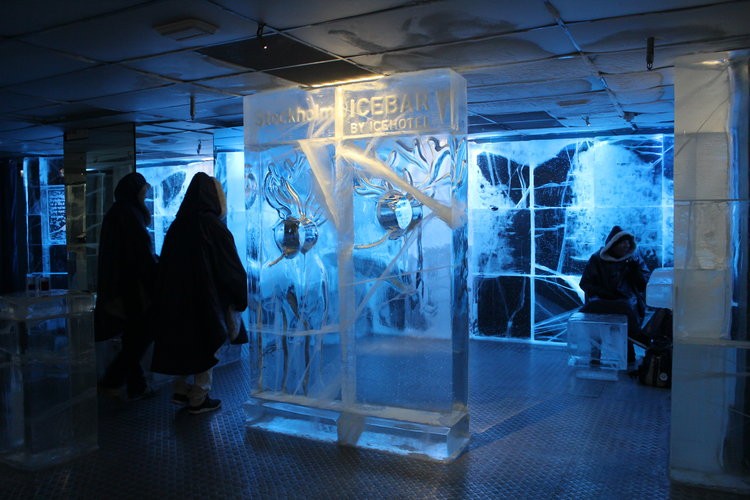 Stockholm is known for its bustling nightlife, but you can't visit the city without checking out the IceBar, the first permanent ice bar in the world. Located in the lobby of the Nordic Sea Hotel, the bar was sculpted out of ice, including the tables, seats and even the art on its walls. The bar celebrates Swedish libations, such as Absolut vodka and Mackmyra whisky, all of which are served in tumblers made of ice. No ice cubes are necessary to keep your drink cold, as the bar is maintained at a temperature of -5 degrees C (23 degrees Fahrenheit). The admission fee includes one drink as well as a loaner parka and gloves. Reservations are recommended. (Photo courtesy of Ola Ericson/ImageBank.sweden.s)
Shopping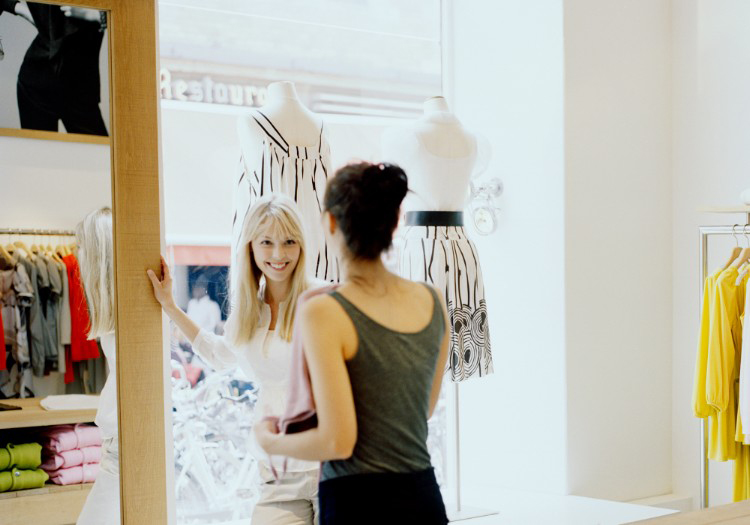 Sweden is well-known for its innovative designs, which makes Stockholm a shopper's paradise. From such well-known design houses as to up-and-comer fashion houses, Stockholm has something for everyone, whether you are looking to decorate your home or want to return home wearing the latest in fashions.
Two words of advice before traveling to Stockholm: pack light. Indeed, the shopping scene is so enticing in this Scandinavian capital that you will want to have the extra room in your suitcase -- though it's likely you will still need to purchase an additional piece of luggage so you can bring more home with you.
The use of a personal shopper is a wise choice for anyone wanting to explore the best of what Stockholm has to offer, from up-and-coming fashion houses to old stalwarts that have been around for more than a century and eclectic antique shops. (Photo courtesy of Visit Sweden)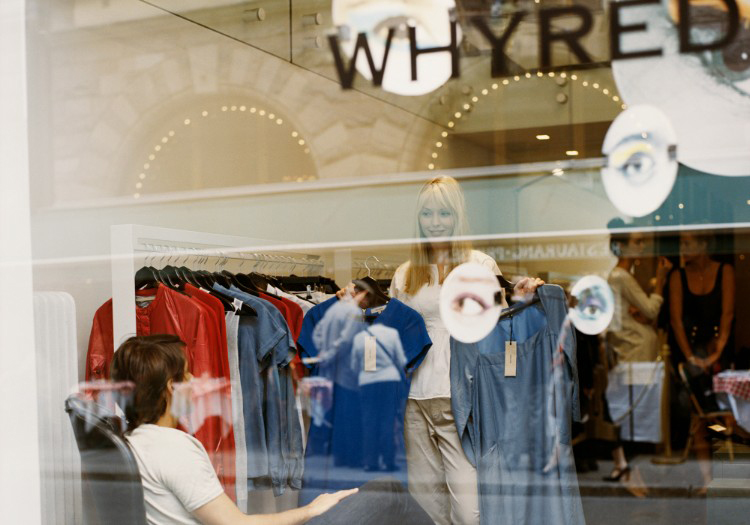 An expert personal shopper with Smart City Shopping, a personal shopper and guide service, escorted us to some of the renowned boutiques in the city, beginning with fashion house Odd Molly, which is known for its vibrant colors and exquisite materials. While Odd Molly's products are sold through more than 1,300 retailers around the world, its entire line can be seen at its flagship store in downtown Stockholm boutique which opened in 2009.
Our guide next toured us through Palmgrens, a Swedish leather goods company that dates back to 1896 and is a favorite of the Swedish royal family. Palmgrens, which was originally founded as a saddle maker, is known for its luxurious handbags, jewelry boxes, desktop items and luggage, among other beautiful things. Reminiscent of Hermes, Palmgrens is an ideal place to find a gift.
NK is Sweden's equivalent to London's iconic Harrods. Stockholm's luxurious department store, established in 1902, offers everything from a glorious food hall to the latest in fashion, cosmetics, accessories and home goods. The staff is multi-lingual while the store features departments dedicated to such luxury brands as Hermes and Mulberry alongside such Swedish brands as Acne, Filippa K and J Lindeberg. (Photo courtesy of Visit Sweden)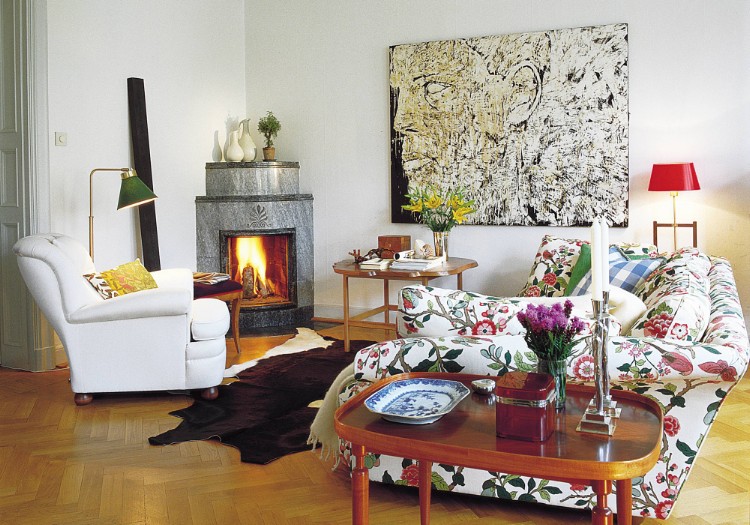 Another must-see is Svenskt Tenn, the iconic Swedish interior design shop that is credited with being one of the founders of Swedish modernism. Founded in 1924, Svenskt Tenn features the vibrant textiles designed by the world-renowned Josef Frank. Svenskt Tenn offers a bright and airy showroom where you'll find beautiful pieces of furniture, from dining room sets to living room sofas, as well as other home furnishings and gifts. Svenskt Tenn offers worldwide shipping. (Photo courtesy of Visit Sweden)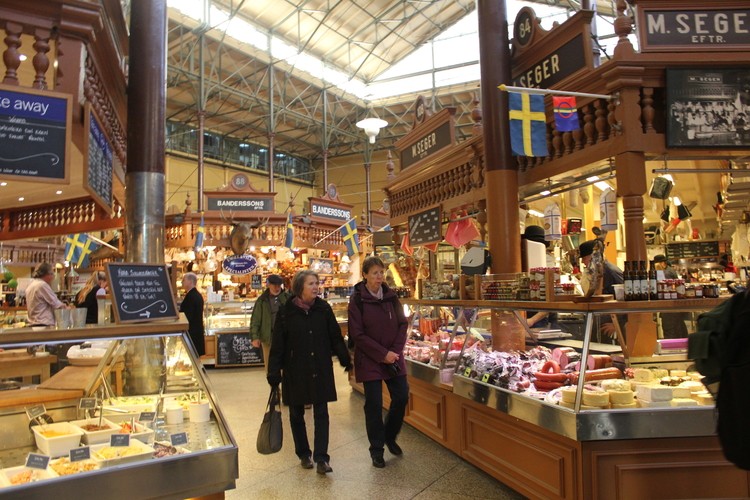 Östermalms food hall is a haven for foodies and is one of the most popular places in town for lunch or coffee. Östermalms offers food stalls as well as small, intimate restaurants, cafes, coffee houses and wine bars. Locals flock to Östermalms as well as many of the city's greatest chefs each day in search of fresh ingredients for their restaurants.
Before you go
A great resource for more information about Stockholm and the rest of the country, are the websites for Visit Stockholm (the city's official visitor's guide) and Visit Sweden (the country's official travel and tourist information bureau). We highly recommend purchasing "The Stockholm Card" which offers free admission to 80 museums and attractions in the city as well as free travel by public transport, free sightseeing and more. The card, which can be purchased from Visit Stockholm is in one- to five-day increments, and costs between 450 SEK and 950 SEK, depending on the number of days it covers.