Among the 400-plus inspiring clients who have changed their lives after completing JVSLA's BankWork$™ training program, Danitra is one who has captured the attention of philanthropist and BankWork$™ founder Les Biller.
Raised in a loving family in Watts, she was an honors student in high school and involved in a youth leadership program. She was registered to begin community college in the fall when she was paralyzed in a drive-by shooting at the age of 18. Her family eventually moved to Lancaster and Danitra began a long recovery process. She didn't know what to make of her life, and then she found BankWork$.™
For eight weeks, Danitra commuted to the training site and graduated with flying colors. She was hired directly out of the program as a teller at her local Wells Fargo branch, where she served customers at a desk that accommodated her wheelchair. As is often the case with BankWork$™ graduates, she didn't remain a teller for long. She moved up the ranks to become a universal banker, working out of the call center.
When Biller caught up with Danitra at a JVSLA event, she talked about her progress, that as a universal banker, she gets to sell all bank services. To which Biller replied, "That sounds like a lot more responsibility." Danitra nodded. "And probably more money," Biller added, to which Danitra gave an emphatic "Oh yeah."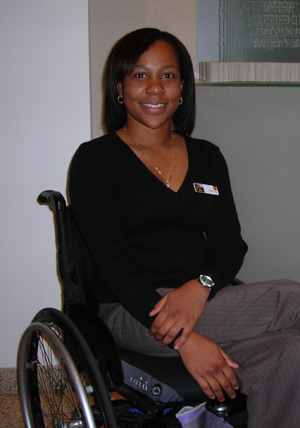 "When I talk about Danitra," says Biller, the chairman of Sterling Financial Corp., "I talk about the 'oh yeah' moment: 'I changed my life and oh yeah, I'm making more money now and I have options.' It's really what the program is all about."
Through the Sheri and Les Biller Family Foundation, he and his wife (who also serves as the President of City of Hope) provide any number of "oh yeah" moments, whether it's through K-12 education, theater enrichment, supportive care or BankWork$™ which trains participants to take their first step into the world of finance as bank tellers.
The Billers believe in active philanthropy; all of the programs they support through their family foundation have a specific targeted focus with an outcome in mind. Shortly after retiring as the Chief Operating Office of Wells Fargo Bank, Biller became interested in vocational issues through an organization that targeted low-income inner city youth.
"The concept focused on the challenge that exists in low income communities around education," recalls Biller. "When you think about education, it's logical to ask, 'Why isn't education a bigger priority in those communities?' If you're very poor and in a situation where you're a single parent or coming out of the foster care system or relying on government assistance, chances are you're living in substandard housing in a neighborhood that might not be very safe. The focus will be on food, clothing, shelter and safety much more than it will be on education."
Biller asked himself whether there was a way to address the financial prospects of these parents -- and future parents -- to provide vocational training and create job prospects within a given business structure. These jobs would be the first step on a career ladder rather than end goals, and would provide a path toward advancement and upward movement.
Given his more than 30 years of experience within the financial services industry, Biller decided that the banking industry would be a logical corporate environment to pilot the concept. Partnering with JVSLA and a handful of banks, Biller began to study the types of jobs that were available, investigating such variables as how many employees were hired per year, what were the fundamental educational requirements necessary to do entry level jobs and could these skills be taught in an intensive training session.
"If we were going to do something, we wanted the potential to have a big impact," says Biller, "and the only way it could be big was if there was a high demand for the jobs we were training people for."
Let the record reflect that the program has been an enormous success. Those initial banking partners have expanded to 11 and now include Bank of America, Citibank, City National Bank, Continental Currency Services, First Entertainment Credit Union, OneWest Bank, Pacific Western Bank, Union Bank, US Bank, Cathay Bank, Wells Fargo, as well as the Sheri and Les Biller Family Foundation, the United Way, Friends of the Expo Center and the State of California Employment Training Panel.
BankWork$™ clients come from across the community and are often people with substantial barriers to employment including being single parents, experiencing long term unemployment or working two to three minimum wage jobs to make ends meet.
In the training sessions, students learn teller skills, but they also learn corporate world decorum such as how to dress professionally, always be punctual and the importance of looking a person in the eye. Once they have completed the training session and earned their certificates, the graduates go straight into a job fair where they are interviewed by recruiters from the partnering banks. BankWork$™ administrators carefully track placement and the six-month retention rate, both of which are well over 80%. Biller often hears stories of graduates moving up through the ranks and expects BankWork$™ to formally track those statistics in the future.
Biller, who attends many of the graduations, always gives a motivating keynote speech and spends time with the new graduates. "I'm constantly being inspired by them," he says.
BankWork$™ has expanded to Seattle and the program's growth is far from over. In line with his foundation's goal of developing programs that "can be scalable and exportable to communities beyond our own," Biller expects BankWork$™ to eventually expand to cities throughout the country. In a difficult economy, it needs to be determined that full-time jobs and corresponding benefits will be available to graduates.
"We're trying to be thoughtful with the rollout, figuring out how we would do it and what the model will look like," Biller says. "All of these are good problems to have."
Count on plenty of "oh yeah" moments for the future.