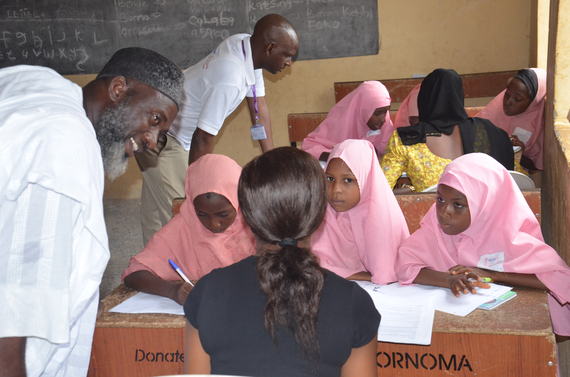 It is sad news for the world that Nigeria, the most populous black nation on earth and the biggest economy in Africa is gradually being taken over by Boko Haram, a terror group whose brutality shocked the entire world.
The insurgents have taken over major towns in the northeastern state of Borno from the military and are closing in on the state capital of Maiduguri while extending their control to Northern Adamawa and parts of Yobe state.
Potential investors from Europe and America would be more interested in security situation in the West African country than rosy figures and profitability theories by Nigeria's Finance Minister and Coordinating Minister of the Economy, Dr. Ngozi Okonjo-Iweala or President Goodluck Jonathan's passionate appeal at the Africa-US Summit.
From the oil rich Niger Delta in the South to the expanse of fertile land in the North, wanton killings, destruction of oil and telecommunication facilities, mass displacement of civilians and abduction of foreigners continue. The situation creates so much fear that foreign governments including the United States issued travel warnings to their citizens.
But the situation in Northern Nigeria is particularly disturbing. Boko Haram has destroyed mosques, schools, churches and shot or slit the throats of thousands of innocent people including school children, simply because they did not share their blood thirsty ideology. Atleast 12, 000 civilians died in the last four years.
Equally disturbing is the emerging trend of teen female suicide bombers who now represent the new face of violence. How did Boko Haram source for these girls, were they the Chibok girls and other school age children seized by the terrorists?
Muslims in Kano, the biggest commercial city in the North celebrated the last annual Eid- El Fitr amid blasts and pandemonium as three high-school-age girls detonated explosives at different locations, killing atleast seven persons. Few days earlier, 100 persons died in the Northern city of Kaduna in separate attacks on the convoys of Sheikh Tahiru Bauchi, a renown Islamic scholar and retired General Muhammadu Buhari, former military head of state and most popular opposition presidential aspirant.
The insurgents have seized villages and hoisted their flags while the military keeps retreating. Soldiers often grumble about unpaid allowances and lack of proper weapons and motivation to confront Boko Haram despite billions of dollars spent by federal government on the war.
The Nigeria's Army Chief, Lt Gen Chris Minimah has admitted that the military is recording high number of deserters who are afraid of confronting Boko Haram fighters.
Hundreds of abducted women and children have been in captivity for years but the outside world only took notice when more than 200 school girls were seized from their school in April. It is high time some one spoke for abductees whose cases were neither reported by the media nor recorded by the authorities.
The press and the #BringBackOurGirls protesters seem to have paid less attention to the suffering of abductees like Mariah, a young lady kidnapped at gun point from her home in Bdagu village in Southern Borno in June.
Mariah's husband, Haruna Ibrahim whom I personally interviewed in Lassa town where hundreds of displaced victims had been stranded with no food or shelter, said he had little hope for his wife's return having lost confidence in the ability of government to tackle the problem.
"Apart from you, no government official, Security agent or journalist cared to find out about our situation or bring forth any assistance since the attacks on our villages and our dignity. Some of us have been separated from family members," he said.
Nigeria records the world's highest casualties from terrorist attacks per day with an average of 24 deaths, higher than Iraq and Somalia, according to recent survey by Maplecroft, a UK-based Risk analytics Company.
"The country has been host to 146 reported attacks in the period 01 July 2013 to 30 June 2014, resulting in 3,477 killed - an average of 24 people killed per attack, compared to 2 deaths per attack in Iraq. The increased capacity of Boko Haram - as illustrated by attacks on the key centers of Abuja and Lagos in June 2014 - is likely to lead to a further loss of investor confidence in Nigeria's ability to respond to security risks in the country," the report reads.
I read Gordon Brown's article on WorldPost in which he discussed the idea of "rebuilding of their Chibok School and the creation of safe schools throughout Nigeria, particularly in those areas where girls are not going to school for fear of terrorism. The Safe Schools Initiative, a fund set up to pilot 500 safe schools in northern Nigeria and led by Nduka Obaigbena, brings the Nigerian government, business leaders together with the international community to ensure that all children are secure when learning. The fund total currently stands at $23 million."
Much as I appreciate Mr. Brown's Initiative, the military aspect of the war remains the most important component and it must be won. So long as Boko Haram continue to overrun military formations and raze towns and villages, the rehabilitation of Girls Secondary School Chibok will be an exercise in futility for it takes Boko Haram's Improvised Explosive Devices (IEDs) and Rocket Propelled Grenades (RPGs) only a few minutes to raze a school that takes us one year to rebuild.
Mr. Brown should work with other world leaders to push President Jonathan to act more decisively towards ending the blood shed even if this involves major overhaul in the security and defense systems. The shilly-shallying must stop.
There can be no safe schools when Boko Haram which translates in to 'Western education is sin' are hoisting their flags across north eastern Nigeria.