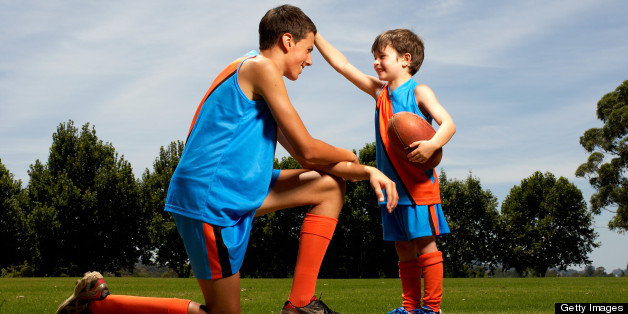 On May 30, 2013, Oprah Winfrey delivered the commencement speech at Harvard University during which she quoted Presidential Medal of Honor winner Maya Angelou saying,"What you learn, teach; what you get, give."
As commencements of all types take place this time of year, graduates are often filled with excitement, determination and usually a healthy dose of anxiety about what the future holds. In these pensive states, they often turn to experienced mentors for guidance and advice. However, after graduating, there is even more to gain than just being mentored.
To Angelou's point, graduates should proactively help those with less experience, even if they don't think of themselves as "traditional mentors:" accomplished, old people with invaluable wisdom pouring out of their ears.
At all times and regardless of age, we should all strive to be both a mentee and a mentor: Dual-Threat Mentorship.
Now, I'm not suggesting that we all corral a group of local 8th graders, stand on a soapbox and pontificate about our greatest achievements but rather that we take time to get to know and help those less experienced. Even if it's just with one person, we can be a sounding board and help them think bigger, build confidence and reach their goals.
Mentorship Synonymous with Success
Mentorship is a crucial asset to most peoples' success, so much so that Academy Award winner, Denzel Washington wrote the book, A Hand to Guide Me, detailing how mentorship transformed his life and the lives of others like former President Bill Clinton and Major League Baseball player Alex Rodriguez.
In professional or personal life, mentors can support, guide, encourage, motivate and lend credibility. Knowing these benefits, it's not surprising that most people, not just graduates, seek out mentors.
What is less common is for those same mentor seekers to also think of themselves as mentors. This means going beyond offering sound advice to our friends (which most people do frequently) and instead proactively helping guide the life of someone whom we are not incentivized to assist.
Personal Experience with Dual-Threat Mentorship
Like others, I was fortunate to receive a merit scholarship to attend college, and I felt pressure to excel not just for myself but also for the people who had literally invested money in my education and future. Hoping to ensure the best possible return on their investment, I sought out many people from whom I could learn and benefitted from the guidance of Hall of Fame athletes to Fortune 500 executives.
My most significant mentor was Mace Siegel, who pioneered both shopping center development and horse racing. At Mace's urging, I advised nonprofits as a way of giving back, but it wasn't until my grandmother died that I more consciously devoted energy into mentoring others.
In her honor, I decided to coach a boys' middle school lacrosse team. Having captained both my high school and college lacrosse teams, I had a foundation of knowledge that I could easily share with those less experienced. Additionally, it allowed me to clear my head and helped cheer me up.
That season, however, one of my players was faced with a tough family situation; his parents were getting divorced, and one of his siblings had been sent to rehab. Ironically, I'd gone through the same events earlier in my life and had experience processing the range of emotions that such circumstances can evoke.
While my original goal as a coach was to teach lacrosse and help the team win games, the goal with that particular player became multi-faceted. I was able to teach him lacrosse skills but more importantly how to cope with difficult familial conditions, with which I had firsthand knowledge.
At the time, I wasn't a "traditional mentor" like Mace was to me. But I was still able to teach others. Now a couple of years later, I remain in touch with many of those players and even get to watch some of them play for their high school teams.
Benefits of Mentoring Others
We can probably all agree that helping others is the right thing to do. As German writer, Johann Wolfgang von Goethe said, "You can easily judge the character of a man by how he treats those who can do nothing for him." But if altruism isn't enough incentive, here are a few direct benefits:
Good Health
Helping people can release brain chemicals that increase happiness and reduce pain.
Reinforced Learning
Teaching others a topic improves our understanding of that topic.
Better Leaders
Mentoring others make us better leaders.
We Can All Be Dual Threats
In football, a dual-threat quarterback is one who can pressure a defense by both throwing and running the ball like Robert Griffin III and Cam Newton. Such versatility is a rare and valuable commodity as Griffin and Newton have both recently won college football's Heisman Trophy followed by the NFL's Offensive Rookie of The Year award. When it comes to mentorship, however, we can all be dual-threats.
As we plan for the future, let us remember that mentorship can appear in many forms, even from younger generations. We should be cognizant of how we can help those with less experience and emphasize mentorship, both receiving and giving. From industry veterans mentoring recent college graduates to recent college graduates mentoring 8th graders, teaching what we've learned can improve both our lives and our communities.