What kind of writer would I be if I didn't listen to my readers? Not one that is willing to grow and learn. After I wrote my piece on planning a honeymoon based on my personal experience, the commentary was overwhelming; it took me almost a full day to sort through my inbox! After I waded through the spiteful and demeaning commentary that offered little to no intelligent additions to the conversation, I was inspired to write a follow-up piece by talking to several travel agents who sparked dialogue and an interest in learning more.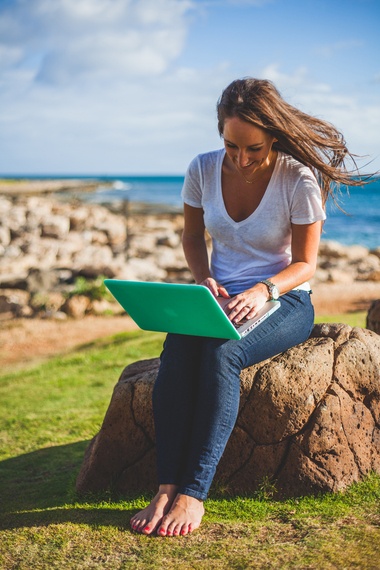 (photo credit: Jonas Maon)
Making mass generalizations can be hurtful and I, genuinely and earnestly, never meant to offend an entire industry, rather give tips based on our experience. In hindsight I shouldn't have painted with such a broad brush, but people should also realize that I blog about my personal experiences and opinion--and that was my experience. My hope, as always, is for people to learn from my experiences and make different or perhaps better choices than ones that I have made.
I am fully aware of the stereotypes and negative connotations that sometimes give a career or population of people a bad name. I'm both a writer and a military spouse, so believe me--I get it. No doubt our experience using a travel agent was horrid, and yes, gave us both a bad taste of using the travel industry, but it's an unfair assumption that every travel agent is that way.
For those that expressed frustration and hurt, I apologize. For those that expressed direct hatred toward me, my family and an interest in "dismantling my career as a writer"--grow up. One agent suggested they would ruin my career for sharing my personal opinion and experience. It makes me wonder how they might react when confronted by an unsatisfied customer.
Darren McCombs, owner of McCombs Travel Company, gave insight on the potential reasoning for such reactive commentary on my original piece.
"Travel agents get touchy, because it's an industry that has developed a stigma over the years for various reasons," McCombs said. "Be it outdated information about the way we do business, the bad eggs like you experienced, or just wrong information, not to mention the agents like the ones that lashed out at you personally, it doesn't represent the lot of us that try to do business honestly."
Darren's answer could not be more right. Bad eggs are not a true representation of an entire profession and every career field out there will, indeed, tell you this same fact.
"Gone are the days of the brick and mortar travel agency (for the most part), where travel agencies made their money by charging service fees to clients," McCombs said. "The majority of today's travel agents work from home (with exceptions), and the majority of them do not charge service fees to their clients (again, with exceptions)."
Our honeymoon travel agent was chosen through the recommendation of several friends. We had no reason not to believe their earnest advice, coupled with shining reviews online. My blog did attract comments and calls from travel agents who were sympathetic to my experience and they provided insight on how to avoid future travel woes. Some of my favorites include:
1. "I would consider asking a potential TA is if they have a license. This is an IATAN photo ID card. If they only have a CLIA # they could have obtained this with no proof of sales. The next question I would ask is if they have taken training courses, workshops, or family trips (visiting the resorts) recently. Red flag if they cannot answer quickly!" - Lindsey Hoffman, Ultra Tech Travel All Inclusive Vacations
2. "When you call the agent, ask lots of questions. Do you understand them and does the communication flow easily between you or are you finding it hard to understand and be understood? Does their style of communication work for you? In addition, do their answers make sense and are they focused on your needs? Do they charge a fee and how is that fee determined? (most don't charge a fee) What services do they provide exactly?"
"Using a travel agent is not for everyone in my opinion. If a guest enjoys doing all of their own research, and has the time to do so, and does not trust their travel agent, then using a travel agent is not right for that guest. While that guest may or may not make mistakes along the way, if they want to do all of the work themselves, they will be happier making their own plans." - Katherine Schutte, Magical Castle Vacations
3. "A referral from a friend or relative is usually a great sign, however many agents these days specialize in certain types of travel, destinations and resorts. It's best to work with someone that specialized in the type of travel that you are seeking. In the case of a honeymoon, it's best to seek out a well-traveled, romance travel specialist. The top romance travel specialists have cultivated relationships on site that will enhance the experience for the couple."
"Ask questions. What is the agents personal experience with the location or to the resort they are recommending? Have other clients stayed at this resort or experienced this region? What was their feedback? It's impossible to travel everywhere, but an experienced travel professional will have viable resources at their disposal to make sure that they provide their client with best experience possible. This starts with the initial conversation and does not end until the trip is complete." - Carolyn Waffle, Certified Travel Consultant
4. "Using a travel agent isn't for everyone. In fact, I've done a piece or two on this exact question. It's not for those who are just doing a simple point A to B itinerary. It's not for those who like to DIY and are willing to take full responsibility for any mishaps, changes or blunders. Americans travel the least and work the most; they need to learn to vacation more. In learning, they need to trust their vacations to an expert. But, let me classify that when I say expert, I mean it. I don't claim to be all things to all people and I'm not going to start now in an effort to close another sale. If I don't feel comfortable with the request, I will either say so and pass or say so and get help from other more experienced agent because at the end of the day, I want repeat customers and ones who will refer me to their friends." - Jennifer Maki, Destination Diva at Divine Destinations
5. "For more seasoned travelers, we may be a good option to turn them onto some hidden gems in one of their favorite places that they weren't aware of before. Or, if you're an avid researcher, and you know all that can be known about your place of travel and exactly where it is that you'd like to go, we're still there with that 'in' to get you extra goodies. I have clients that I call 'professional cruisers.' They know exactly the date, sailing, and ship that they want, but they still call me to book, so they can get extra onboard credits, upgrades, etc....Plus, they just don't like dealing with the booking progress. I have their information on file, so all they have to say is 'book it' and give me payment info." - Darren McCombs, McCombs Travel Company
I would like to take this time to give a deep and sincere thanks to every travel agent mentioned in this article who took the time to be interviewed and for those who contributed, but wished to remain anonymous. Thank you all for reading, and as always, I welcome the continuance of conversation via the comment section, Twitter, Facebook or e-mail.