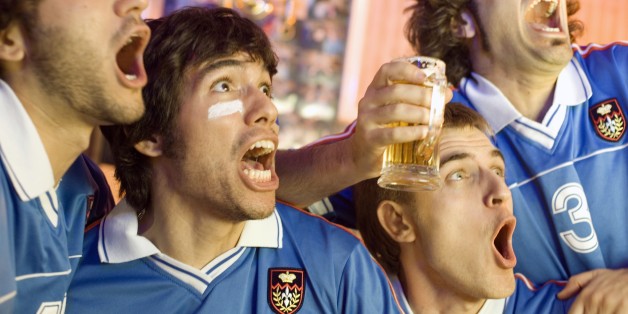 I'm a huge soccer fan. Always have. Always will. It's not a sport many Americans play nor do they relate to. We tend to go for basketball, baseball and the un-official holiday of Super Bowl.
The rest of the world however, eats, drinks and lives this. It's a pretty cool game to watch. Last year for once, I wasn't the only one at the bar hoping the U.S. could leave a mark to the world of our worth. It was great having the patriotic love to our team.
This year is World Cup again.
"World Cup? I thought it was last year."
Oh sorry, I forgot to add "Women's" to the sentence.
Wait, no I didn't. Because you wouldn't hear me say "Men's World Cup" last year.

Why would I have to say the gender for this year?
Another tournament is being held and yet I am again, friendless at the bar. I walked into Dicks Sporting Goods early, since last year,they sold out American Jerseys.
"Sorry we aren't selling them in stores this year."
Again I am reminded that although we preach feminism and equal opportunity in this country, we simply don't bat an eye when the women run on the field.

It's insulting. After all, last year the men barely got past the semi finals. It was sheer luck they got that far. Half of the time they would pretend to win an Oscar for "most injured on the field" from air tripping. They were sad clowns compare to the Women's team smooth plays and drama-free playing.
Have we forgotten how last WWC, Women's got silver? Bronze before that? Gold in 1999?
If you can't remember when we won, here's a hint:
It's when Brandi Chastai took her shirt off in victory.

Bet you remembered now.
Oh and we won gold the past three Olympic Games. No biggie.
Countless times I hear and see people complain how there aren't enough women role models.
Women who show they have what it takes.
These women are it! They don't dress their hair, put on fancy makeup and tell the world what they are wearing. They put on their cleats, get on the field and start kicking balls!
I can go into lengthy details about how our players are role models to LGBT, mothers, and other athletes!
These women are it! There is no cat fights or girls acting like high schoolers! These are women who work as a team and succeed! USWNT has proven this over and over. Audience or not.
So if you want to cheer for a winning team, I encourage you to watch Women's World Cup. We are after all, a serious competition to the rest of the world and its only fair that we give them out support and cheers as we did last year.
Correction: A previous version of this post said that Mia Hamm took her shirt off in victory.