Five ambassadors from iLIVE2LEAD have been invited to give the Gen Y response to the program at the 2014 Women in the World Summit.
"You are too intense, Kaitlyn, way too intense. Try toning that down or else you are going to push people away."
Throughout my childhood, these words were repeated to me, time and time again, from outside forces. Sometimes I felt ashamed of my willingness to push projects and ideas forward. I felt ashamed to fight for what I wanted or what I felt was right. For years, I struggled with trying to balance my approach in my communicative style -- was I too loud? Did people think I was too pushy? What does being a woman really mean?
I remember when this struggle was brought to an end. I was fourteen and picked up Living History: Hillary Rodham Clinton, of which I now own a signed copy. From that moment, I composed a list of strong, female role models that I would look up to and learn from. The women on my list are all breaking glass ceilings from left to right, and guess what, they are all intense in their own ways.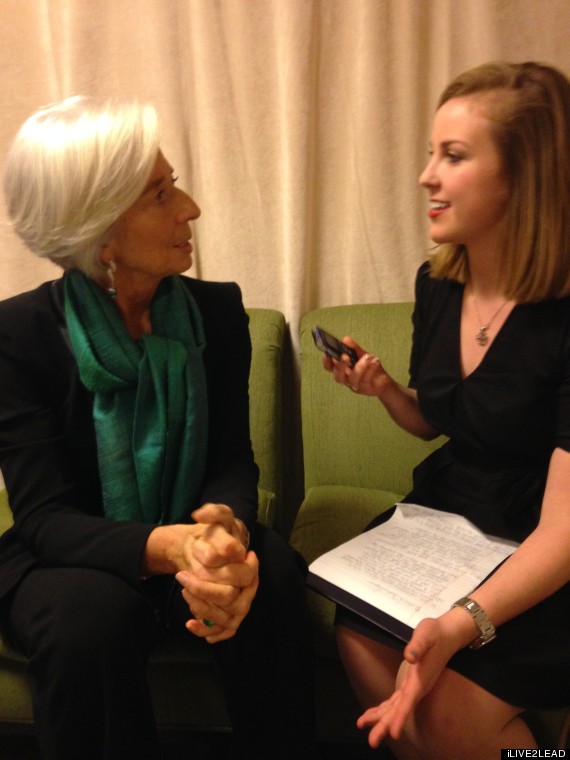 Today, the former Secretary of State, Senator of New York and first lady Hillary Rodham Clinton, along with the managing director of the International Monetary Fund, Christine Lagarde, top my list of female role models. These two powerhouse women motivate me to be successful. This inspiration reached a whole new level last Thursday, when I had the opportunity to hear these two women discuss feminist concerns at the "Women in the World" Summit in New York. But perhaps, one of the most empowering moments of the summit was when I was granted the opportunity to sit down and have an exclusive interview with Madame Lagarde.
Because of Lagarde's encouragement for young women to develop their womanhood, one of my questions for Madame Lagarde was to ask her to define what it means to be a woman.
"It means lots of things," Madame Lagarde responded. "It means being happy with yourself, being satisfied that you are helping other people and are giving love to other people."
This theme of "helping other people" was also addressed during her interview on stage with Secretary Clinton. Throughout both of their careers, Lagarde and Clinton have given voice and agency to discriminated individuals across the globe. Clinton has famously described women's rights as equivalent to human rights and has called for "full participation of women, in their economies, in their political systems, with access to health care and education, to be fully functioning equal citizens."
When Lagarde sat down with me, she stressed how incorporating women into the workforce, in particular, was a "no-brainer."
I asked her how we convince others of this "no-brainer" approach to improving the world's economy and women's place within it.
"Well you have to demonstrate, using facts, numbers, evidence. It cannot be just left to good will or the impression or sort of a moral commitment," Lagarde said. "You have to actually demonstrate it with the bottom line, the performance delivered, the improvement we have seen from having the women join the workforce. ... If you for instance, assume that Japanese women enter the Japanese market at the same proportion as men, and participate in the same proportion, the overall economy could go up by, I think it was seven percentage points, over a period of time. That is what I call a 'no-brainer.'"
In order to get more women in the workforce, in order to empower women across the board, Clinton said, "You have to play both an outside and inside game." She encouraged young women to follow the advice of Eleanor Roosevelt and "grow skin as thick as the hide of a rhinoceros."
For me, as a young woman, hearing how to juggle this outside and inside game was eye-opening. Clinton said we must be working to dismantle issues truly rooted in sexism, but she also said, from the inside, too many women are "selling themselves short."
When I took a step back and dissected her words, I realized that I often focus too much on the outside pressures related to sexism. I work to change minds. I work to challenge the status quo, but, sometimes, I don't work to challenge myself. Sometimes I doubt my own actions and my competency tobe a successful leader.
For Lagarde, the competency of leadership is essential and needed by all people. Like Clinton, however, she sees it as a process, and believes leadership is cultivated in groups.
"People cannot operate in a vacuum without a sense of the direction you are heading," she said. "And you cannot operate solo, so you have to be together, with others, heading in that direction."
Clinton said in order to really rise in any career, you must have a support system.
"You need other women, you need your friends to support you and you need, you know, male friends, as well as female ones. You need good role models."
Like Clinton, my undergraduate degree will be from an all-women's college. The Saint Mary's environment has fostered a sisterhood that spans the globe. We support each other, we love each other and we appreciate each other's unique traits, even if those traits include high-levels of intensity.
On the stage at the Women in the World Summit, Clinton told young women to adopt the strategy that I did years ago: she encouraged them to find good role models.
I am grateful to have women like Secretary Clinton and Madame Lagarde to look up to everyday. I am grateful they took the time to offer advice to young women at this conference, for it provides us with the inspiration we need.
So thank you Secretary Clinton and Madame Lagarde. Without both of you being the strong, role models you are, I may have never landed an internship with iLive2Lead and been able to attend to the "Women in the World" Summit. I may never have had the opportunity to witness that high-five when columnist Thomas Friedman hinted at your future leadership positions in both Europe and the United States. I may have never been able to sit down, shake Madame's Lagarde's hand, and confidently interview her on women's leadership. Women are the future, and I can only hope to be as life-changing to future women, as my role models have been to me.
iLive2Lead is a youth leadership-training program based in Washington, D.C., that conducts training in various nations in each region of the world. iL2L brings the most exceptional young leaders together for International Leadership Summits and works with them to develop social initiatives which they lead back in their home nations, thus creating global examples of social responsibility and a ripple effect of impact worldwide. Contact us at www.iL2L.org.