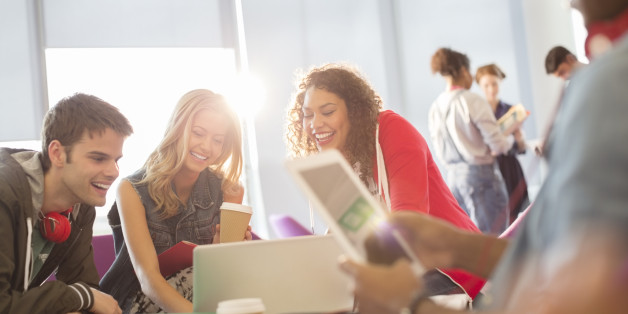 In spite of the recent economic upswing, its easy to argue that the world remains an uncertain place for those in college thinking about their lives post-graduation. I presented to a lecture hall full of them this past fall at the University of California, San Diego.
Daunting are the statistics. Governing states that the unemployment rate for those aged 24 and below stood at 16.1 percent just this past year. According to Forbes, student loan debt has topped $1.2 trillion. In fact, one in 10 students owe more than $40,000 on their college education. The world is a different place for those entering today's workforce.
But that doesn't mean it isn't a better one.
To all 2014 college graduates, congratulations. I commend you for entering the workforce during a time when we are: 1. More creative, 2. More independent, 3. More globally aware, and 4. More insightful.
My message to those graduates dates back to a quote that was printed on the wall of my downtown Chicago hotel room: "Life is not about finding yourself. Life is about creating yourself." And hence, you graduate staring at a blank canvas on a museum wall, waiting to be painted as you wish. This is your manifesto, and you have the ability, more than ever before, to write it.
And what no professor, no administrator, no TA will share -- is that your job is not your career. Your career, in fact, is your life -- made up of its own, individual pieces. A close friend and mentor, John O'Neil, likened the pieces to those of a pie, asking me to envision my life as the completion of that pie's circle. The tougher question was to ask myself what does my life pie look like, and is it what I aspire it to be?
Come to find out, only one of those pieces was filled by my job. Family, travel, community, advisory work, philanthropy and investments filled the remainder. But not enough of it. That, for me, was a wake-up call.
Class of 2014, as you embark upon graduation, I ask you to take a long drawn out second to determine what you aspire your own life pie to be. And I challenge you to stick to it.
In rounding out my life pie, I thought about what I didn't learn in college; lessons experienced the hard way. As I look back they have certainly proven more valuable than any early morning lecture, four hour final or standardized exam.
So here are my top 10:
1. You have no ego. Call the CEO and prepare to do the grunt work. Every executive at every corporation started from the ground up. Don't be afraid to reach out directly to those running the company you wish to join. In turn, you'd better be ready to roll-up your sleeves. I started in the mailroom of an L.A. talent agency -- the perfect remedy for my fresh-out-of-college ego.
2. Travel the world and travel hard. Stay awhile. Be it a developing country far from home, a youth hostel in a busy locale, a long voyage to the unfamiliar, travel provides perspective. It gets us out of our comfort zone. It enables us to see the bigger picture.
3. Give back now. Society cannot continue on its current course of taking. We must give back and give back now. Its neither the wealthiest nor the most philanthropic who will have the most impact. It is the middlemen; the broad population. Find a cause -- environment, education, poverty, health. Commit to dedicate yourself early on. Make it a formidable piece of your life pie.
4. Be nice to people and never discount a connection. You never know who is going to pull through for you. I secured my first position while travelling on a ferry from Spain to Morocco. The gentleman I met connected me to a Hollywood publicist. Three months later, I found myself working on the set of Quentin Tarantino's Jackie Brown.
5. Find mentors and hold them close. Mentors will prove crucial to those who seek them. I challenge you to find life mentors, and nurture the relationships you develop with them. Care for them and build them. Make them mutual. And as you grow in your career, don't forget to return the favor to the next generation.
6. Be bold, but also take the long road. According to Forbes a staggering 91 percent of millennials are expected to stay in their jobs less than three years. This has implications. It is important to taste different careers, and carve your own path. But every decision you make is a building block to a future outcome. Think about the long term -- where do you want to be in 10 years? What decision that you make today will get you there? One of my pinnacle role models is the late John Wooden, renowned UCLA basketball coach. He created the "Pyramid of Success" -- the building blocks of an omniscient successful life story. At the very top of his pyramid lie two qualities -- faith and patience - vivid testaments to perspective in the long term.
7. Your personal balance sheet affects your professional balance sheet. A healthy balance sheet equals mobility: the ability to change locales, start a different career, take a pause, take a risk. None of this is possible if you are financially over-leveraged. The call to action -- save your money. Pay down your debt. Don't buy a new car. Live below your means. The payoff will come soon enough. You will be in control of your own financial destiny and hence you will be in better control of your life.
8. Your career is one giant improv set. Don't forget to laugh along the way. The reality is no matter how much you study, plan and prepare, you will never fully know what the day-to-day will throw at you. Expect the unexpected. Anticipate disruption. And most importantly, do not take yourself too seriously along the way. (I'm still working on that last one.)
9. Marry the right person for you. Sure you're just graduating from college...the world and all of its pearls lie just ahead of you. Plenty of time to think about marriage. And then it hits you. Before you know it. Before you know what you want. It is critically important that you marry the person that is right for you. Marriage is a lifelong commitment to shared love, finances, dreams, jobs, children... the list goes on. You have to find a life partner who is on your page, and ask that person the tough questions. Infatuation fades fast. Commitment lasts a lifetime.
10. Find your personal grounding, you'll need it. Faith, religion, spirituality, family -- find your personal grounding. Life will punch you in the gut when you least expect it. It is important that you have solid roots, a core foundation. It is this grounding that will enable you to weather the storm, to continue on in spite of adversity. Ask any corporate raider, politician, surgeon and astronaut how many times they've failed -- the answer is always many, and there is always something bigger than themselves that picked them up along the way.
The world is a book more open than ever before. Your generation has the ability to carve its unique path, chock full of its own twists, turns, setbacks, deviations and advancements. This is your path. You will make it. You will own it.
Now let's start walking.