Innsbruck, in the Tyrol region of Austria has a spectacular location, hemmed in by the Austrian Alps, with a medieval old town and a glacial blue-green river. More than one quarter of its population consists of students which gives it a constant buzz. Though many regard it as just a ski resort, it's great to visit in the summer too. My pick of top 10 reasons to visit this town:
See the Golden Roof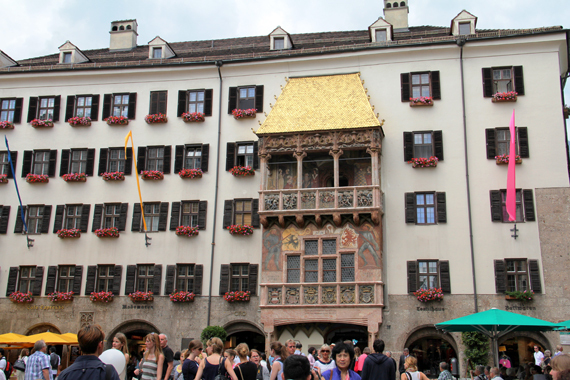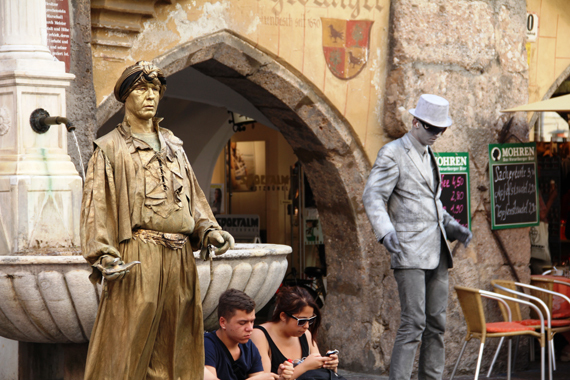 The focal point of the town is the 16th century balcony with 2657 copper tiles gilded with six kilos of gold, called the Golden Roof. The Golden Roof was constructed in honor of Maximilian's second marriage to Bianca Sforza of Milan. The King used to sit on the balcony's royal box and watch tournaments and entertainment below. Today it's a great place to people-watch in an al fresco café, have your caricature drawn, watch street performers and feast on the Gothic and Rococo architecture of the buildings with colorful historical murals on their facades.
Visit the Folk Museum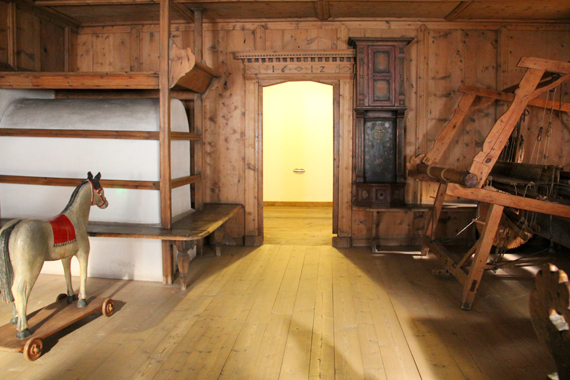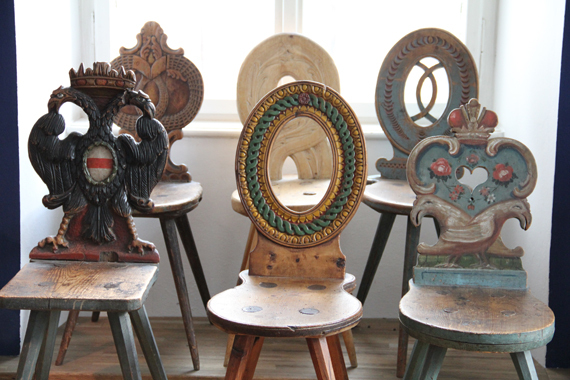 For a glimpse into Tyrolean architecture, culture and folk art visit the Tiroler Volkskunstmuseum. Look at carved spoons and combs, ancient baby's cribs, cooking pots and traditional dresses as well as complete wood-paneled living rooms called Stuben with intricately crafted wooden furniture brought from villages all around the region. Don't miss the skillfully carved Christmas Nativity scenes as well as the carnival masks.
Go back in time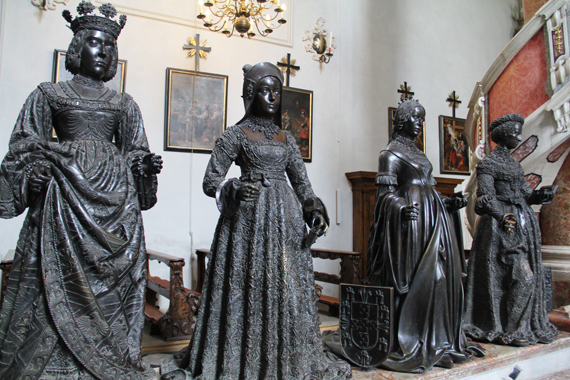 Visit the 16th Century Gothic Hofkirche (Imperial Church) to see the cenotaph of the Emperor Maximilian surrounded by 28 larger-than-life bronze statues of his ancestors, relatives and heroes standing vigil over his tomb. See the marble reliefs carved into the base of the tomb depicting scenes from his life. Follow it up with a visit to the Hofburg or the Imperial palace with halls decorated in a riot of designs and rococo. Don't miss the Giant Hall, hung with impressive life-size portraits of the royal family. Finish with a visit to the modern museum Das Tirol Panorama which showcases a stunning oil painting with a 360* view of the famous Bergisel Battle where local Tyrolean forces defeated Napoleon.
Climb a mountain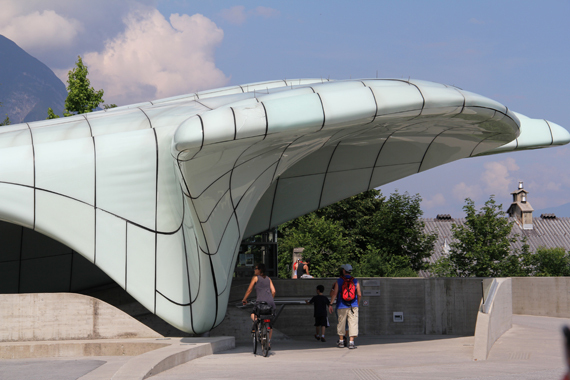 The unique thing about Innsbruck is its spectacular location hemmed in by the Austria Alps. Take the Patscherkofel cable car to the top of the Patscherkof Mountain at 2246 metres. Have a look at the bob sleigh used in the Winter Olympics. You can hike along the Stone Pine path to the very top with views of the city as well as the 190 m high Europa Bridge, and have a meal at a rustic mountain hut. Follow this up with a ride on the futuristic Hungerberg funicular designed by the visionary architect Zaha Hadid. From there take the Nordkette Cable Car with its extra-terrestrial looking stations which continues to the Seegrube that is more than 2200 meters high and gives a great panoramic view of the city.
Ring a bell at Grassmayr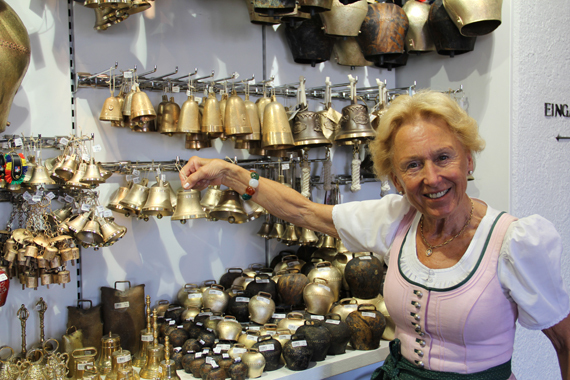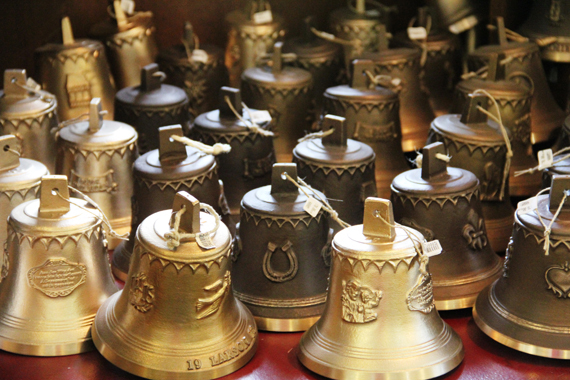 Grassmayr is Austria's oldest family business making a variety of bells from huge church bells to U shaped cow bells, since 1599.Visit their showroom and bell museum which showcases the evolution of bell, explains how they are made, and has some quirky trivia about bells. If you are lucky, you can watch a bell being cast at the foundry or one being taken out from its clay mould. Pick up a souvenir bell at the shop and watch a video about the history of the bell business.
Gorge on Austrian specialties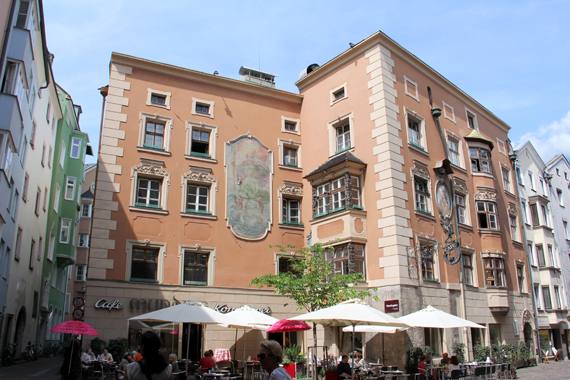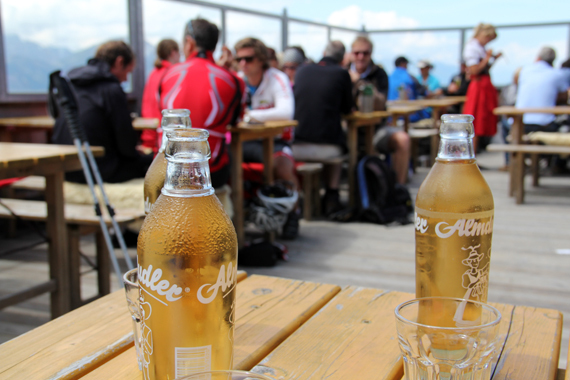 Typical Tyrolean specialties are wiener schnitzel (bread crumb fried veal cutlets), a local version of pasta with fried onions and cheese called Kässpätzle, ravioli with spinach called Schlutzkrapfen as well as desserts like a shredded pancake desert called Kaiserscharmn as well as Apple Strudel. Try the local beverage called Almdudler, a kind of lemonade with Alpine herbs as well as schnapps made from fruits and berries. Have a meal at Goldenberg Adler (golden eagle) hotel where celebrities from Mozart to Jean Paul Sartre have stayed. Coffee and cake is an Austrian tradition. Have a coffee or hot chocolate with some sacher torte at Mundingzof, the oldest café in town housed in a house built in 1720, with Baroque frescoes and bay windows. Their cakes and pastries use only fresh eggs, butter cream and milk with no emulsifiers or binders.
Go pastoral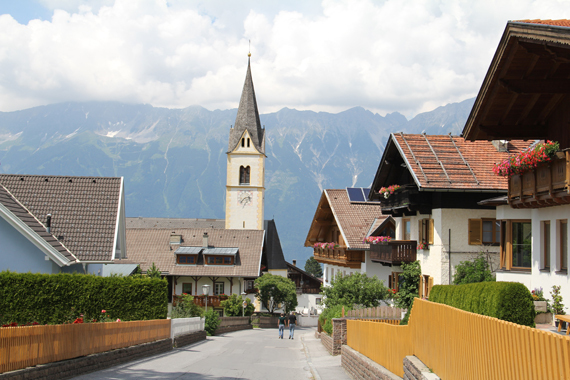 Innsbruck is surrounded by small holiday villages with pastoral landscapes, wooden chalets with sloping roofs bedecked with flowers, and wrap around porches. Drive down to sleepy Sistrans with a centerpiece parish church and facades of houses painted to reflect family history or religious themes. Peek at the historic Post office at Patsch started by Maximilian I. Admire the beauty of Mutters whose quaint village scene with its half-timbered buildings, oriel windows and colorful blossoms has won many prizes.
Be dazzled by a fantasy world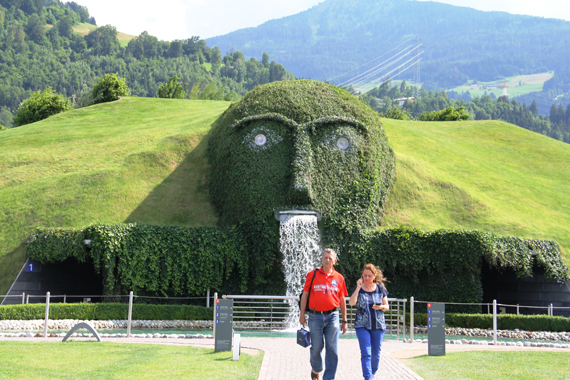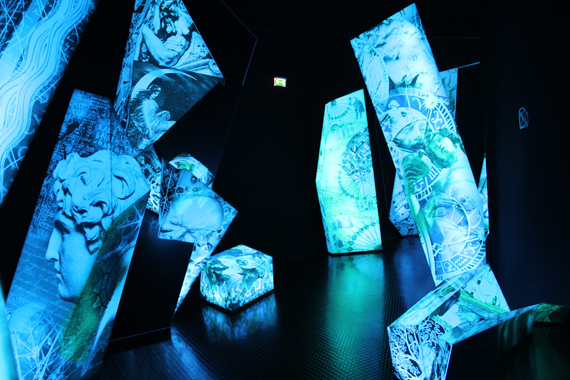 On the outskirts of the town in Wattens, is the kitschy Swarovski Crystal World with a manmade hill and a giant face spouting a waterfall. It's a fantasy world designed by the Viennese artist Andrew Heller based on the vision of Daniel Swarovski. Enter to a large wall with 12 tons of crystals and crystal works of art by everyone from Andy Warhol to Salvador Dali. Walking inside the Crystal Dome gives you an idea what it is like being inside a crystal. Immerse yourself in a fantasy world of color and movement at the Crystal Theatre. Treat yourself to a shiny bauble from the humongous souvenir shop packed with jewelery and artifacts made of crystal.
Get a bird's eye view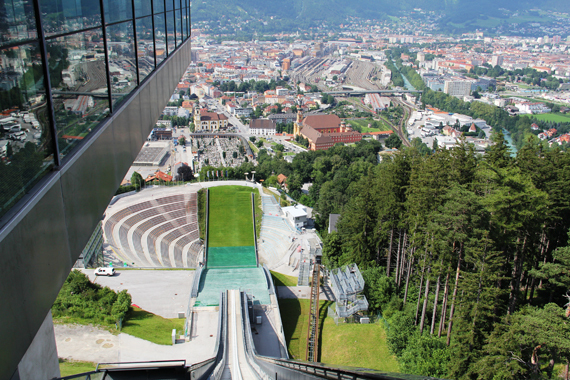 Visit the glass and steel Bergisel Ski Jump designed by the visionary architect Zara Hadid and built at a whopping 15 million Euro, from where daredevil skiers fly off at 57 mph. Wrapped around the base of the slope is a stadium from where a funicular takes you to the visitor's platform for a panoramic view of the city. Relax with a coffee at the rooftop café.
Hit the shops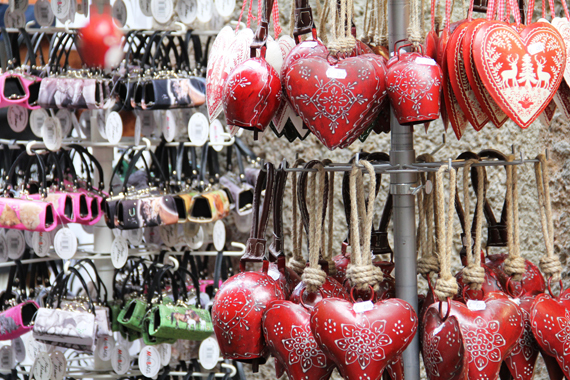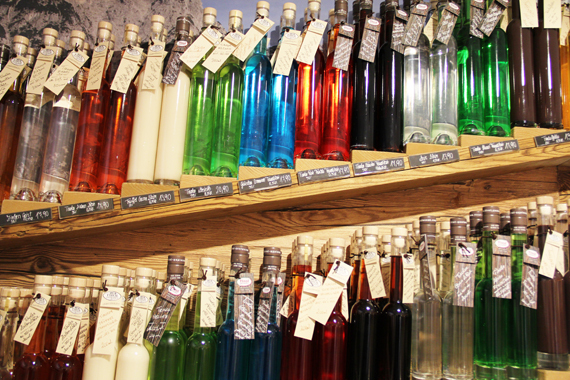 Innsbruck is a great place to shop for traditional Tyrolean souvenir like bells, woolen clothes, and ceramics. Walk along the main street Maria Theresien Strasse to shop for crystal jewelery, handmade lace and chunky sweaters. Pick up a traditional Austrian dirndl. Choose from a bewildering variety of schnapps -- pure distilled spirit made from fruits at the small shops in the city centre.
The author is a travel writer and blogger based in Chennai, India and her blog 'Footprints on the sands of time' can be found at www. Kalpanasunder.com/blog
Photos courtesy of Kalpana Sunder