I have to confess. I left Morocco completely tired. Exhausted by the constant assault on my senses, the relentless touts, the noise and the need to ignore people trying to sell me something... and by its overall overpowering intensity. But what you hate, you usually love, too. Here are 10 reasons why I loved this country!
The Freshest Orange Juice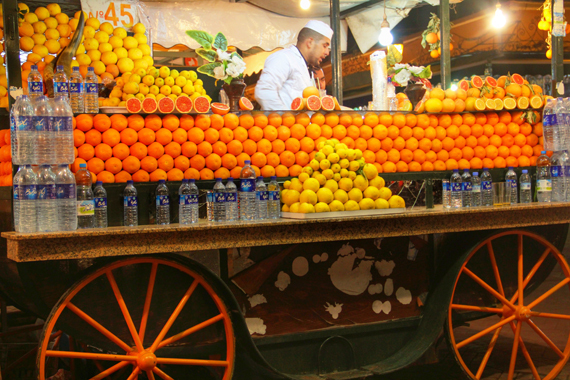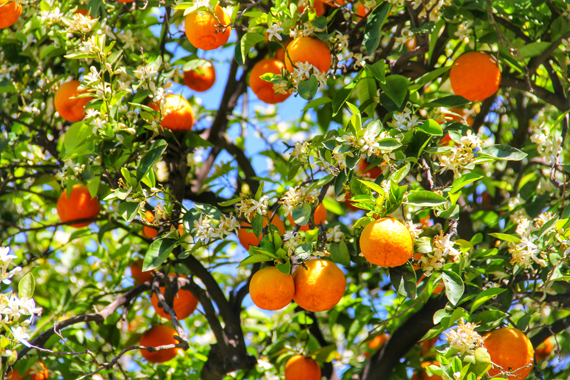 The freshest orange juice that you can have is in Morocco. I had glasses of juice throughout my trip from roadside stalls for four dirham; even in restaurants it is cheap compared to anywhere in Europe. Make sure you ask to make it sans sucre, this amazing juice doesn't need any sugar. Visit Marrakech's main square, Djemaa El Fna food market any time of the day for some freshly squeezed orange juice. Also growing around the city of Marrakesh, you see orange trees with their lovely blooms and the heavenly fragrance. These orange trees are merely decoration and the oranges are not good to eat!
Moroccan Architecture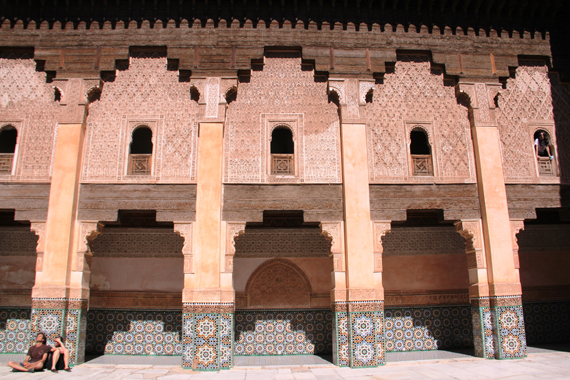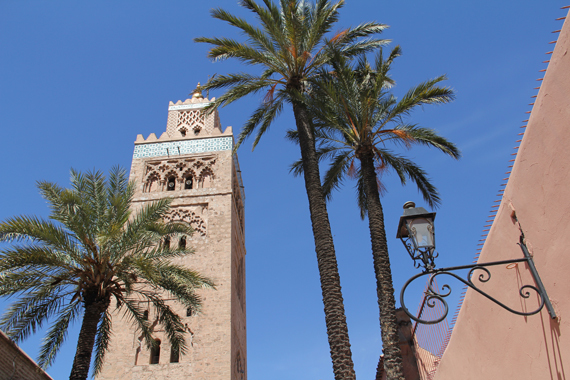 Moroccan architecture is a rich mix of African and Islamic influences with some French elements and Art Deco thrown in. I loved the complex geometry of the minarets and domes, marble which is soft and organic and the plaster casts with designs. From the Bahia palace -- a late 19th century palace with finely decorated rooms set around a vast glistening courtyard which took seven years to build -- and its cascading tiles, fountains and lush gardens that seem to come straight out of Andalusia, to Ben Youssef Medersa, one of the finest and largest Koranic schools with elaborate doorways, mosaic-paved corridors, marble, calligraphy and Zellij tilework. Courtyards, lavish gardens, striking doors and windows are some of the hallmarks of Moroccan architecture. Even in the seaside of Essaouira, the blue and white palette was so pleasing and adhered to strictly.
Floral Fest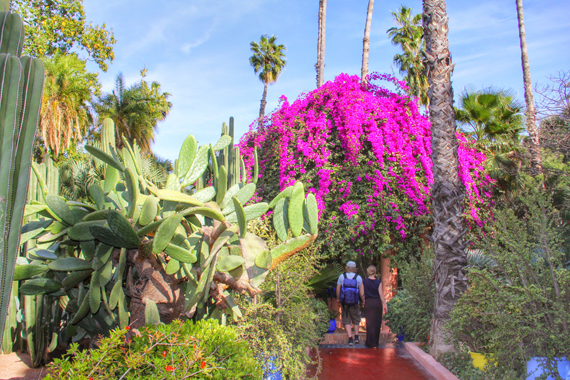 Taking a taxi into town from the airport, I saw palm trees silhouetted against the dusky rose city walls, orange trees in bloom, olive trees, roses and various cacti surviving in the arid soil. Marrakech boasts a number of gardens -- I loved the lush Menara Gardens near the airport with a lake and locals enjoying the breeze, the Jardin Majorelle in electric blue and yellow where the designer Yves St Laurent has a small memorial. Even the terrace of our riad was a riot of greenery and an explosion of magenta bougainvillea and roses.
Shopping in Souks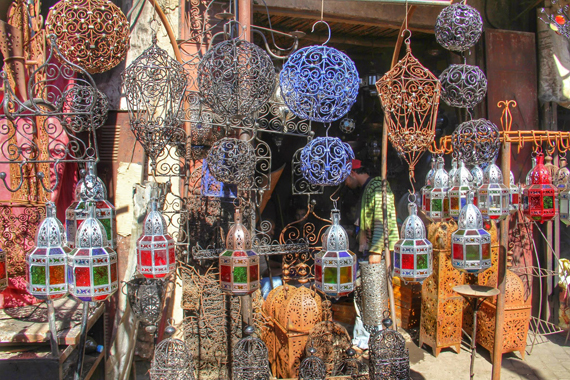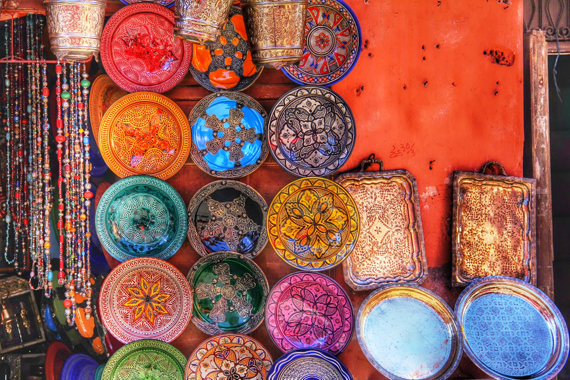 The perfect antidote to a world of standardization and supermarkets is shopping in the chaotic, souks filled with an amazing variety of handmade products. I enjoyed the experience of walking through labyrinthine souks divided on the basis of trades -- the Souk des Teinturiers -- the dyers' souk, with iridescent skeins of wools hanging out to dry, the noisy Souk of metal workers... souk of pottery, souk of glass ware and the Souk Smata or the shoe souk with colourful babouches. The small lanes and bylanes covered by palm frond ceilings can be overwhelming and even bewildering, but a must-do.
Living in a Riad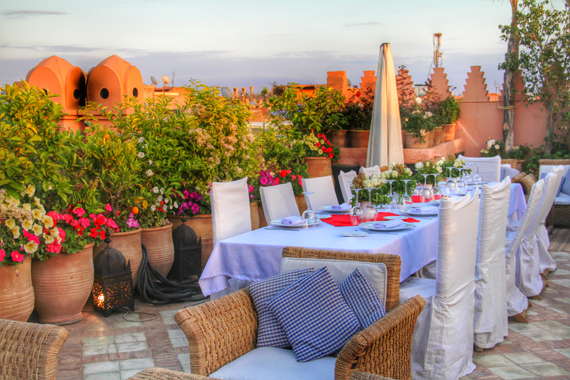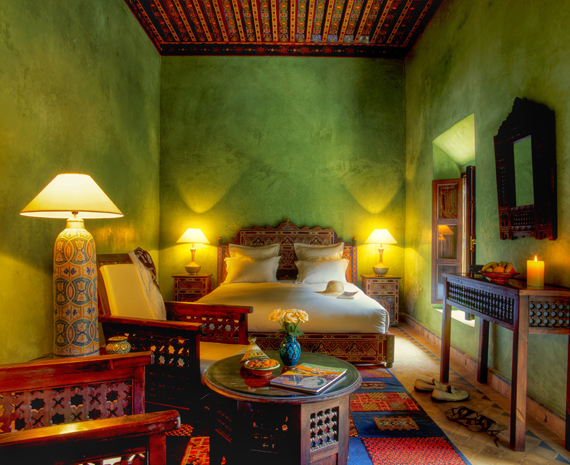 One of the most unique experiences was living in a riad or a traditional Moroccan townhouse. I stayed at the beautiful Dar les Cigognes. The word "riad" is derived from the Arabic word for "garden." They offer refuge from the clamour and sensory overload of the streets and protection from the intense cold of the winter and the fiery warmth of the summer. Each room of a riad is individually decorated -- you will not find any cookie-cutter rooms here. I loved being in the courtyard garden with a tinkling fountain and built-in seating nooks. Tight winding staircases with dappled light coupled with mod-cons like air conditioning and small hamaams. Intricate painted wooden ceiling, called zouaki, a hearth, and copper lanterns, walls with tadelakt plaster which is smooth and shiny, and zellige tiles, usually with Arabic calligraphy. The food is typically Moroccan (based on age old recipes) cooked by female cooks called dadas and served often on the terraces.
Mint Tea Everywhere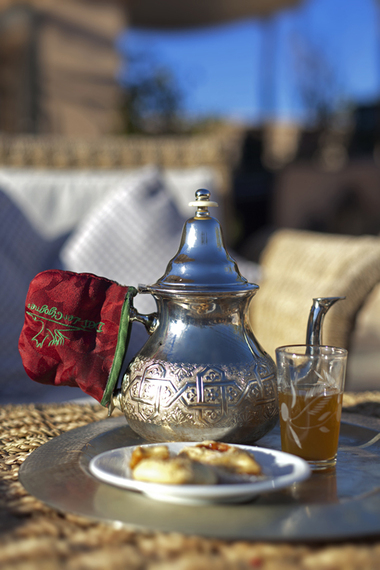 This is a custom that is followed everywhere. Moroccan Mint Tea is not just mere refreshment, it's an art form. It is poured from special silver tea pots with curved spouts from high above the table, splashing creatively into short glasses. Moroccan mint tea comes with loads of sugar. Before drinking look the host in the eye and say "bi saha raha" which means "enjoy and relax."
The Contrast of Landscapes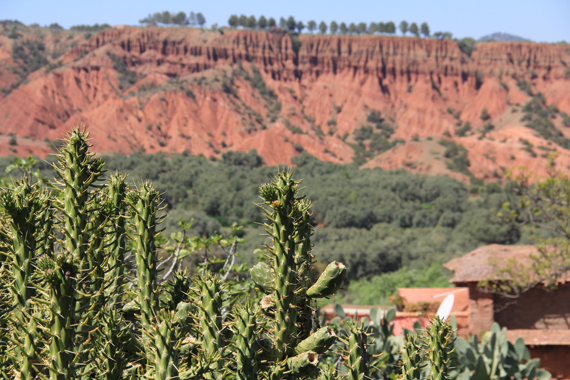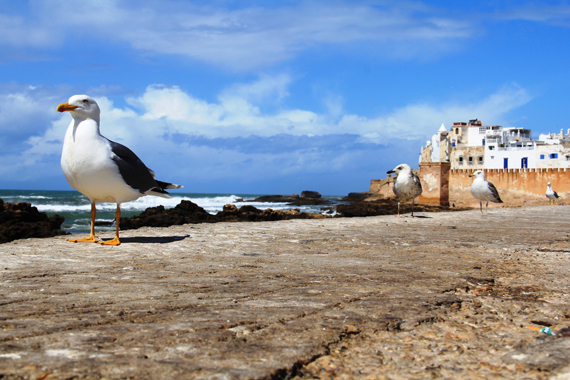 I enjoyed the clutter and chaos of Marrakesh with its dusky pink walls and then the cerulean hues of Essaouira on the Atlantic Coast. It was a great contrast to drive through rugged brown landscapes past clay-red Berber villages camouflaged amid the foothills to the lush Ourika valley and then the snow covered Atlas Mountains. Snow, desert, plains, coast you name it and Morocco has it within close driving distances.
The colour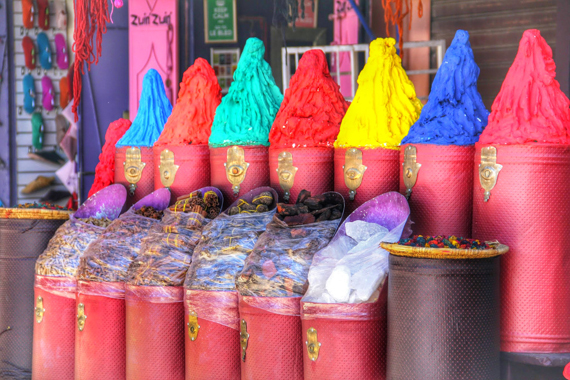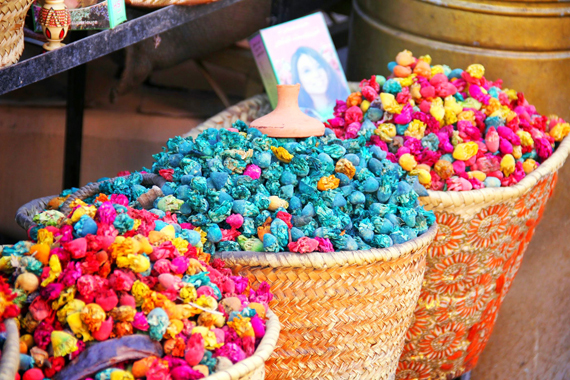 Coming from India, I like to believe that colour is our fortè. But believe me Morocco does colour extremely well too. Bright tassels on everything, heaps of coloured rosebuds, pigments and spices, jewellery, vivid Berber robes, Djellebas, leather bags -- everywhere colour is the omnipresent motif. The electric green of the horse-carriages of Marrakesh, the dusky rose of the buildings, the blinding blue and white palette of Essaouira, all reminded me of an artist's multi-hued palette.
Tajine... the Dish and the Contents!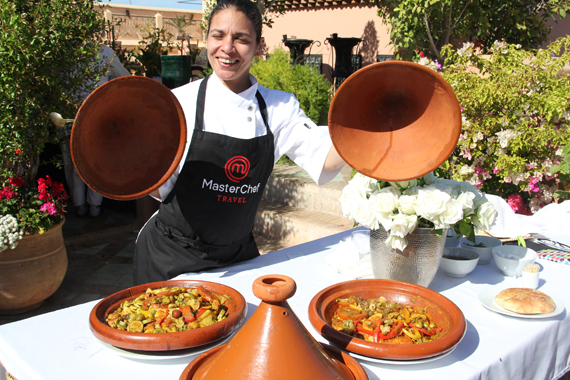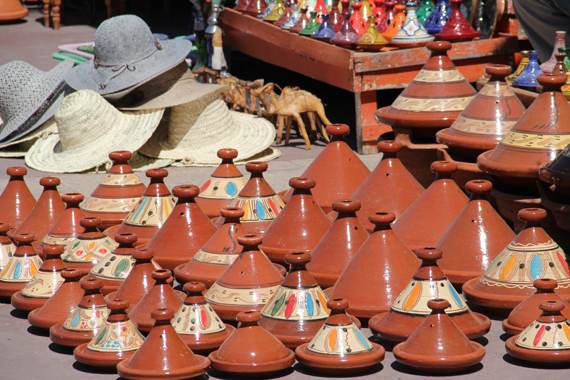 Tajine, the slow-cooked stew which is named after the dish which it's cooked in. You can find good tagine anywhere from the local restaurant, street-food stall, and even the occasional cafe in the city centre. Being a vegetarian, believe me, I had more than my share of the national signature dish... I even learnt to make it from scratch at Dar Les Cigognes. After all, I was there on a culinary holiday with Master Chef Travel (operated by Cox & Kings Ltd) with a bunch of food writers and Keri Moss the joint winner of Master Chef: The Professional 2012.(www.coxandkings.co.uk/masterchef-travel). But every time I had it I was never disappointed. And the tajine dishes themselves -- from big to small make delightful souvenirs and gifts.
If Music Be the Food of Love...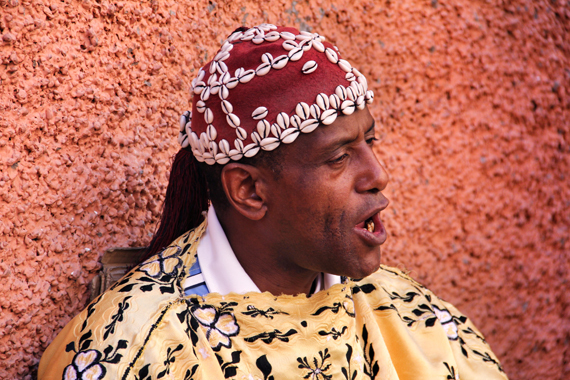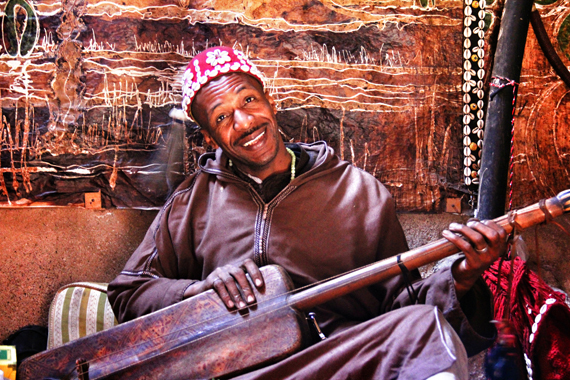 From north to south, and east to west, you'll hear different rhythms, tunes, and beats from Berber folk music to Sufi music. Visit any souk and you will find musicians playing and stalls blasting CDs of local music they have for sale. I listened to mystical Gnawa musicians on the streets, almost meditative as if in a trance; I even listened to one in the fireroom of a hammam. I enjoyed groups of musicians serenading us through the evening's dinner -- on terraces and beside water bodies. I saw them in the largest square in the world the raucous Djema El Fna -- a UNESCO site. And when I left Morocco, the sounds of music still rang in my ears...
The author is a travel writer and blogger based in Chennai, India and her blog can be found at www. Kalpanasunder.com/blog
Photos courtesy of Kalpana Sunder.
Follow Kalpana Sunder on Twitter: www.twitter.com/kalpanasunder
Instagram @KalpanaSunder
Facebook https://www.facebook.com/kapsinjapan