Australia's third largest island, just half an hour from Adelaide, is a 'back to nature' elemental expanse that is beyond the cliché of 'Australia's Galapagos.' Drive through the island to see seals sunning, koalas napping in eucalyptus trees, mobs of kangaroos darting across mud roads and prehistoric looking goannas on road sides. On this island with its soaring cliffs, small towns and stark white sand beaches, here is my pick of what to do:
Explore animal kingdom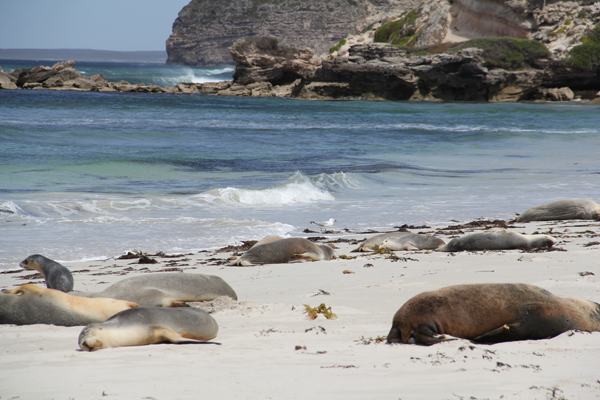 More than one third of the island is National Park and for animal lovers this is really paradise! Head to Seal Bay Conservation Park, a stretch of golden sand beach and be enraptured by the sight of legions of sea lions yawning, stretching and feeding their young, exhausted after their fishing forays. Head to Admiral's Arch, just below the Remarkable Rocks, to see New Zealand fur seals frolic along the astounding geological formations. Take a trip to the privately owned Parndana Wildlife Park where you can hand feed kangaroos and wallabies and cuddle koalas. I also enjoyed the one hour show at Raptor Domain, where you can interact with an array of birds from the laughing kookaburras to the Barn owl as well as fierce birds of prey like the wedge tailed eagle. Finish your day with a night tour from the Kingscote pier, to see fairy penguins up- close in their habitat.

Watch the sunset 'on the Rocks'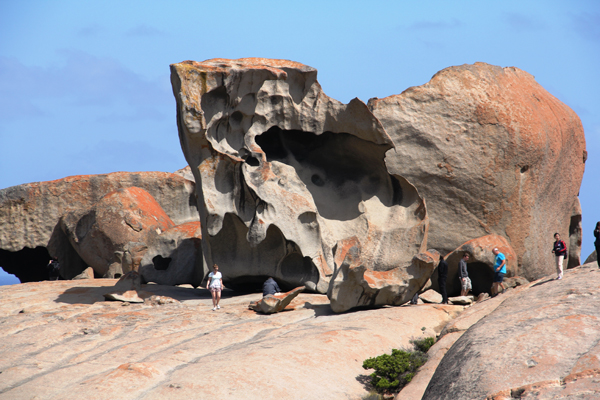 Make your way to 'Remarkable Rocks' mammoth granite boulders, whittled by wind and rain and coloured vividly by lichen which served as beacons for ships across centuries. Don't they remind you of priceless Henry Moore sculptures, especially when they glow a burnished orange at sunset on a rocky promontory? In abstract shapes and colors framed against the azure seas, they make for great photo-ops.
Feed the Pelicans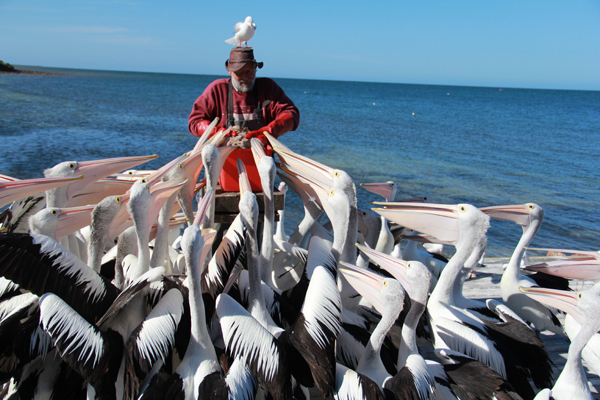 Head to the pier at Kingscote every evening at 5 PM as the sun goes down, to watch the local celebrity- the Pelican man, one of the most colorful characters on the island fling bits of fish from large buckets, to the pelicans with their large pink bills, that gather here as if by clockwork. The pelicans hover around, in a feeding frenzy, taking flight, and landing and grabbing, sharing the limelight with some ferocious sea gulls, as the Pelican Man gives an informative talk about the birds. You may notice that after some time the birds are a little too close for comfort to the tourists seated on their wooden benches!

Have an Art attack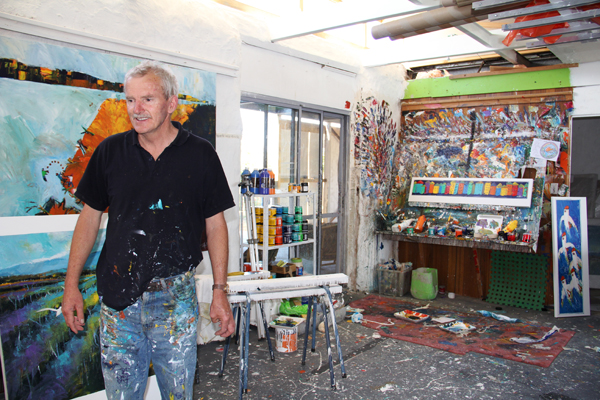 The island is a haunt for artists and creative people who have their galleries and do some wonderful work inspired by the beauty that they see around them every day. I visited artist Neil Sheppard's gallery in the Bay of Shoals, where he paints stunning sea scapes as well as local scenes. For some local jewellery visit 'Some-bling jewellery Studio' in Kingscote, and look at some unique creations in sterling silver and cuttle fish bone. Rustic Blue is a restored shearing shed converted into a boutique stocking jewellery and craft and serves herbal teas and coffee on the deck.

Be a Sybarite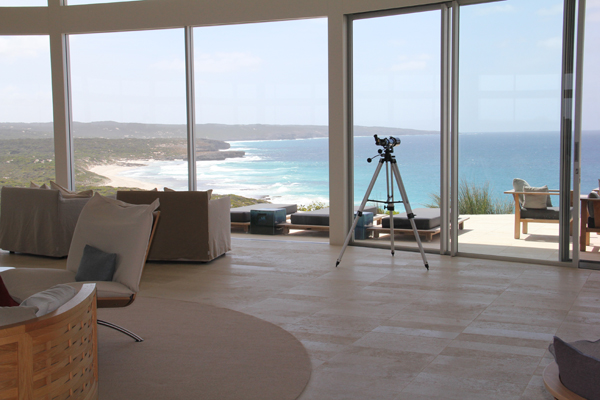 If you want the most stunning view of the island, then spend atleast one night at the super-luxe Southern Ocean Lodge, high above Hanson Bay, with its 21 luxury suites with sunken baths and floor to ceiling glass windows, done in local limestone and earth colours. You can feast on their organic food sourced locally, enjoy the views from the 'Great Room' which is a lounge with a view or relax in their spa with aboriginal inspired massages.

Explore Little Sahara
This bizarre part of the island is full of sand dunes where locals love to sand board and toboggan. Climb the ridge for a good workout and enjoy the sight of white peaks and valleys beyond. Formed from eroded limestone over millennia of erosion, now this area covers two square kilometers. Discover animal tracks which go into the neighboring bush.
Go underground at Kelly Hill
Explore the island's famous cave system with towering columns and jagged stalactites and stalagmites at Kelly Hill Conservation park. Enjoy a guided tour walking, slipping and crawling through the caves with underground caverns and plunging sinkholes as well as a well lit show cave.
Dig in
The island is a haven for foodies, where most of your meals may be barbeques or impromptu feasts whipped up by your guide, with the sand between your toes. You can feast on fresh Haloumi cheese and eggs, native jams and preserves, freshwater marron, snapper, oysters and prawns. If you happen to be there on the first Sunday of the month, head to the colourful Farmer's market at Penneshaw and fill your basket with organic honey, cheeses, handmade relishes and jams and a million other goodies.
Discover the islander's secrets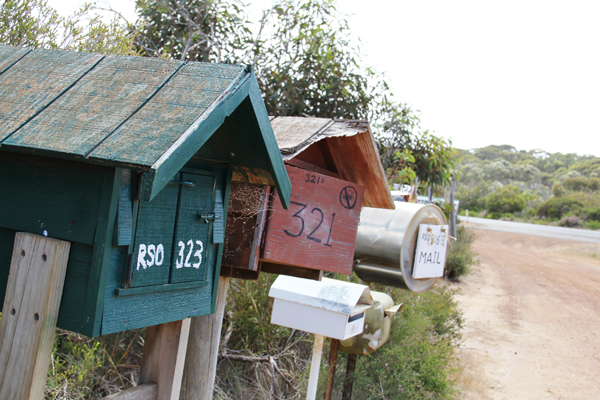 If you want a glimpse of the quirky side of the island visit the post office at Vivonne Bay- just a row of odd mail boxes fashioned out of old microwaves, oil barrels, milk cans and even discarded refrigerators. For a hidden beach known only to locals, head to Stokes Bay where a walk through a series of boulders takes you to a pristine stretch of beach with a large rock enclosed pool where you can even swim. For one of the best views of the island, head to Constitution Hill and look at the panoramic sweep of Snelling Beach from there.
Celebrate local genius
The locals on the island have countered the slump in wool trade with creative enterprises. The island is famous for its Ligurian honey which due to its isolation is a pure strain- visit Clifford's Honey Farm to see the process as well as taste their wide range of honey like cup gum honey, eucalyptus honey and creamed honey and specialty of the house- honey ice cream. KI used to be a major supplier of eucalyptus oil- visit the only surviving manufacturer of eucalyptus Emu Ridge Eucalyptus Distillery where owners Larry and Bev Turner still make the oil out of the narrow leaf mallee. Visit KI spirits- a boutique gin distillery which uses local ingredients like juniper, fennel and honey.
The author is a travel writer who blogs at http://www.kalpanasunder.com/blog and tweets@ KAPSINJAPAN