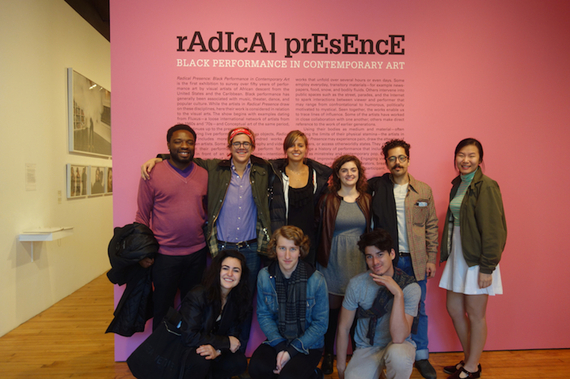 photo taken at NYU Grey Gallery
It is an honor to be the first to teach performance in the Visual and Environmental Studies Department at Harvard. Some of the students were VES concentrators, some were not. Some were already performers and a few were being exposed to performance art for the first time.
Here's how it went down!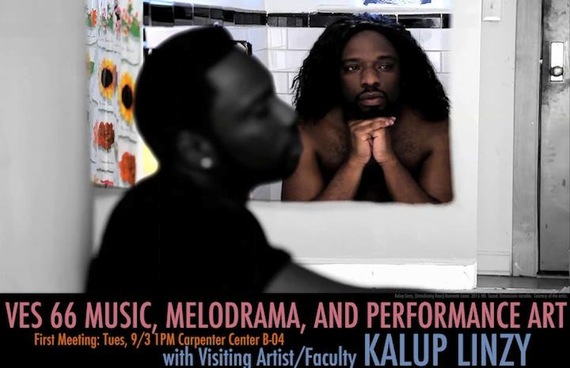 Course Description: We will engage with work that utilizes experiments in sound and image that include, but are not limited to early television, soap operas, classic Hollywood cinema, electronic music, music videos, and specific moments in the history of performance art. Reflecting the archetypical hero's journey, students will create short performances on film or video with a central character that calls upon experimental sound, voice, music and environments.
Films screened included many of my works along with my latest film Romantic Loner (2013), Francophrenia (2012) directed by James Franco and Ian Olds, Eraserhead (1977) directed by David Lynch, Rebirth of a Nation (2007) by DJ Spooky, Hallelujah (1928) directed by King Vidor, Sunset Boulevard (1950) directed by Billy Wilder, Carmen Jones (1954) directed Otto Priminger and several works by George Kuchar.
We also watched episodes from the daytime soap operas General Hospital, Guiding Light, and Hawkins Falls as well as primetime soaps Dallas and Dynasty.
The musical artists we engaged with other than my work included The Velvet Underground, Laurie Anderson, Yoko Ono, DJ Rupture, Jay-Z, Beyonce, Kanye West, Lady Gaga and many other contemporaries. Click here to listen to our class playlist.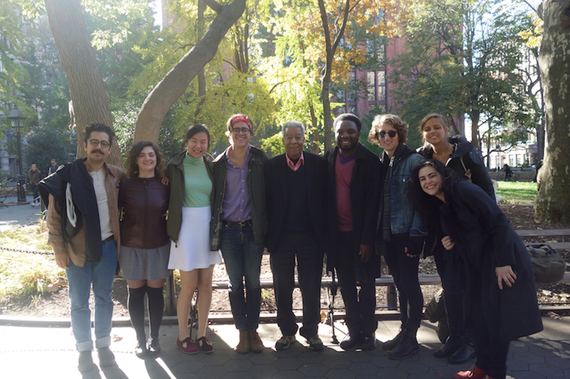 photo taken with artist Benjamin Patterson
In November, we traveled to New York on a class field trip to visit the following exhibitions, Radical Presence (NYU's The Grey Gallery and The Studio Museum in Harlem), William Kentridge's The Refusal of Time (The Metropolitan Museum of Art), Mike Kelly retrospective (MoMA PS1 and MoMA), and Rituals of A Rented Island: Object, Theater, Loft Performance, And The New Psychodrama- Manhattan, 1970-1980 (Whitney Museum of Art). We also took in a performance by Joan Jonas and Jason Moran entitled Reanimation.
Visiting Lecturers/Artists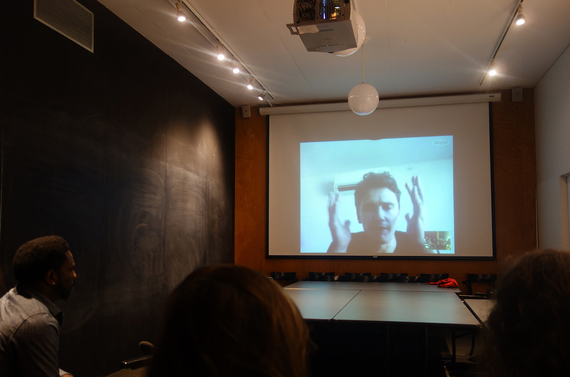 James Franco skyped in twice. Once at the beginning of the semester and another at the end to discuss his practices in the art world and Hollywood.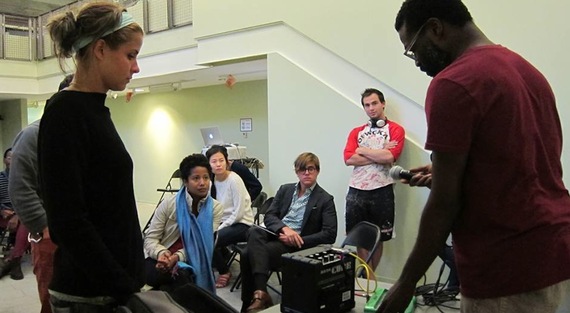 Tunde Adebimpe artist and lead singer of TV on the Radio presented source materials, discussed his process, and performed.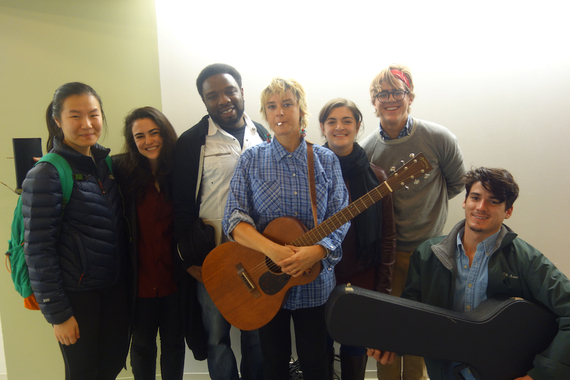 Chan Marshall aka Cat Power gave a lecture/performance discussing her process.
Selected Student Works
Each student created three experimental works based on one of the twelve plot points from Joseph Campbell's Hero's Journey.
Ian Hassett, plot point 2 Call To Adventure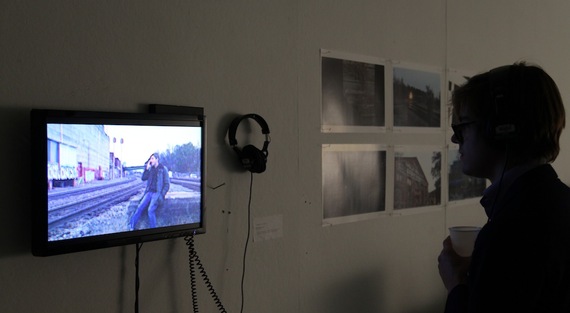 Carina Livoti, plot point 5 Crossing The Threshold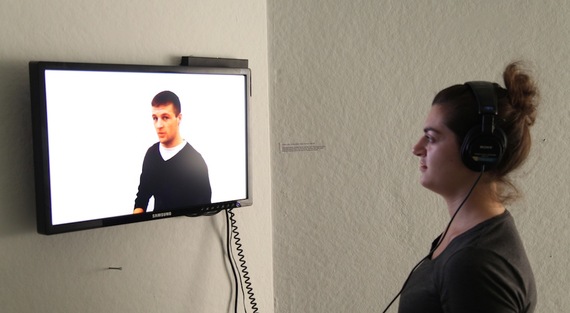 Work features Anthony Zonfrelli, dialogue from a North American open casting call for Star Wars, and music from "Sad Romance (from 'Over the Green Fields')", by Jyi Peuong.
Francisco Maldonado Andreu, plot point 6 Tests Allies Enemies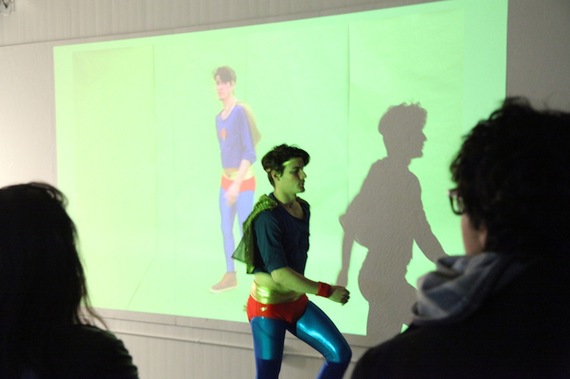 Sooper Zass, Performance and video installation, 6:36 min.
Sooper Zass is the new superhero around town. S/Z will use his powerful sass to fight crime and rudeness. Your times has come, basic b*tches!
Mark Mauriello, plot point 6 Tests, Allies, Enemies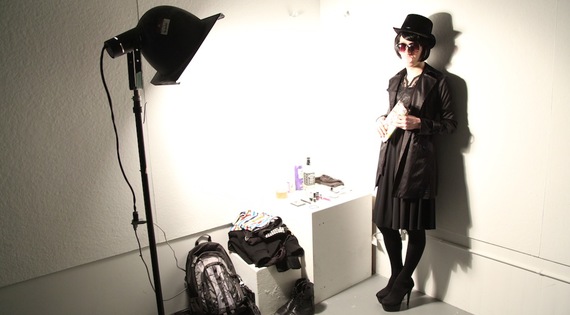 In Mark's words, "The creation of this work arose out of my own insecurities. I was very nervous at the prospect of showing my work to a community of viewers at the VES Open Studios. While certainly I put myself out for the public often in other areas of work, the work I was making for this class felt like it was coming from and developing a new aspect of myself as an artist - one that was not as confident. And so, I decided to become and subvert the viewer and the judgment I feared. I was my own enemy to overcome in my own hero's journey as an artist."
Olenka Polak, plot pont 4 Meeting the Mentor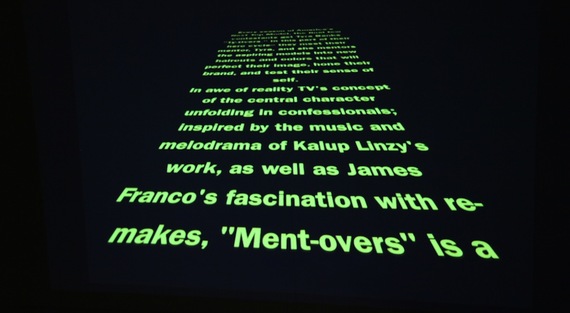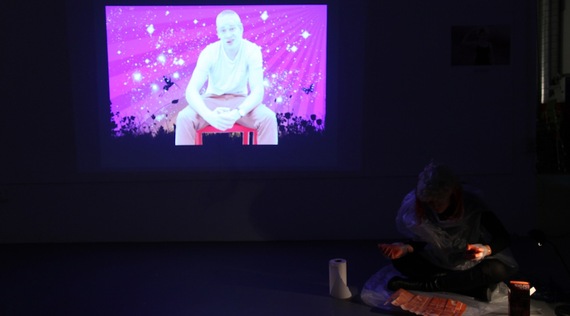 Karoline Xu, plot point 7 The Approach
3rd Video from Karoline Xu on Vimeo.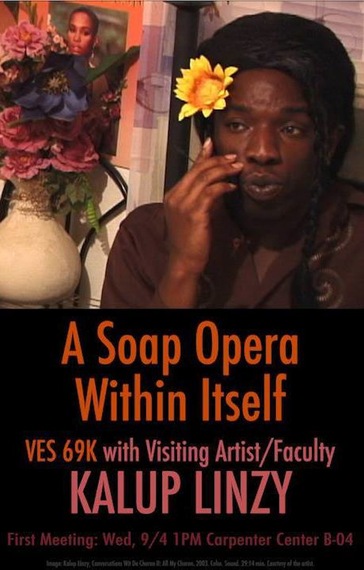 Course Description: Concerned with various forms of melodramatic narrative and performance, which include American soap operas, Spanish telenovelas, and classic Hollywood cinema, students will produce, write, direct, edit, and/or perform in a collaborative short film or video work. The first half of the semester will be a collective concept. The second half, students have the option of breaking into groups or working individually.
Films screened included my works Melody Set Me Free (2007) and Keys To Our Heart (2008) along with Perils of Pauline, Chapter 1 (1914) directed by Louis J. Grasnier and Donald MacKenzie, A Star Is Born (1937) directed by William Wellman, East of Eden (1955) directed by Elia Kazan, What Ever Happened To Baby Jane? (1962) and Autumn Leaves (1956) directed by Robert Aldrich, All That Heaven Allows (1955) directed by Douglas Sirk, Women On The Verge Of A Breakdown (1988) directed by Pedro Almodovar, and the Nollywood film Two Brides and A Baby (2011) directed by Teco Benson.
We also watched an episode from the daytime soap opera General Hospital as well as episodes from the primetime soap operas Dallas and Dynasty. There was a planned field trip to the sets of All My Children and One Life To Live, that never materialized because of a pending lawsuit. We also attempted to visit the production set of the online soap opera Beacon Hill headed up by Crystal Chappell, but was unable because of scheduling conflicts on both sides. In the end, students in VES 69K were invited to join VES 66 in New York. Two were able to join.
On the comedy side, we delved into the soap opera parody Mary Hartman, Mary Hartman created by Norman Lear and the parody of that parody Mary, Mary, Quite Contrary from the Carol Burnett Show.
Visiting Lecturers/Artists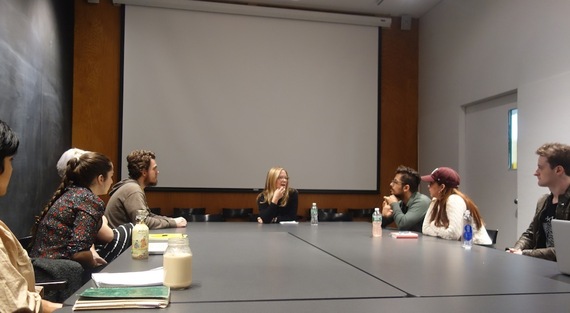 Maria Arena Bell discussed her previous work on The Young and the Restless, being the co-chair of The Museum of Contemporary Art, Los Angeles, and her new production company Vitameatavegamin Productions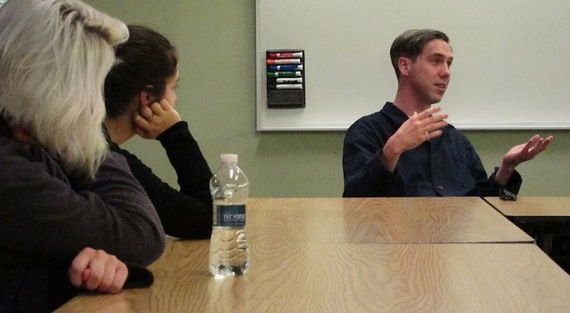 Leo Fitzpatrick screened Kids directed by Larry Clark and discussed his process as an actor.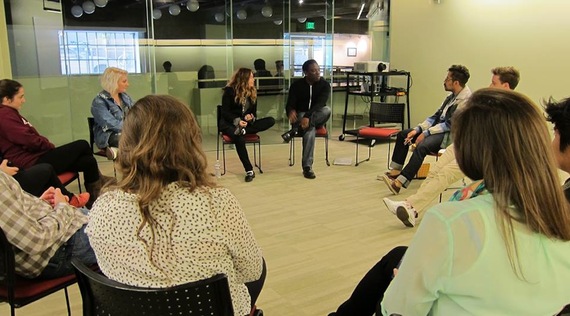 Natasha Lyonne screened All About Evil directed by Joshua Grannell and discussed her process and career as an actress.
Selected Student Works
Matthew Plaks
so was the night from Matthew Plaks on Vimeo.
Claudia Oh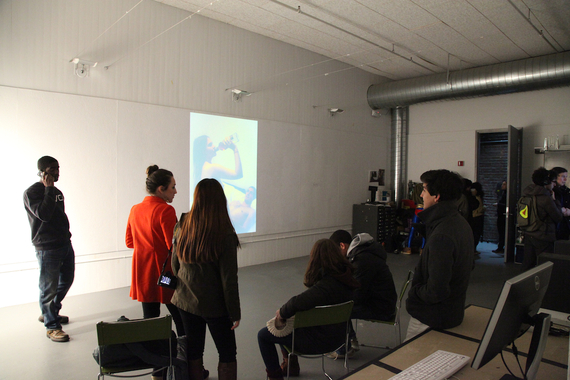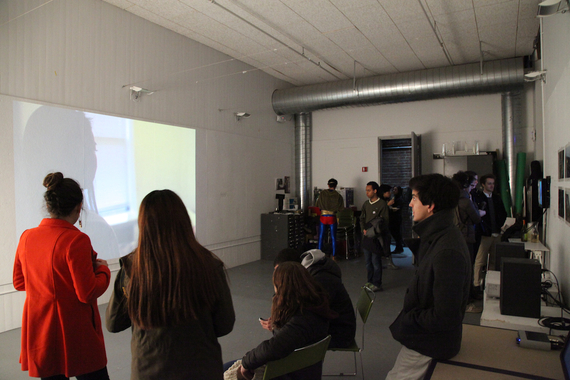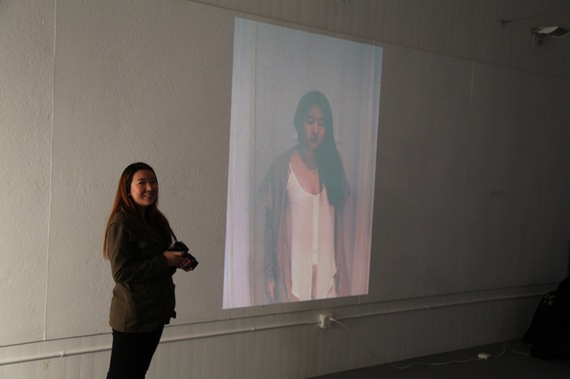 Title: A Moment Within Itself, Video, Photography, Slideshow
Description: After a man comes home to find a letter from his wife saying that she has reconnected with an old high school sweetheart, melodrama ensues.
Danielle Lessard and Panchi Simeto
This Is Gospel: A Music Video from Danielle Lessard on Vimeo.
Xkeban Jones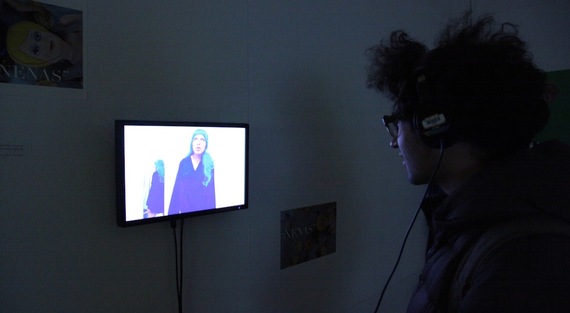 Daniel Erickson
Description: An in'vention at the semester end screenings for the Harvard University film students.
Thank you to the VES Department and Arts@29 Garden Harvard for the support and a special thank you to my TA Sara Stern!
If invited back, I would definitely do it again!
Feel free to give your feedback