I just recently watched the biographical film about Steve Jobs, cleverly entitled Jobs, on Netflix, and at the very beginning of the film, Jobs introduces the iPod for the very first time by calling it "a tool for the heart." The rest of the movie continues by addressing to the audience that technology, design and creativity are extensions of the human condition. Our art, our expression and our advances are simply ourselves and our strength traveling across great distances to feel, learn and live more.
At this point in the movie I realized that this portrayal of Steve Jobs reminded me of the organization, 100cameras, which is a hub for creating tools for the heart. Its foundation gives children a piece of technology to zoom in and capture their extended essences in environments that may otherwise dull the effervescent glint in their eyes. After finding out about this organization, I immediately contacted their newest staff member, a lovely marketing coordinator named Andrea Arevalo, and I began to discover what it truly is that allows us to help others and unearth the alluring truth with a single click.
For a little background information for those of you who have yet to discover this platform, 100cameras is a company founded in 2008 by four women who had a strong belief that kids' perspectives matter and could be a force for change, if they were given a platform. The mission of 100cameras is to give children living in impoverished areas in the world a chance to photograph their daily lives and use their art to change their communities for the better. The photographs taken by the young talents are sold by the company, and 100 percent of the proceeds go back to that community and printing their photos. (Thus, 100cameras.) The co-founders were confident that kids' stories could change lives, simply based on following dreams and stirring up the courage to share, document and involve people in each other's lifestyles.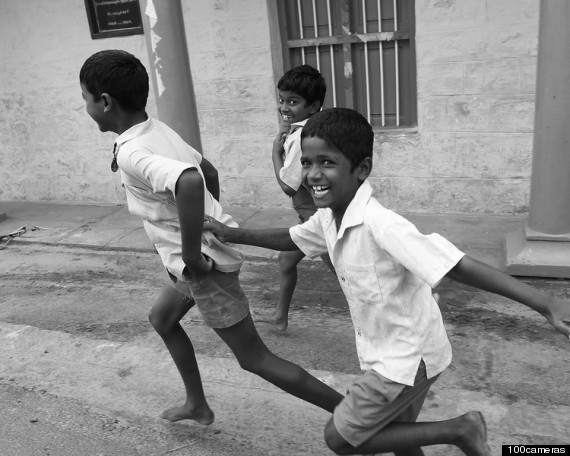 As Andrea told me:
The main goal of 100cameras is to empower kids to be the change-makers. As a whole, we aim to provide the most priority supplies to the communities we serve, which is why we partner with organizations on the ground. They know what the highest-priority needs are, and whether it's AIDS prevention, protective fencing or even eyeglasses... no need is too small to make a change.
100cameras is currently focused in South Sudan, New York City, Cuba, India and Baltimore, constantly striving to express to every individual child that their story is important. The main impact is to empower children to believe in their futures, as people around the world want to share their past, present and coming days. These children are running with shutter speeds that capture the moment and our attentions to reach further than an imagined landscape. 100cameras provides photojournalism classes for their young photography team, and the tools they share stem beyond just taking pictures and into the territory of authentic imagery. By using the modern technology of mobile photography to magnify the classic jovial spirit of children around the world, people are educated about, not only the geographical reality, but the emotional inner workings of the universe.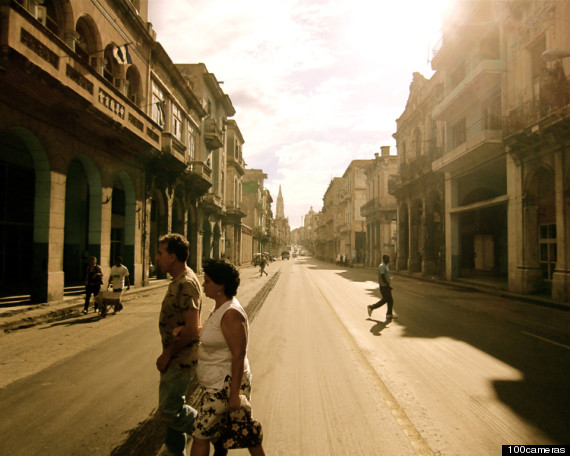 "I think that photography and video are more powerful tools than ever, " Andrea told me.
In the past couple of years, storytelling has become so vital, and luckily for us -- that's what we're all about. I'm a big believer in the power of an image, and I tend to see my life in snapshots. I'm always surprised at how moved I am by some of the shots -- they're very telling of the kids' lives, and, for me, that stems way beyond composition. Being connected to someone through a photograph is a beautiful thing, and I'm thankful that we're making that connection with kids all over the world.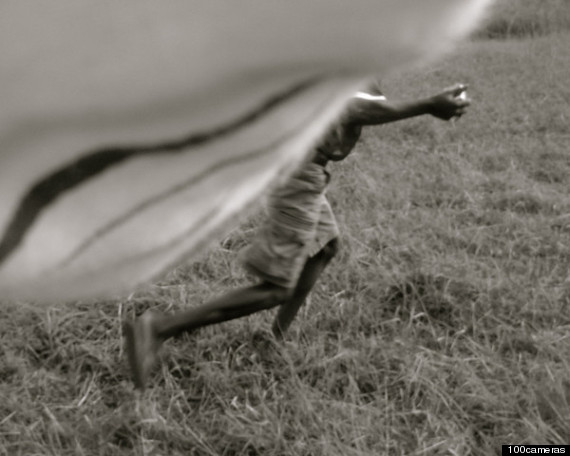 In the coming months, 100cameras plans to expand their products to create a wider range of artistic mediums for people to empathize with and travel alongside the lives of others they would have never otherwise gotten the chance to meet and encourage. The company also hopes to gain more awareness as they grow upwards and onwards. As the entire staff is mostly volunteer-based, getting involved is easy, and becoming the consumer of a child's photography is priceless. Besides emphasizing the importance for passion and empowerment, this organization saves and improves lives.
A picture is worth a thousand words, and a thousand heartbeats; embracing, racing, healthy and free.