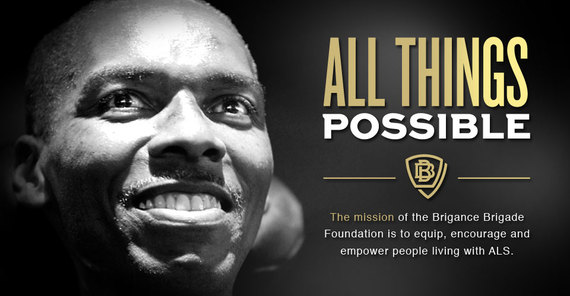 By now, you've seen video footage of at least one family member, friend or neighbor taking on the viral social media ice bucket challenge. Even entertainers have joined in. Everyone from actor Ben Affleck, to singer Britney Spears and UFC boss Dana White have doused themselves in freezing cold ice water to encourage donations and generate awareness about Amyotrophic Lateral Sclerosis, more commonly known as ALS. For those unfamiliar, ALS is a rapidly-progressive neurological disease that attacks the nerve cells responsible for controlling voluntary muscles. After being diagnosed, healthy individuals can suddenly loose their ability to speak, walk or even breathe without assistance.
Until recently, I did not personally know anyone impacted by ALS. Then I met former Ravens linebacker and current Director of Player Development, O.J. Brigance. My goal was simple: to learn more about his Brigance Brigade Foundation, their mission to help ALS patients and better understand his personal fight against the disease.
Entering O.J.'s office at Ravens Training Camp, you are immediately drawn in by his smile. It is enormous, radiant and genuine. While settling in for our interview, I was amazed by the combination of love and strength in the room. Every surface was tasked with a job, to display something positive or meaningful... no space wasted. Photos of his wife Chanda showcasing an equally stunning smile, notes from teammates, friends, family and inspirational quotes on the white board all set a distinctive tone. This was not just an office, but also a sanctuary, filled to the rafters with a commitment to thrive.
Utilizing a computer designed to track eye movements and output messages, O.J. communicated with ease during our interview in spite of losing his voice years ago. In fact, I had trouble maintaining his pace a few times, but he complimented my delayed typing skills anyway, and shared funny stories while I caught up. Awestruck and humbled by O.J.'s warrior spirit, I share his words.

1. O.J., to say that your courage, resilience and strength are inspiring would be an understatement. What fuels your drive?
I'm fueled by a sense of God-given purpose and a calling to make the most of each day I am allowed to open my eyes. Since being diagnosed with ALS, I have experienced several phases of self-realization. Initially I was focused on stabilization, managing the changes occurring in my body and life. Next, was the personal realization that I needed to make positive use of the sports platform I had been blessed with and begin helping others battling this horrible disease. That is why my family started the Brigance Brigade -- to equip, encourage and empower those living with ALS. Our goal is to provide the financial assistance needed to improve the quality of life for my fellow warriors.
In my current phase of self-realization, my goal is to make the most of what I have, while I have it. I don't believe anything in my life has been by chance. Every triumph and tragedy has culminated in this very moment, for my wife, and I to be shining lights in the midst of dreaded circumstances. I believe it is our duty and assignment to show the glory of God in spite of our despicable circumstance. Knowing I can encourage others drives me daily!

2. You have outlived your diagnosis and continue to out work many people without any diagnosis at all. What do you attribute that to?
God has sustained me to outlive the expected life span of those diagnosed with ALS, that is the only explanation for why I am still able to open my eyes each morning. I attribute my work ethic to my parents during my childhood. They always demanded excellence in anything I decided to do. Whenever a situation got tough, they didn't allow me to quit, but required that I see the commitment through. That is a foundational truth that has served me well, to this day.
My current circumstance doesn't excuse me from my assignment. If anything, it clarifies my purpose even more. I have an opportunity to generate awareness about ALS and to enhance the lives of others. I am determined to see this assignment through to completion, with excellence.

3. You have mentioned how impactful the support of the Ravens administration has been in addition to that of family and friends. What advice do you have for the person fighting ALS that does not have the support of an employer or family?
I have been so blessed by the support structure around me, allowing me to thrive in spite of my diagnosis. To the person who does not have a stable support structure, there are many support groups and services available to help navigate through this journey. Do not let a diagnosis stop you from moving forward. We all have an intrinsic call and destiny on our lives, and it doesn't cease to exist simply because we endure hardship. Our ability to gain a higher perspective to see over our adversity is the key to our destiny.
An upcoming foundation goal is to build an ALS residential home here in Maryland, to help provide a greater quality of life for those battling ALS so they can get back to living a life of purpose. There is a unique gift inside every human being to be shared with the world. Hardships don't destroy the gifts, but send them into dormancy. We all need a reason and purpose to get out of bed every day. If we can build a proper support structure around every person living with ALS, we can all realize a brighter future.

4. Can you share what the ability to communicate means to you and how impactful access to quality technology is for those fighting ALS?
I lost my speech within two years of my ALS diagnosis. I went from having a strong voice and hosting Ravens Report TV segments, to a sudden whisper, then silence. The ability to communicate is vital for any individual to participate in life. That is why the recent technological advances in augmentative communication are critical for those living with ALS and other neurological diseases.
Dr. Stanley Appel, a renowned voice in the ALS community, told me during my initial stages of ALS regarding the eventual loss of my voice, "O. J., it isn't about your ability to talk, but your ability to communicate. " I have always remembered that. Communication devices like the one I have, allows us to reconnect with the world once the degenerative effects of ALS have taken a toll. Until a cure is found, technology gives a voice to the voiceless, unlocking endless possibilities for its users to be positive contributors to society.

5. What do you know today about life, that you did not prior to your battle with ALS?
What I know now is how fragile and precious life really is. Growing up playing sports, I was taught toughness and fortitude. You believe that you are invincible, that certain things will never happen to you. When I received my diagnosis, there was not a job, any amount of money or worldly possession that really mattered to me at that point. I took inventory of all my relationships and assessed what I had done with the life that God had given me. I now understand that in the end, my ultimate purpose and value lies in the selfless acts I can partake in that encourage the lives of others. It has blessed me to be a blessing to others.
O.J.'s wife Chanda Brigance also had powerful advice for caregivers and family members of ALS warriors:
1. Chanda, as a caregiver, what tools or equipment do you consider most impactful for ALS patients?
Aside from prayer, opting for the tracheostomy was a critical decision. Many ALS patients shy away from the procedure, but having the ability to breathe once the lungs weaken, as they eventually will, becomes key and the trache makes all the difference. The speaking device is equally as important so they can continue to have a voice. Our foundation works to provide tools like motorized chairs or speaking device equipment to other ALS patients in need.
2. What advice do you have for a family or person recently diagnosed with ALS?
Don't give up. It is natural to get upset or have bad days, just don't stay there. Make up your mind to win and renew that mindset every day. Negativity has a ripple effect, as does positivity.
3. You are so full of joy and energy, how can other caregivers find similar balance?
I started Caregivers Corner to provide others with tips on how to take care of themselves while also caring for family members. I encourage caregivers to continue doing the activities that recharge their batteries. My outlet has always been fitness and it is still a large part of my life, I just modify my schedule as needed to accommodate the needs of any given day. Everyone's situation is slightly different but you can make almost anything work by staying positive.
The Brigance Brigade Foundation is a beacon of hope for many ALS patients struggling with the financial burden of expensive assistive tools and devices. With current projects in Maryland and Texas, more can be done with your help. If you were considering donating to the fight against ALS, consider yourself challenged!