Millennial men tend to take the unconventional route, and New Year's resolutions are no exception. Sure they'll vow to go to the gym regularly - but they'll only actually follow through if it somehow helps them meet girls. And of course they'll promise to start throwing dirty laundry in the hamper - so long as it helps them avoid arguments and get laid more often. Hell, they'll even opt for a wheat grass shot over their regular morning espresso shot - as long as it somehow leads to a more concentrated work focus and eventually results in helping them make more money.
Reasoning aside, men do try to better themselves as part of their New Year's resolutions and to learn the latest ways I've consulted AskMen editors who provided some wacky, innovative, and clever methods from their annual 12 Days To Be A Better Man series.
1. Engage in a Love Affair with Facial Hair
No Shave November is no longer only a month long. Perhaps credited to movies such as American Hussle and Anchorman 2 this year, millennial men will bring out the facial hair in 70's-style glorification. From five o'clock shadow scruff to handlebar mustaches - thank you hipster culture- male facial hair will be a mainstay this year.
A word of warning to brides of 2014: If you thought getting all your groomsmen in matching outfits for pictures would be hard, good luck getting them all to shave their beards.
2. Opt for Organic Dark Chocolate to Get Weight Off, & to 'Get Off'
To rid themselves of excess pounds, millennial men, rather than women, will be increasingly sold on the benefits of dark chocolate. Advertisers will parade the tasty treat in varying degrees of importance from a 'Junk food alternative' to a 'Super fruit' in commercials and ads in-between men's favorite TV shows and print editorial. Organic dark chocolate may not shed the pounds for you, but it is a better choice than regular, overly processed sweets.
Most appealing to the millennial culture, organic dark chocolate contains L-Arginine HCL, which provides pleasure benefits. Point blank, consumption of this amino acid gives men stronger, more intense orgasms.
3. Learn to Lay Off the Sushi
Sushi has turned the corner from a healthy treat to a generational craze drizzled with added calories and fat. It's pretty atrocious that we actually found a way to add cheese to something as simplistic and healthy as raw fish and call it an acceptable meal - think cream cheese in Philadelphia rolls or, and this is nauseating, mac & cheese rolls.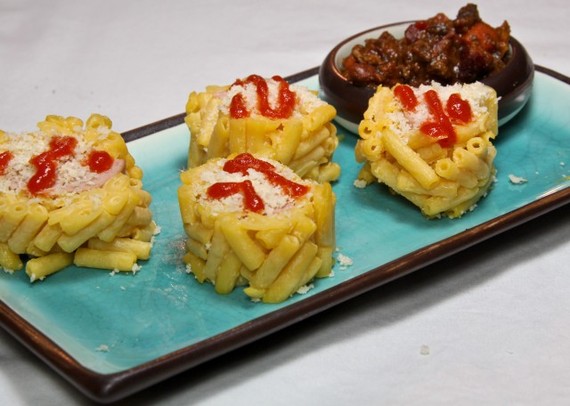 Mac & cheese hot dog sushi rolls. Image credit: Guyism.com
Today's sushi has gone the American route -extra cheese and mayo please - and the quantities add up. A typical serving of two California rolls contains comparable calories to a Big Mac but packs on over double the sugar, and that's before you add the soy sauce and spicy mayo on the side.
4. Use Party Tricks, Rather Than Pick-Up Lines
Why? Because it's much easier than trying to be funny or original all on your own. This year, men will aim to kill dry dull conversations and spark new ones with self-taught party tricks. Tricks add a thin but heartfelt layer of playfulness and humor to the air, and leave a more memorable impression than asking aimless questions about where you live and what you wanted to be as a child.
Plus, tricks help women distinguish the classy from the classless. If you're able to pull off a trick that doesn't leave a vague halo effect of Ronald McDonald or Bozo ingrained in others' mind, it silently screams how you have confidence, charm, and swagger. After all, whenever you ask women what they look for in men, nine times out of ten times, 'Sense of humor' is the number one trait.
5. Ditch the Razor to Lose the Hair
Men are continually trying to be smoother, both verbally and physically (and, well, besides on their faces). It's no secret millennials are a manscaping generation, and hair removal methods are catching up with the times. This year, men aren't just shaving; they're opting for waxing, sugaring, electrolysis, and laser hair removal techniques.
6. Toss the Takeout and Learn To Cook
Men are ditching their everyday Seamless, GrubHub, and local pizza joint orders and opting to cook their own food instead. It's not rocket science and many men of the millennial generation grew up spending much more time in the kitchen than their fathers. Although it may have passed in dorm rooms and fraternities, modern men will increasingly learn to cook for themselves, instead of ordering daily from numbered menus.
7. Stop Cleaning with Febreze
Joy to the world, sanitation-savviness is back in style. One male trend emerging this year is a focus on cleanliness - real cleanliness. Millennial men are growing out of their bachelor pad cleaning techniques - such as compressing trash in the bin rather than taking it out - and are becoming more conscience of cleaning methods that span beyond spraying Febreze around the apartment before visitors arrive. Investing in vacuums and sleeping on clean sheets for proper hygiene is one of the many ways we can all appreciate that men will better themselves in 2014.
8. Have Sex In The Name of Living Happier & Longer
It's not just a line; men are actually dying for sex. Comparing the lifespans of men who did and didn't have regular sex, studies have found that middle-aged men who had sex a few times a week decreased their rate of death - down to about half. There's also a direct correlation between frequent sex and lowered heart disease, and those who have sex once or twice a week have been shown to get sick less often.
To find more ways men will try to better themselves this year, see the AskMen.com's special series: 12 Days To Be A Better Man.