What if the price you saw online was just a starting point from which you negotiated a lower number? With digital tools, it is. And by digital tools, I don't mean the kind that you use to design logos or write website codes. Instead, these digital tools are consumer-focused, automated shopping browser add-ons that allow you to become a more skillful shopper, and score lower prices on virtually everything you see online.
Anytime a tech term such as "digital" is thrown into a discussion about spending money, the Big Data argument inevitably comes up: "I don't want stores to track me," "I want my privacy," "But, the NSA!"
Okay, valid points, but the reality is, if you've ever used a cell phone or credit card, you likely already have been tracked in one way or another. It didn't hurt you, it didn't negatively impact any part of your day and, in fact, it probably made your life easier.
Don't let the tech term deter you, the same goes for using digital automation tools when you shop online. They're harmless, helpful and they allow you to get the products and rewards you couldn't get otherwise, such as a discounted price on that item you're eyeing that hasn't yet gone on sale.
Whatever your specific hesitation is to technology within commerce, it's time to get over it; if you don't use digital tools to shop online, you're just leaving money on the table. Of course, you can start off slowly. When you're ready to approach online shopping equipped with technology, there are two types of problem-solving digital automation tools you'll want to look into first and foremost.
1. You Don't Need 10 Browser Tabs, Automate Your Comparison Shopping.
If you're like some of us, and don't always believe what you read when an online retailer claims to have the best price, you're probably guilty of over-tabbing when you shop -- this means, opening ten or more tabs to compare prices of a product at different online retailers. Well, that's one way to do it. The other is to use digital tools to comparison shop from a single window and single tab.
These tools operate as browser add-ons which can be easily integrated into your web browser, usually with a simple click of an "install" button. Browser add-ons refer to programs that expand the capabilities of your normal browser. The phrase "add-ons" is an umbrella term that can be divided into sub-categories, the most common being: "extensions" and "plug-ins." With add-ons, you will typically grant permission for the add-on to install and sometimes access your stored browser data. Don't worry, it's generally safe, and add-ons can be easily uninstalled in the case that they conflict with your browser, another add-on or you simply don't need them anymore.
One of the most reliable and widely compatible comparison shopping add-ons is PriceBlink. After installing, you can easily compare prices for a massive range of merchants, from Target.com to GoDaddy.com, and virtually everything that falls in-between. The add-on places a small icon of a flashlight shining a green light on the top corner of most browsers, which you click on to extend a thin, yellow PriceBlink toolbar under under your current URL.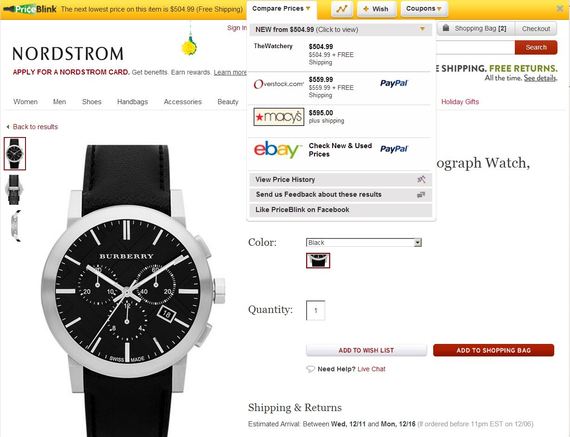 PriceBlink helps you comparison shop from within a single browser tab.
From the PriceBlink toolbar, you can select from drop-down options of: Compare Prices, Reviews, Price History, Wish and Coupons (depending on the retailer site, you will see some or all options). The price comparison drop-down displays competitor prices, including shipping fees, organized by retailer and sorted with the lowest price first. Each competitor price listed is a link to the product page, allowing you to easily access the better priced product on another site with a simple click.
2. Stop Clipping, Automate Your Coupons.
Put down the scissors; coupon cutting is so old school, and not in a trendy, vintage way. With digital automation tools, not only do you no longer need to cut, organize and store physical coupons, but now you don't even have to spend time searching for them. New digital tools do the work for you by automatically searching the web for the best coupons available, just before checkout.
Even better, there's no need to jot down a 20-character code. The newest tools actually apply the discounts for you, no extra typing required. The process is effective, convenient and takes only a minute, if that. If you want to pay less online, check out these two extensions before you click checkout: Coupons at Checkout, and Honey.
Coupons at Checkout can be used wherever there is a blank box in your online checkout process, to apply a coupon. Once the extension is installed, the coupon code box on any website checkout page will become highlighted in red, so it's easy to find. Click into the blank coupon code box, and a drop down menu will automatically appear, which displays the coupons that can be applied to your purchase.
Coupons at Checkout is a browser add-on that automatically finds relevant codes before you check out.

The available coupons you see may be based on the retailer site you are buying on, or based on individual products, and display coupon offer code and last-known expiration dates. Simply click on a coupon title in the drop down, such as "20 Percent Off Any Order," and the coupon code will be automatically added to the box. Click "apply coupon code" and Coupons at Checkout automatically applies the discount code to your order.
Honey operates in a similar fashion, but is slightly more automated. The extension adds an orange "Find Savings" button to your online checkout page, which you click to run a web scan of available coupons. Once coupon codes are found from the scan, Honey automatically adds the coupon code or codes to your shopping cart that will deliver the most savings. Your order total is automatically updated before you proceed to checkout.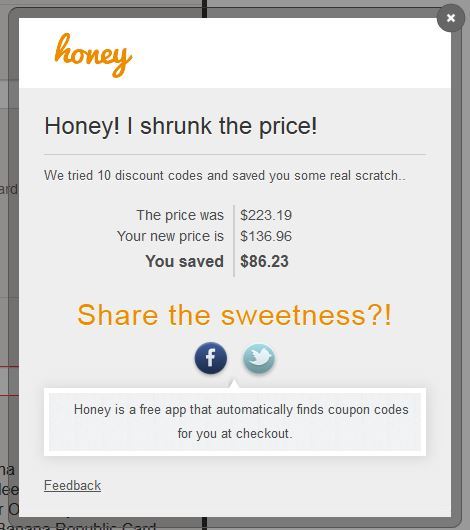 Honey is a browser add-on that will automatically add promo codes and coupons to your online shopping cart, to ensure you get the best possible price.
This is only an introduction to automated shopping, which is a growing trend, and the so-called "buzzword" we'll continue to see gain popularity and usage. If you're not shopping the automated route already, you most likely will be to some extent by this time next year. So either jump on board or wait, but until you start automating your shopping every time you see a pretty good price online, just remember, someone else got tired of paying full price, and has probably found a coupon code or lower price you could be using.