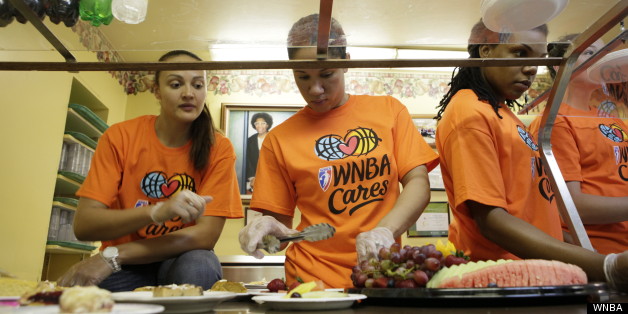 It's been almost two years. Not much has changed since August 23, 2011. Sure she's not stalking the sidelines anymore but her presence is still very much felt. Her role at practice is more in the background rather then the forefront. The darting stare every University of Tennessee player has felt is replaced with a giant smile and a warm embrace. And instead of leading the University of Tennessee women's basketball team, she's leading millions in the fight against Alzheimer's.
Pat Summitt remains the larger then life figure she was when she was coaching. That's why it was such an honor to be named, along side my fellow UT graduate Peyton Manning, Honorary Co-Chair of The Pat Summitt Foundation. The work Pat does for her foundation exemplifies the spirit in which you'd expect from the woman who shot women's basketball into the mainstream media some 30 plus years ago.
While Coach and I have remained very close over the years, the start of her foundation has given me the opportunity to give back to her in the same way she's given so much to me.
For the 2012 WNBA season I decided I'd donate $50 for every 3-pointer I made. As a clear reflection of Pat's impact on society; organizations, friends, and fans from around the world offered their support; both emotionally and financially. Through the regular season and post season, my 87 3-pointers helped raise over $32,000. This year, I make the same pledge. For every 3-pointer I make I'll donate $50 to the Pat Summitt Foundation. With hopes of topping the 80 that went in last year, and the $32,000 raised, I want to thank Dawn Staley for making the first contribution.
That giving spirit has always been a cornerstone of women's basketball, and never more so than this week, WNBA Cares Week. I am proud to be part of organizations like the Connecticut Sun and the WNBA that put such emphasis on giving back to the communities and people that support them.
Dawn, and the WNBA, have awarded me with the Dawn Staley Community Leadership Award. Not only is it a tremendous honor to be given an award named after a player who is synonymous with hard work and community leadership, but with that award comes a $10,000 donation to a charity of my choice.
There's no question where that donation is going. While Pat is leading the charge, she's not taking the court alone. Here's to another successful season, both on and off the court.