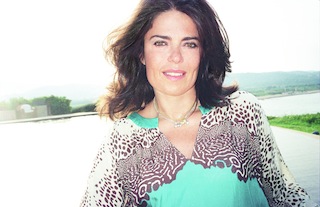 Having worked in this dynamic fashion industry all my life, I have seen many so-called fashion icons and trends through the years. The most exciting though of all, is when a new fashion icon is born -- one who is universally admired and possesses a rare eternal appeal.

Daniella Helayel is the founder and creative director of ready-to-wear label, ISSA, the label of choice for this new icon, the Duchess of Cambridge, who chose to wear one of her beautiful creations for the official royal engagement announcement which has since propelled the label itself into iconic status.

Born and raised in Brazil; Daniella moved away to study at F.I.T. in New York before settling in London in 1999 whereupon she launched ISSA. The influence of her Brazilian roots are clear to see in her designs which feature vibrant colors, natural shapes. You can see her clever translation of the thrill of carnivals into memorable, striking prints in fantastically unique color combinations. Her collections are reminiscent of the spectacular nature, sunshine, beach lifestyle in which she spent her formative years, and her aesthetic has won high praise from rock to royalty, from Madonna to Jennifer Lopez, Keira Knightley and Scarlett Johansson -- to name a few -- and just about every fashion conscious woman in between.

It was my great pleasure to have the chance to speak with Daniella this week.
1. Whom do you credit for inspiring you to be the person you are today?

It would be impossible to name just one -- I have different inspirations as I progress though life, constantly evolving and developing new ideas depending on which stage I am at.

2. What is your favorite get-away-from-it-all destination?
Anywhere by the sea surrounded by nature and in peace and serenity with the sun shining of course.
3. How do you define your personal style?
Feminine, comfortable and easy.
For the full interview, please visit the Kara Ross Facebook page.