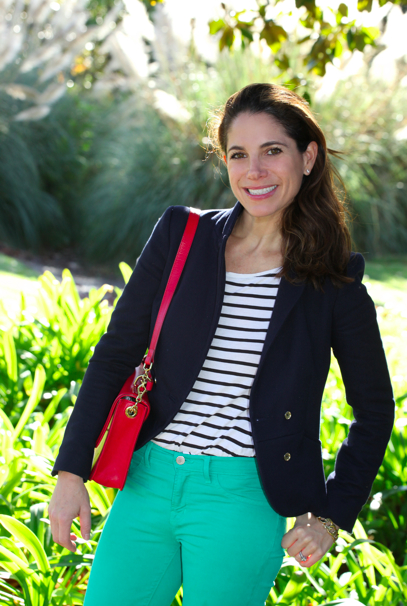 Referred to by the New York Times as a "fairy godmother" for her makeover abilities, I was honored to have Suze Yalof as this week's Q10 guest. Suze began her career at Glamour in 1996 up until 2010 when she ended her reign as executive fashion editor at large. She has been an expert voice in the media for fashion and red carpet trends, Glamour's trademark style Dos and Don'ts, and beauty and fashion makeovers that appear in online and print versions of the magazine and on air.
Showing no sign of slowing down, Suze been featured in articles in the New York Times and on The Today Show, Good Morning America, The Oprah Winfrey Show and CNN. Schwartz is also the co-author of the book Getting Over John Doe: A Story of Love, Heartache, and Surviving With Style.
It was my great pleasure to have the chance to speak with Suze this week.
1. Whom do you credit for inspiring you to be the person you are today?
Not even a question -- my mom, Ina Yalof. She is the ultimate optimist. She can see the bright side of every situation and she has passed on that talent to me. She also taught me not to fear anything and to just get on with it. To mom everything is doable and don't forget to smile. For fashion/work I would say Candy Pratts Price -- with Candy you can not move fast enough, be inspired enough or do more and I worked for her for three years. She knows more about fashion than anyone I have ever met. She used to design and redesign so many designers collections and by the end I was doing the same. She also taught me how to cover a massive trade show in 20 minutes and make an impact at a party in less than 10. I learned more in those three years than all of my years at school and college.
2. What is your favorite get-away-from-it-all destination?
I am so lucky to have been to so many divine locations in the world but the truth is that my favorite get-away-from-it-all is the Swiss Waterski School in Orlando. I love it there and could spend a week just skiing and passing out from skiing. Mind you, it is not pretty but there are four private ski lakes and a very international crowd. It is the best place to clear your head. I took two of my dear non-skiing friends there and in three days they were doing slalom.
3. How do you define your personal style?
Rich and skinny -- those are the two things I look for in clothing and accessories. Does it make me look thinner and does it look expensive? I have no problem with a $34 mock croc covered buckle belt or $30 gold hammered hoop as long as it looks rich and real. I would never buy a piece of clothing because it was the hot new look or if it makes me look my actual size or larger -- NEVER. I also LOVE separates and search for the perfect everything -- blazer, jean, tops etc, and then share my finds with everyone I know. I love the third element in fashion and that is adding the piece that is just there for decorative purposes -- a great scarf, necklace or a belt over a blazer. That is moi. I also belong to the school that it is always better to overdress than under dress. My philosophy is to get dressed as if you were going to bump into your boss or ex because the one day you don't is the day you will.

OpenSky.com