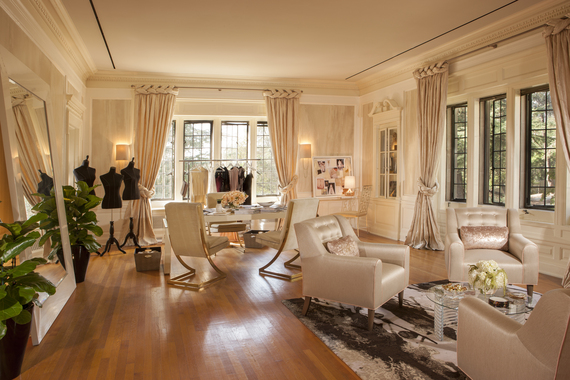 As an interior designer I have the privilege of working with a diverse clientele and, to no surprise, a broad range of design styles and tastes -- some similar and some different than my own. With that said, no matter the client, my approach is always the same: tailor each design uniquely to each client's vision. Beyond their aesthetic style, to create a WOW space for them, I also pay close attention to the client's lifestyle and the space itself. In order to achieve a truly unique and cohesive look, all of these elements have to be taken into consideration.
When it comes to designing one's own home, without expert help at your disposal, creating a cohesive interior style can present itself as a challenge. It's easy to get off course from your original plan due to the abundance of eye-catching inspiration out there. I often see people with brilliant ideas go astray because they lose sight of how to distinguish what they like versus what actually works for them.
To help eliminate the chances that happens, I've put together a 5 step approach to refine your vision -- guiding you to find what you like, understand what you love, conceptualize what uniquely works for you and, ultimately, achieve that WOW space that is all your own.
Educate -- Before you start any project, research is key. You need to get your footing and see what's out there. Seek out design magazines, décor sites and blogs. Pinterest is a great source of inspiration and organization! The more you expose yourself to, the more you will be able to identify what's intrinsically 'YOU'. Through the education process, try to understand what is more of a passing trend and what's timeless and most importantly what speaks to you personally.

Collect -- Now that you've done your homework and have an idea of what's out there, start a Mood Book comprised of everything that piques your interest- images, fabrics, color stories, furnishings...any and everything. It will serve as an inspirational portfolio for future design reference. Remember to make notes of what you like about the images. Sometimes it's just the way two patterns play off each other, or that great coffee table. Make notes and be specific! Trust me it's helpful.

Be Your Own Client -- Nothing is worse than a bunch of great pieces that have no real place in your space or your life; form and function need to meld to really achieve a stand out design. I spend time interviewing my clients to try and understand all aspects of their life -- lifestyle, budget, timing, colors, kids, pets, house guests, etc. I also like to ask broader questions such as what they hate, love, passions, movies, travel, favorite hotels, etc. This is a crucial component to be considered.
Map it out -- Do a floor plan! Whether it's professionally, through an online site, or just a sketch with dimensions -- it helps you visualize how you would ultimately like to see the space. It establishes a spatial reference and helps create your "shopping list". This is also your opportunity to play with the layout of the room and get a better idea of what other pieces you can bring in. Try putting the couch central in the room instead of up against the wall and see what that does for the flow and feel of the space. Never underestimate the importance of a good measurement and truly knowing how much space you have to work with!
Curate -- Now that you know what you like and what you need, a crucial step in the process is reevaluating your Mood Book. This step is to counter act inevitability going "Pin Crazy." We have all been there, where you are pinning every eye catching decorative piece, or champagne colored duvet, or velvet couch, etc... So, get those weeding gloves on and get down to the nitty-gritty of it all. Sort through the pieces you selected the first time around and find what you really love, and run it through the perspective of what works in your space. Really study your mood shots and try to allocate to actual pieces. Start eliminating and zeroing in on what you actually like about the picture.
Now that you have a curated collection of actual choices and design direction, take a step back to conceptualize all the pieces together. Taking your visions and inspirations from abstract to a more tangible concept will help you understand what works with what and, most importantly, how they holistically create your space and style. Whatever the style outcome may be, grasping the overall picture, as well as the building blocks within in it, will enable you to create that cohesive, WOW design that is uniquely you.