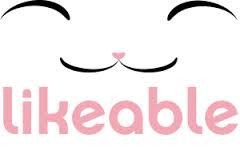 Likability is more important in video than even in person -- and harder to pull off according to The Likeability Factor author, Tim Sanders and Wall Street Journal columnist Sue Shellenbarger. According to Shellenbarger, "'Likability is becoming a bigger factor for success at work as social networks and videoconferencing grow. The ability to come across as likable is shaping how people are sized up and treated by bosses and co-workers." Virtual communication is increasingly visual.
The growing use of videoconferencing and videos for learning, marketing, social engagement and more are making your LQ (LikeAbility Quotient) ever more vital for your success in work and in support of causes and other interests that most matter to you.
In Videos, Likability Is More Important and Harder to Pull Off
People watching a speaker on a videoconference are more influenced by how much they like the speaker than by the quality of the speaker's arguments, according to a 2008 study in Management Science Journal. The opposite is true when a speaker appears in person.

Likable people are more apt to be hired, get help at work, get useful information from others and have mistakes forgiven.

Some make a negative impression on video by becoming stiff and emotionless, or by exaggerating their points.

The "big three" behaviors most important to a speaker's likability on video are making eye contact by looking into the camera, smiling naturally when you talk and varying your tone of voice to convey warmth and enthusiasm. (According to Ben Decker of Decker Communications.)
Hint: Create, short, shareable videos that can pull more people to discover you and your expertise and want to learn more. Use free and easy-to-use video apps like the six-second Vine, and one-minute Gloopt.