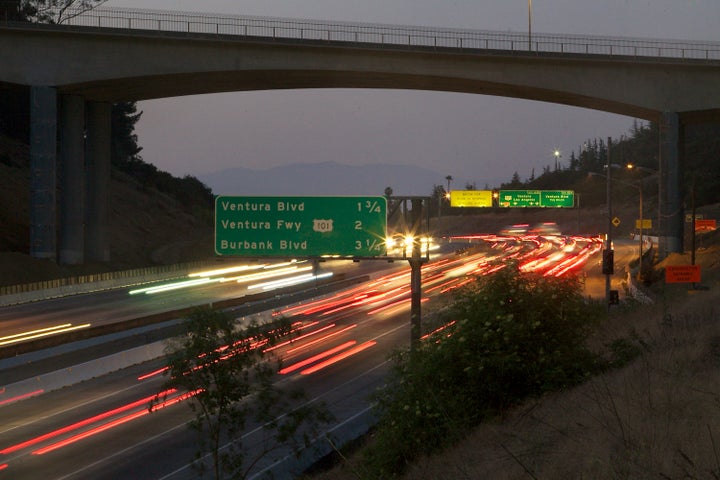 Mental Menudo: A series of gatherings at homes, studios and back yards (and later at a few art institutions) in which the participants engaged in conversations about art and life, which were designed to be challenging and engaging.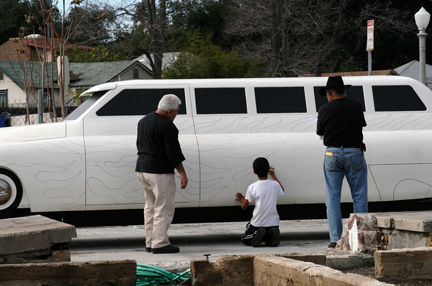 Gilbert "Magu" Lujan (left) on one of his many collaborations. When this car was taken down from the Sunset Metro Station, it ended up at Side Street Projects in Pasadena, and became yet another collaborative project. (photo courtesy of Side Street Projects)
Gilbert "Magu" Lujan died this last weekend of cancer, just before a benefit was to take place to raise money for his health care (see Peter Clothier's post). I met Magu over 25 years ago and have known his family for a long time. Magu was a vitally important artist not only here in Los Angeles, but for most everyone he came in contact with. He was a mover and shaker in the Chicano Art Movement by helping to put it on the art map, making important contributions to the language of artspeak, as well as expanding and demanding that we consider art made by Chicano Culture, which he called Chicanarte. He set up many Mental Menudo gatherings over many years, which many of us attended as a way of learning both about Chicano Art ideas as well as about ourselves.
Magu's influence ranges from his days in Fresno, CA to his many residences in the Los Angeles area. (If you want specific details of his accomplishments, you can look them up on multiple websites or Wikipedia.) Magu had a huge heart, said what he thought and was interested in his heritage and what it meant to a larger culture. A prolific artist, his work was a mix of Mesoamerican and popular cultural references as sources. He loved cars, and used them often in his work. He designed and painted the first mural on the Side Street Projects Alternate Routes woodworking buses. He loved kids, and was really good at "teaching" us all how to learn new things.


Gilbert "Magu" Lujan's vinyl mural on the Side Street Project's woodworking bus (photo courtesy of Side Street Projects)
He was an instigator -- creating and forming groups as needed including Los Four, which did a show at the Los Angeles Country Museum of Art in 1974, which was the first exhibition of Chicano Art held in its galleries. Magu's artwork ranged from small drawings to large public art installations. He never changed his work or his vision for anyone. While his work became famous, he himself was always Magu.
He never stopped teaching in multiple ways and has left many of us with really fond memories. He loved to dance, especially to his son Otono's band, Conjunto Los Pochos. His contributions to the [art] world are mind boggling and his influences will live on in the rest of us and his family. His infectious smile was heartwarming and his hugs devine.
His Magulandia website has now been set up for his friends and colleagues to contribute their many memories and stories. It also has a Pay Pal donation to assist his family.