A number of years ago, I was sitting in a faculty meeting and we were discussing the current curriculum of the art program and chatting about the embarrassing things that our students have done as part of their art careers and how little they knew about the professionalism of being an artist. I had been advocating for adding professional practices to the range of things we teach, and I offered to teach a class called Getting Your Sh*t Together. They all laughed. Which was my first clue that the title said it all.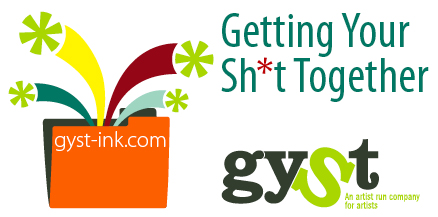 Getting Your Sh*t Together Banner

Since then, I not only created the syllabus for that class, but have also been teaching these skills out in the City of Los Angeles as well as across the country. I started a company called Getting Your Sh*t Together or GYST Ink, and began to offer practical information to artists. I used my own experiences as well as exhaustive research on just what artists needed to know, whether they were interested in galleries or a different kind of DIY type practice, or both.

So after many years, we are unleashing what we have learned on Huffington Post Arts. We are starting Ask GYST, a Dear Abby like column in which we answer your questions about anything related to an artists' career. Send your questions to karen@gyst-ink.com.