I decided to use Pinterest in a new way. I am creating lists of organizations that are helpful to artists, both locally in Los Angeles as well as nationally. Pinterest is all the rage this month, but it seems to be providing great results, especially for visual folks and artists who create visual images.
If you are not on my Pinterest list, this is why:
1. There are no large images on your website's front page that I can use to "pin" your site to my boards.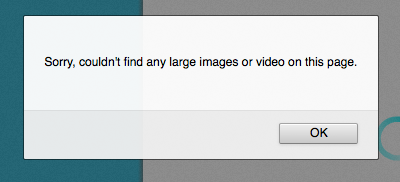 The dreaded dialog box that won't let you pin an image to Pinterest.
2. The image you have on your front page is not something that is connected directly to your organization. It might be an image from an exhibition or other project, but it makes more sense to choose an image that relates to your organization.
3. You don't have a website.
Here is how it works. Once you sign up for Pinterest, you can begin "pinning" an image to a "board." You can create your own "boards" and name them a category or topic. Then, when you create a "pin it" applet to your browser, you can "pin" any website to any board you create. You can also "re-pin" pins to other boards. Details are available on the site.
The problem I have encountered, is that while creating a list of all Arts Councils in the U.S. for instance, a number of websites could not be included because there was no "pinnable" image.
The same goes for artist websites. I suggest that every artist come up with an image that can be pinned to other folks boards, that works as a logo or studio sign that is not an artwork. Perhaps "Your Name Here Studio." This will alleviate any issues with others pining your artwork and copyright issues. That way, if others want to share your site, they don't have to worry about whether to use an image of your artwork or not, and folks can still find your site.
There has been a fair amount of chatter about copyright and Pinterests' policies, and they are responding to criticism. There are still a fair amount of kinks to work out, but it is still an interesting way to share information among us visual thinkers.
Other Boards on my Pinterest are:
Stuff for Artists
Artist Run Organizations in Greater Los Angeles
Artist Run Organizations in the USA
Artist Run Organizations: World View
Organizations Useful for Artists
Funding for Artists and Organizations
Arts Councils in the USA
Check it out at pinterest.com and include an image. My pinterest is at pinterest.com/gyst/
If your organization should be listed under one of these categories (it is a work in progress) please include the website in the comment section below and I will add you if it is appropriate.