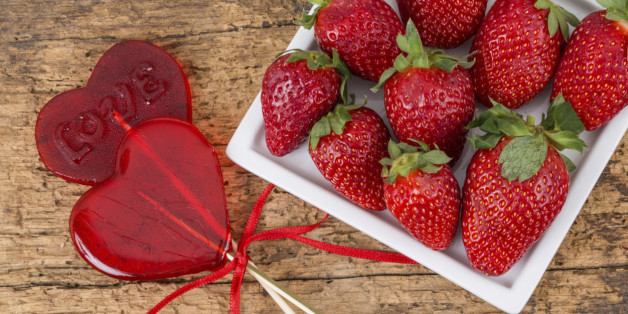 Valentine's Day may be a made-up holiday, but that doesn't mean we shouldn't take the opportunity to celebrate it, right? I mean flowers, champagne (Prosecco for me, thanks), cards from those I love and yummy treats? Yup, I'm in.
And although I'm actually the recipient of some of those treats, you can bet that I make plenty of them too. For me, baking is so many things, not the least of which is an expression of love.
Although I'm posting more recipes between now and the 14th, I thought I'd also do a recap of some that I've previously posted. I hope you'll try some. Well, actually I hope you'll try them all. From no-bake to baked, lighter to more decadent and everything in between, there's something here for everyone.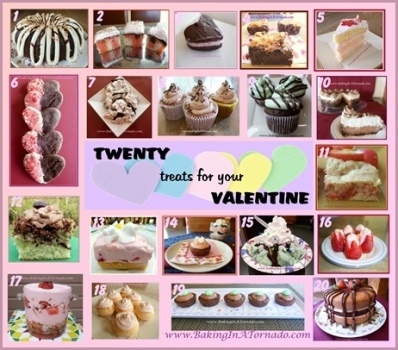 Find the recipes by clicking on the recipe name below:
1) Cream Cheese Toffee Cake: There's something about a dense chocolate cake that just epitomizes romance.
2) Chocolate Raspberry Cake Squares: This is my version of poke cake, squared (in more ways than one).
3) Dark Chocolate Raspberry Fudge: If you don't have a heart-shaped cookie cutter, these are just as delicious in small squares.
4) Butterfingers Brownies: Butterfingers and Brownies. Need I say more?
5) White Chocolate Peppermint Cake: This is a dense layer cake infused with alcohol, but I also include an alcohol-free option.
6) Red Hot Love Cookies: My newest creation. Add a little heat to your Valentine's Day celebration.
7) Peppermint Bark: A no-bake sweet for your sweetheart.
8) Chocolate Sponge-Cake Cupcakes: These are a little less dense, more like a sponge-cake, but all chocolate and full of flavor.
9) Chocolate Mint Cupcakes: I make a lot of chocolate and mint treats as that's a favorite in my house. These chocolate mint cupcakes are one of those delicious treats.
10) Double Chocolate Cheesecake Pie: Dark chocolate crust, dark chocolate cheesecake and a whipped cookies and cream layer. This recipe is decadent.
11) Fiery Apple Cookie Bars: A surprise ingredient makes these Apple Cookie Bars fiery. Can you guess what it is?
12) Love of Mint Cake: Another option for those chocolate and mint lovers. This one's sheet cake style.
13) Strawberry Lemonade Cheesecake Squares: A lemon cookie dough crust with a no-bake strawberry lemonade cheesecake topping. Perfect for any occasion.
14) Strawberry Cream Cookie Cups and Parfaits: This is two recipes in one. You can make the cookie cups and add the filling, and/or use the filling to make beautiful parfaits.
15) Homemade Hot Fudge: We make this all year round. Choose your ice cream flavor, trickle this warm fudge over the top and everyone gets to add their own toppings.
16) Cheesecake Filled Strawberries: Beautiful fresh strawberries are one of those classic Valentine's Day treats. Fill yours with this delicious no-bake cheesecake filling.
17) Angel Food Trifle: Light, airy and delicious. No bake, easy to put together and so beautiful to serve.
18) Lemonade Mini Cupcakes: I love these little mini pop-in-your-mouth sized cupcakes. The lemonade flavor is a refreshing surprise.
19) Mint Mousse Brownie Cups: Mini brownie cups with a mint mousse filling.
20) Chocolate Strawberry Brownie Cake: Two layers of strawberry cake with a brownie layer in between. This cake always impresses.
As always, if you try one of my recipes, you're welcome to share a picture of it on my Facebook page. Be sure to stop by my blog regularly from now through the 14th for more new recipes, both savory and sweet, perfect for sharing with those you love.
I hope your Valentine's Day is sweet.
This piece previously posted as Baking In A Tornado: Twenty Treats.
Karen is a former Director of Social Service and Retail Buyer, now adjusting to a semi-empty nest. She blogs and shares recipes at Baking In A Tornado.
Karen's been featured on websites including BlogHer, The Daily Meal, Mamapedia, Scary Mommy, GenerationFabulous,Treat a Day, Foodie Network, Wellnez TV, Midlife Boulevard and BA50. She's a BlogHer Influencer as well as a contributor to The Culinary Content Network and Felicity Huffman's What the Flicka. Karen has been published in the Life Well Blogged series and co-authored the book The Mother of all Meltdowns.
For updates, visit her blog and her Facebook community.