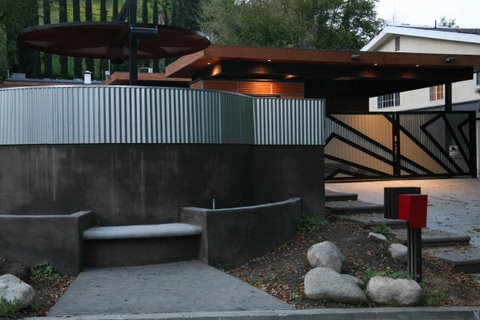 How often does a building designer get the opportunity to renovate his very first project forty-nine years later? For Bill Morrow, it was like stepping into a time machine, only this time with greater knowledge, a bigger budget, and more materials to work with.
It all started when artist/photographer Margot Mandel set out to hire an architect to remodel her mid-century home in Woodland Hills, L.A.. She had already interviewed four candidates and had given up on finding someone to carry out her vision when she remembered an incident from eighteen years earlier. A stranger stopped by the house and as she walked through the door, she said, "I know this house. I grew up here." She then relayed how her father, Bill Morrow, designed and built the home in 1961. A few days later, Bill Morrow dropped off his card.
After living in the home for twenty-one years, Mandel thought of it as "inhabitable sculpture" and held Bill Morrow in the highest regard. She realized that he would be the perfect designer to remodel her home. But what were the odds that she could reach him at the same phone number eighteen years later? And if she could, would he even be interested in the job? Miraculously, she found the card, dialed the number, and to her shock, Bill Morrow, now seventy three, picked up. She told him of her plans and Bill needed no convincing. Mandel's home was the first Bill had designed in his long career. He lived in it for eleven years and raised his family there. Morrow had agonized over every detail, "Do I set it back against the hill, in the middle or closer to the set-back line?" He explained. "49 years later, I know that I made the right choice: back against the hill."
The view of the home from the street is a symphony of geometric lines made of corrugated aluminum, steel and wood siding. You enter the home through a courtyard oasis with two fountains and a fire pit. The first pop of color that catches your eye is a red metal fountain. Further on is a mosaic fountain with 'Primary Pouf' seating from Design Within Reach in orange, red, and green.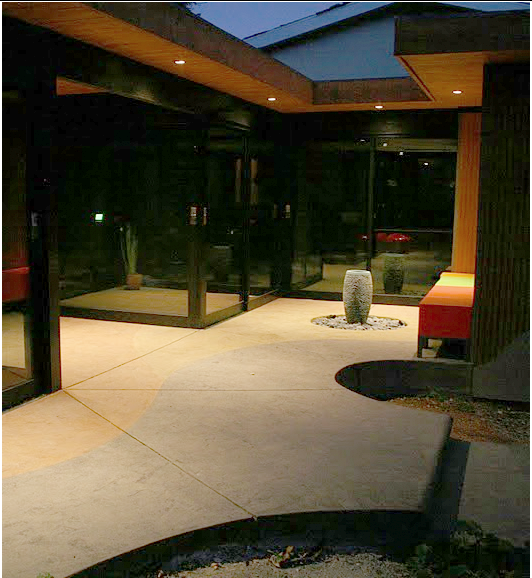 The interior has floor-to-ceiling sliding glass instead of conventional doors, which brings the outside in, and the inside out. The floor and courtyard blend seamlessly in complementary patterns of stained concrete and hickory pecan hardwood.
The living room offers a kaleidoscope of sculpture, art, Mandel's photography, and objects collected from her travels. In the entryway, a ceramic woman sculpted by Kina Crow, entitled "Like a Wet Red Stain," from a poem by Dorothy Parker. Further in, visitors encounter an installation piece where Mandel has dangled chopsticks from China over a map of cities she visited in 1994. Mandel's grandfather was a well-known sleight-of-hand magician and his magician's cups, now art, are displayed nearby.
The interior color scheme presented itself to Mandel when she stripped off four layers of hideous paint from the ceiling, and discovered a warm caramel colored wood. Various shades of caramel are punctuated by bursts of bright hues of red and orange. The colors are more subdued in the kitchen, with its gray concrete counter tops, a stainless steel refrigerator, and steel cabinet pulls designed by Mandel to emulate blobs of paint.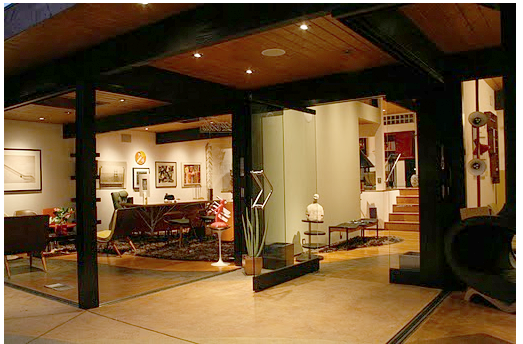 Mandel wanted a hanging fireplace to replicate the one that came with the house. She fell in love with a picture in a magazine and waited a year to have it shipped from France. It hangs from the master bedroom ceiling next to a corrugated cardboard chair by Frank Gehry.
The furniture is all authentic mid-century, which Mandel found on eBay. Keeping the home period correct was so important to Mandel that a friend likened her efforts to James Cameron's painstaking recreation of the Titanic. After looking at dozens of commercially available mailboxes, Mandel couldn't find one that suited her, so she designed her own, and put a small run of lipstick red mid-century-inspired mailboxes into production.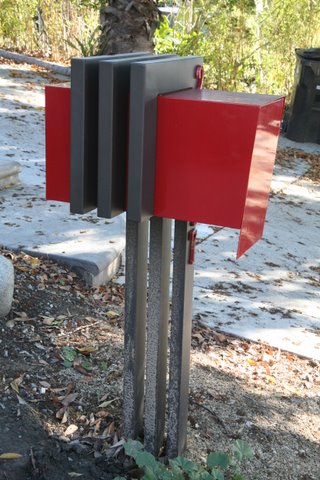 The completed project ended up being so much more than Mandel's original plan for hard-scaping the courtyard. She calls the final result a "perfect trine" between herself, Bill Morrow and the contractor, Bob Pagan, and the work they accomplished, nothing less than an art project.

More photos of the remodel can be found here here.