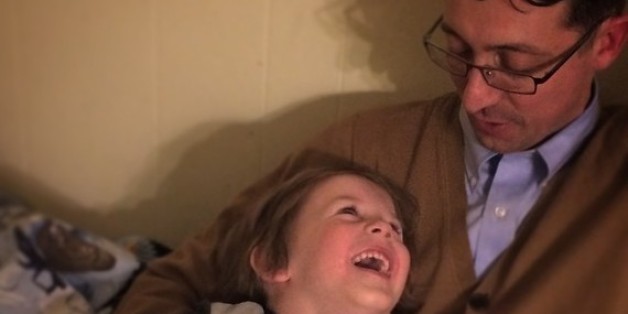 "Mom. Mom. Mom. I don't want to."
"Ok. How about I bribe you?" My patience had already evaporated, so I went straight for the truth as I dragged a brush through his hair, a complete waste of time performed every school morning to make me feel like a good mom. When he arrives at school, his hair is a snarled mess, no matter what it looks like as we walk out of the bathroom.
"What does bribe mean?"
"You do something I want and I'll do something you want."
"Can I have a Lego Minifigure?"
"Are you kidding me? For walking into the school by yourself one time? No way. You can have a marshmallow after school. But! If you walk into the school by yourself for the rest of the week you can have a Minifigure after school on Friday."
"Deal."
Every morning, a police car hides out in a driveway across from T's school. Every morning, it nabs one of the many cars that ignore the stop signs that flip open from the sides of the buses as the kids stream out of the doors. For some reason last Tuesday, the police car wasn't in the driveway, but rather parked on the street. I pulled behind it, hopped out and unbuckled T. As I heaved him out, he looked at me.
"I can't do this."
"Yup. You can."
His hand in mine, I looked both ways, hustled him across the street, gave him a quick kiss and told him to walk into school. The car was still running with C inside. I darted back across the street and turned to look for T.
He was like a statue, standing in the middle of the driveway where I left him. The temperature hadn't yet climbed above zero. He must have been shivering, but he stood like his feet were nailed to the ground.
"T! Go! Go into school!" I hollered across the road.
"No!"
"T! Go! You can do this!"
"I can't!"
"I am watching you! I will watch you the whole way! We will not leave until I see you get into the building! Go! You've got this!"
He had not moved an inch. He was so tiny.
"I'm shy! I can't because I'm shy!"
We were yelling across the road at each other as kids and their parents streamed by towards the school. The parents were kind enough to avert their eyes. I stood by the door of my car. My car that was illegally parked behind the police car. And I yelled at my kid to walk to school.
"Mom. I can't! I really can't! I'm too shy!"
I totally lost it. "IF I HAVE TO TURN OFF THIS CAR, THERE IS NO LEGO MINIFIGURE ON FRIDAY! THERE IS NO MARSHMALLOW AFTER SCHOOL! YOU GOT THAT? NOW WALK TO SCHOOL! WALK! GO!"
My tiny son turned around and trudged slowly towards the building. I slid behind the wheel and my throat burned as I watched his snail-paced trip to the side door, his little body bent over as his gaze never left his shoes. I felt like a monster. When he slipped inside the school, I started to cry as the mess of a scene played over in my head. Him standing stock still in the bitter cold, me yelling, him yelling, the cop car, the parents and kids watching the whole ridiculous performance. Suddenly, I was laughing as well as crying.
He earned the marshmallow. And the Minifigure. He also lost two of his two bottom teeth. It's been a week full of developmental leaps.
This morning, the cop car had already pulled over a stop sign runner by the time we arrived at school. I kissed T, grabbed his hand and started to run him across the street.
He shook me off halfway to the sidewalk. "Mom. I've got this." He trotted towards the school without a backwards glance. My throat burned again as I watched him.
Could I have handled the drop off last Tuesday better? Um, yes. In fact, it would be hard to come up with a scenario in which I handled it worse. But T needs a push to try new things. A week and a day later and he isn't just comfortable with the drop off, he is blasé about it. A week and a day later, and I'm the one struggling not to walk up to his teacher everyday at pickup to find out how he is doing and what I missed. A week and a day later, and I'm laughing at the person I was before parenthood. The one who would say, "I'll never be a helicopter mom!"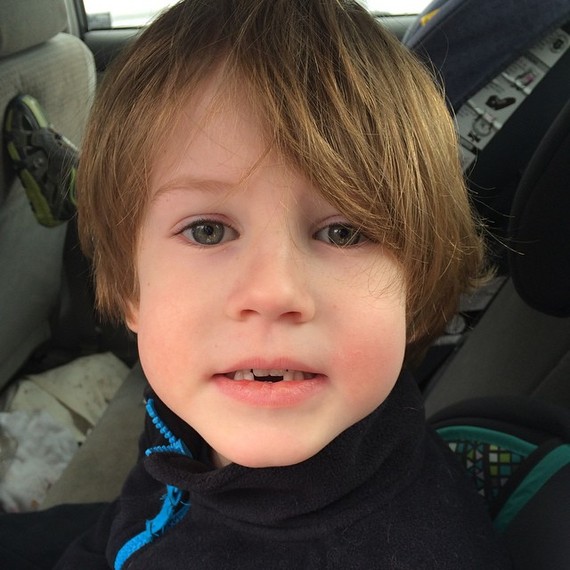 He is such a big kid.