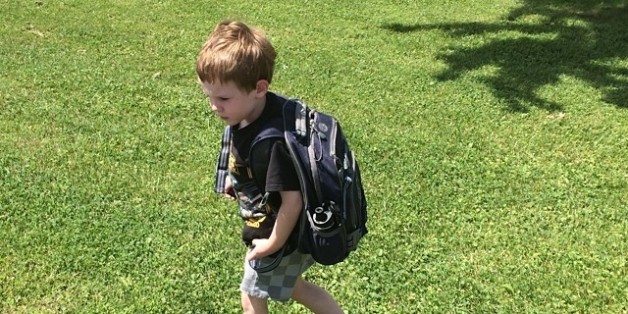 A year ago I watched the mother of one of T's classmates struggle with the reality that her child was leaving the comfort of our extraordinary preschool and moving on to kindergarten. The transition proved painful for both mother and child. I sympathized with my friend, but I did not understand her sadness. In fact, I told her it simply wouldn't be a big deal for T and me. She had the grace not to tell me I was full of sh*t.
I'm five years into this parenting gig and I still feel a twinge of annoyance when a more experienced parent tells me how my family will feel or act during an upcoming phase of development. We are different, I think, They don't know us. We are special. At the same time I cannot resist breaking it down for parents with kids younger than mine. I hear myself explaining what is coming and I hate myself for being that person... especially as I see the look on the face of whatever friend I'm speaking to. I can see what is running through their head, We are different. She doesn't know us. We are special.
At the beginning of last week I dropped the boys off at school and on my way out found this in T's mailbox: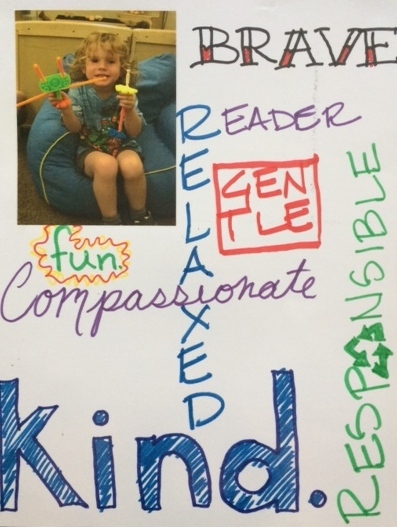 Last fall, we were asked to fill the paper with words that described who we hoped T would be as an adult.
Friday was the final day of school. During the week, laminated photos that decorated the boys' classrooms trickled home with them. But the little poster of our hopes for T was the first. I lifted it out of the mailbox and suddenly, my throat was burning and tears flooded my eyes. I made it to the car before the ugly crying began.
That friend of mine? I emailed her and confessed I was wrong last year. Both T and I were struggling with his upcoming transition to kindergarten. I asked for advice on how she got through it.
A year ago, I was so excited for the following fall I couldn't see straight. T would have the same teachers that he adored. C would be going to school as well. He threw a fit every single day of spring semester when we dropped T off because he wanted to stay. And the fact that I was going to have a couple of hours a day to myself helped tremendously. Our small transition included the loved and familiar for T, exactly what C needed developmentally, and a f*cking nice break for me. Life was great. Transitions were great. Why would kindergarten be any different?
Oh, pompous, naive, foolish Karen. When will you get over yourself and start actually listening to the more experienced parents?
The unknown is hard for both T and me. Watching his anxiety rise as he realized he wouldn't be able to bring his much-loved teachers with him to elementary school was heartbreaking. His fear is real and I ache for him. I'm also kind of furious that he growing up. His delicious little boy body is getting harder and harder to lift. His limbs dangle everywhere when he crawls into my lap. The last five years have been the fastest of my life and I know time will only continue to fly by with more speed. Even if I didn't believe it the first time a well meaning, experienced parent told me.