T was sitting alone on the side of the tennis court, legs and arms pretzeled together to make himself as small as possible. I walked onto the court with C's balance bike and passed Z. "He just said he failed," Z muttered to me. "Seriously?" my heart stuttered. I walked on a few steps towards C. "He said that exact word?" I called back over my shoulder. "Yes."
Z and I decided, oh ok... I decided that T wasn't allowed to ride his balance bike anymore. He had to practice with the two-wheeler or not ride at all. Trying new things is hard for him. He wants to get everything right the first time.
When he gets frustrated I remind him of the three things he needs to do in this life in order to make us proud. Three things. That is it. He must be kind. He must try hard. He must treat girls the same way he treats boys. He does those things and we will be proud of him no matter what.
I approached him. He turned his back. "I need some alone time." "Ok. You can have some alone time. Then we need to talk."
A few minutes later I led him off of the court. He chose to crawl under a towering pine, the lowest branches were high enough to form a private hideout as the boughs draped to the ground. "T. Look at me. You did not fail. Did you try?" He looked everywhere but at me. "Yes," he sighed in exasperation. "Listen, what will make your father and I proud? What three things?" He folded his arms and looked away and I repeated the three items. "You did it. You tried. So you didn't ride the bike on your own. So what? You aren't going to magically do it. Everything takes practice. It is because you tried that you didn't fail." He started to roll his eyes and caught himself. "Before we go home you have to try one more time. You can't leave here thinking you failed. Because the only way to fail is to not try." He stared at me. "I'll tell you what. You try again and I'll give you a marshmallow before lunch." He perked up. "How about five marshmallows? Because I'm five." "How about one marshmallow... and five mini M&Ms." "Yes."
He did try. He didn't learn to ride a two-wheeler today, but he tried. And Z and I were proud of him.
He's off to kindergarten tomorrow, which colored the whole bike conversation.
He's off to kindergarten and I will not be there to talk to him in the shade of a grand pine tree. I will not be able to encourage him and support him in the moments when he feels like he has failed. Or when he is scared. Or when he is hurt. Tomorrow is one of the many small separations that will continue until he is his own man. That trajectory is right, it is what we all want for our children. But the selfish part of me is mourning. It doesn't want to let him go. Or expose him to the cruelty of the world.
I've been wallowing today. Head bent, I wept in the car before pulling myself together to head into Wegman's. This afternoon my heaving sobs drew Z to the kitchen as I swept the floor. In a sabotaging act of indulgence I've been listening to This Woman's Work by Kate Bush on repeat. Hell, I've even been watching the damn scene in She's Having a Baby where it is used.
He needs to grow up. I need to grow up. My heart is breaking.
This evening we talked about failing again. I changed tactics. "It's ok to fail, you know." I told him after he brushed his teeth before bed. "I fail all the time." "Really?" he asked doubtfully. "You fail?" I laughed. And appreciated his confidence in me. "Oh baby, I fail every day. I fail many times every day." "How?" "Well, every time I get mad at you and yell. Daddy fails too, when he gets mad and yells." He looked thoughtful. "You know what? Nothing new is created without failure. People fail and fail until they get it right. Nothing good happens without putting yourself out there and failing."
So I was giving him the opposite message that I did in the morning. Well, I failed during that conversation and was trying to get it right.
"A couple of years ago we got Daddy's car. Do you know it is different from Mommy's car and I didn't know how to drive it? I had to learn. And I failed and I failed. Do you know how long it took me to learn?" "No." "More than a year! Can you believe it?" "How is it different?"
Ok. Maybe he didn't get the message tonight. But Z and I will continue to have the conversation with him.
Tomorrow is a day when T and I let go of each other a little. It is also a day of excitement and adventure. I am proud of my small man. He is trying to figure out his place in this tricky world. I am trying to figure out how to be there to catch him when he stumbles while also giving him room to grow.
I just pray I make it back to the car after dropping him off before my tears come.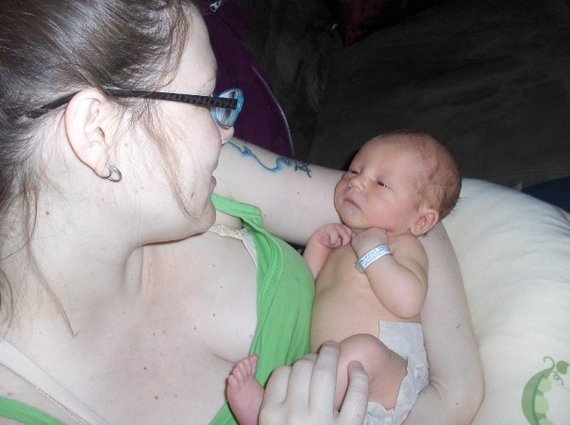 The shortest and longest and best and hardest five years of my life.