In O-Pioneers! James Thurber described the 1947 Writers Guild Strike. Writers were requesting reasonable rights and a "General Area of Dignity."
If a general area of dignity is on the table this time, writers may be waiting for awhile. So here's my production note to studio chiefs in the meantime - come film New Orleans' alternate reality and then give your writers a piece of the new media pie.
Use the crew laid off from K-Ville and drive every production trailer in L.A. down to the Hollywood of the South. The New Orleans reality show angle is nothing new, Extreme Makeover Home Edition took up the gauntlet early on, but try getting a moldy, rusted 1967 Galaxie 500 onto Pimp My Ride these days. You can't.
Why New Orleans? It's inhabited by the most entertaining Americans in the history of broadcast television. They're as unscripted as it gets. If you're funny and you're not in New Orleans yet, you will be. Home of choice for Harry Shearer and Tennessee Williams, it's the home by birth of John Kennedy Toole and Richard Simmons. Two of the four are dead but no one is ever really gone from our cultural landscape. We Put the Fun Back in Funeral is a popular bumper sticker.

Working Titles:
I Can't Believe My Wardrobe Was Replaced on Reality Television then Lost to a Hurricane. That one's for my friend Jen, an environmentalist whose clothes were upgraded on What Not To Wear, then lost to What's Covered in Mold. She moved to Wyoming after the storm and would now be an excellent guest on How Do I Look?
Extreme OverHaulin Against All Reason. Bartender J.T. Nesbitt and Andy Overslaugh tricked out a flood damaged '98 Lincoln Mark VIII and drove it from New Orleans to the Bonneville Salt Flats. Then they entered the Stinkin Linkin in this year's World of Speed time trials. Despite losing the race, they came home an inspiration for large gestures during hard times.

Home Rebuilding Shopping Channel. Bring the Crew to load up on messenger bags at the new Saving NOLA Store in Jax Brewery. Global Green (Eco Home at the end of this post); Habitat for Humanity; the New Orleans Musicians Relief Fund; and Drew Dat (Saint Drew Brees' children's charity) merchandise lines the shelves. Save NOLA Now has already raised enough to build a home in the Musicians Village, so shop off your guilt over firing Jay Leno's staff.

Extreme Makeover, City Edition. This can fill the gap in television programming. Nielson families will flip like it's any other infomercial, but the devastated Gulf Coast will be on the next channel. And the next. And the next. And the next. Until finally viewers pull an Ebeneezer just in time for the holidays and New Orleans gets its goddamned metaphorical giant goose.
You Can Put Birds in Other Birds. Which we will then fry, stuffed with a duck stuffed with a chicken. It's called turducken and don't knock it until you've eaten three birds in one. There will need to be music for the runaway cooking show hit, Birds inside Several Other Birds.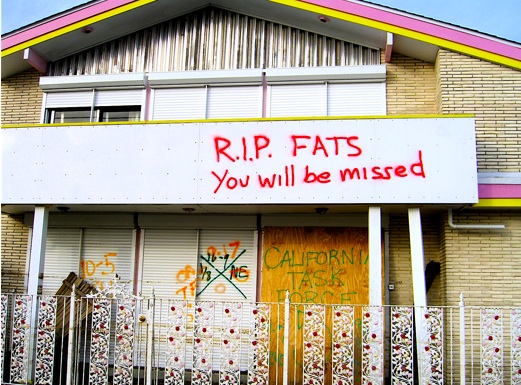 Grafitti on Fats Domino Home After the Levee Break
Total Legend Request Live.
Rumors of Fats Domino's death were greatly exaggerated when fans spray painted R.I.P. Fats on his house, which must have shocked the hell out of him when he got home. He was just on The Today Show promoting the Tipitina's Foundation, which rebuilt his house. My husband dimly recalls Fats' sons offering a silver dollar from the piano room wall of coins, back when he was playing in their Bourbon Street band.
Cosimo Matassa, Wardell Quezergue, Dave Bartholomew and Smokey Johnson are all vital parts of the early rock and roll constellation, and each of them deserve a reality show as much as Ozzie Osborne. Fats would have had another closeup on The Late Show with David Letterman , if not for the strike.
As Turber described 60 years ago, networks eventually entered into negotiations with the radio writers and the guild won most of its demands. This is my modest proposal for each studio executive to combine a general area of dignity with a turducken in every pot in time for the Scrooged! season.
Or the ghost of Norman Mailer just may haunt you.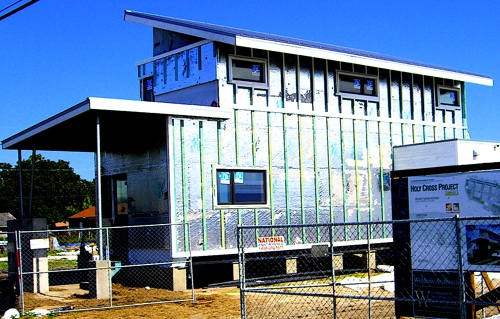 Global Green's Holy Cross Project coming up in the 9th Ward
Read more about the strike on the Huffington Post's writers' strike page.