If Jerome Kerviel didn't steal billions, he is now the Mrs. O'Leary's Cow of the subprime mortgage market.
In the interest of full disclosure, before Hurricane Katrina I had a clerical position with subprime mortgage advisors. By day I typed and answered the phone and by night I worked on freelance writing. Just putting it out there so that unlike Kerviel, I'm never charged with a market plunge.
The New York Times said that Kreviel's:
. . . less-than-impressive persona has led to doubts that he could be the sole culprit in the bank's enormous losses. Despite a lack of evidence, some financial experts, especially in France, have suggested that Mr. Kerviel might be a scapegoat for other losses incurred by Societe Generale, some perhaps related to subprime mortgages.
Davos echoed the same theory.
Not only has the market learned that buying mountains of subprime debt will bite you in the ass, but nations like Dubai seem to be purchasing our marker. If we have learned anything from James Bond movies, it's that anyone who can build an island out of sand with the best technology in the world is worth keeping an eye on. (For those who agree that it's a James Bond World, Credo Mobile and Working Assets have introduced a phone guaranteed not to spy on you.)
Back in New Orleans, I quit my job for a new one days before the levees imploded and years before many of our clients went bankrupt. The new job didn't take as we had to move halfway across the country. It was surreal to evacuate with a journal signed by thoughtful coworkers. My former boss is still thoughtful. She handled the title transfer for a van the New Orleans Musicians Relief Fund donated to a brass band leader. Then the vehicle was stolen. New Orleans crime has spread to the suburbs which is more bad news for those commuting in to perform for a dwindling number of tourists.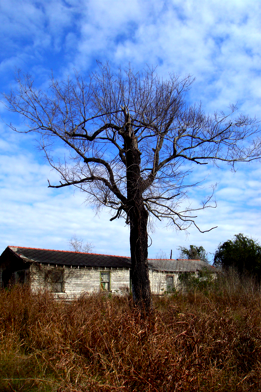 As global economic plate tectonics shift, subprime home foreclosures, job losses and the coming recession may unfortunately bring the New Orleans refugee experience to the rest of the country. I would like to reclaim the word refugee in America because that's how it still feels. My high school team was called The Orphans and we did pretty well.
Aside from valiant rebuilding efforts by Making it Right, Global Green and the Habitat for Humanity Musicians Village, in much of the 9th Ward grass is now as tall as corn. The sound of wind in the weeds is familiar because I'm displaced in a prairie state.
To spur recovery while it's still possible, the Robert F. Kennedy Memorial Center for Human Rights and ACORN Louisiana are promoting the Gulf Coast Civic Works Act, a bill to let communities reeling from the levee failures and hurricanes decide what infrastructure they need to rebuild, create jobs for local residents and bring the displaced home.
GCWA's goals include:
Creating 100,000 living wage jobs and training opportunities;

Rebuilding schools, police and fire stations, hospitals and flood protection and restoring the wetlands; and

Helping displaced families to return home and participate in rebuilding.
Anyone interested in recovery should ask presidential candidates whether they support the Gulf Coast Civil Works Act for the few remaining interactive debates. While they're still taking our questions.