The following piece was produced by HuffPost's OffTheBus.
As Oprah Winfrey takes her Barack Obama support on the road, the celebrity currently courting 2008 candidates' involvement in New Orleans recovery is Brad Pitt. When pressed on tonight's Larry King Live for a presidential endorsement, Pit said:
"I'm still . . . I still . . . I lean . . . I'm still listening."
Being from the Show Me State of Missiouri and a part-time New Orleans resident, Pitt seems to be waiting to see how important the city becomes for each candidate before issuing an official endorsement.
Democratic frontrunners including Obama and John Edwards have swung hammers at the Habitat for Humanity Musicians Village, the brainchild of Harry Connick, Jr. and Branford Marsalis. On tonight's show, King let his guest know that Hillary Clinton planned to back Make It Right's 9th Ward program. With the Bush-Clinton Katrina Fund a major sponsor of Make It Right, that's no great surprise.
Pitt said he was thankful for any candidate's involvement in New Orleans, and added that Make it Right has support from Barack Obama's camp as well.
"I hope it is one of the major issues in this campaign. I hope it's used not so much as a whipping stick for the past administration but really used as a proving ground."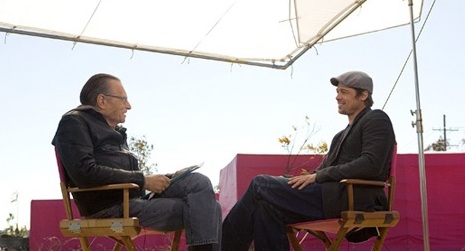 King followed up by asking Pitt,
"Would you ask the President for help?"
The answer was: "Absolutely."
According to Make it Right, 27 of the 150 homes have already been sponsored. For each $150,000 donated, one of the pink-wrapped houses in the art instillation will be replaced by a real one.
"We can get this place rebuilt if support just keeps coming so I hope at some point there's more federal support for a campaign like this," Pitt said.
Sounding at times like Grandpa Larry asking why you give your kids such weird names, which was an actual question, King gamely peered into devastated 9th Ward homes with Pitt, bringing that image back into the lives of CNN viewers who may not have New Orleans at the top of their presidential priority list two years after Hurricane Katrina.
Last week, Michelle Krupa of the New Orleans Times-Picayune quoted Pitt saying he wants all 2008 candidates to directly address the ongoing struggle of hurricane victims across the Gulf Coast.
"I would challenge all the candidates to focus on what's going on down here, what's not going on here," Pitt told Krupa. "We're going to build some houses here, but there are bigger issues that need to get answered here, such as education and health. These need to be major factors of the campaign. My point is: If you can't get it right down here, you're not getting it right anywhere. This is the place to do it, and there's definitely a need for it right now."
For any candidate who can bring comprehensive rebuilding plans to the table, hundreds of thousands of displaced New Orleaneans are still listening.
Photo from Make it Right