Locked Down, the new Dr. John (aka Mac Rebennack) album [Update: it Won the 2013 Grammy for Best Blues Album], has a new sound but the energy reminds me of his early '70s recordings at Trident Studio in London. At the time, Mac was working songs with a bombastic horn section, slamming backup choir and sidemen Eric Clapton and Mick Jagger. The Trident sound worked its way into The Sun, Moon & Herbs with mysticism and general badassery. Though the Trident tapes were never released, the sound also worked its way into some early Rolling Stones albums, because if Adam Levine moves like Jagger, then Mick Jagger moves like Dr. John.
Forty years after those tapes were locked down, Dan Auerbach of The Black Keys brought an inspired new project to a Nashville studio. Locked Down, released today, is pulling in rave reviews from critics at the New York Times, the Guardian, LA Times, Paste, NPR and Rolling Stone. I'm sure Dr. John would appreciate it if his fans purchased the song rather than stream it, as per Auerbach's recent comments. It's available on Nonesuch in a 10 song download with a digital booklet; as a CD or in classic vinyl.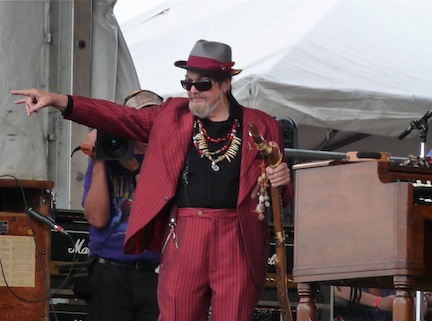 Locked Down: "Don't point no finger at me like you do. Three of them is pointing back at you." Mac has worked with programs helping prisoners find a second chance when they're released. After his own incarceration, he was officially invited to leave the city of New Orleans. Mac Rebennack took up session work in Los Angeles, working with everyone from Sonny and Cher to John Lennon. His persona, Dr. John, eventually came back home a local hero. In Locked Down, Mac describes what it means to be on the edge and in desperate need of a helping hand. "Like a cornered rat / What y'all know about that?"
* * * * * *
Revolution: "Blind eyes of justice / Deaf ears of power" Katrina levee breaks and the clusterfuckery that followed inspired Dr. John's Grammy winning album City That Care Forgot. Two years ago, the oil spill had him equally enraged and it shows in the lyrics to Revolution (clip from Late Night With Jimmy Fallon above). Shortly after the spill, Mac spoke at an environmental rally on the banks of the Mississippi and afterwards I remember a BBC reporter telling him, ""But you can't be mad at Britain for this." They had an enthusiastic talk in which he enunciated, BRITISH Petroleum. She may have foregone her citizenship, I never checked. "Let's all just pray on it right now."
* * * * * *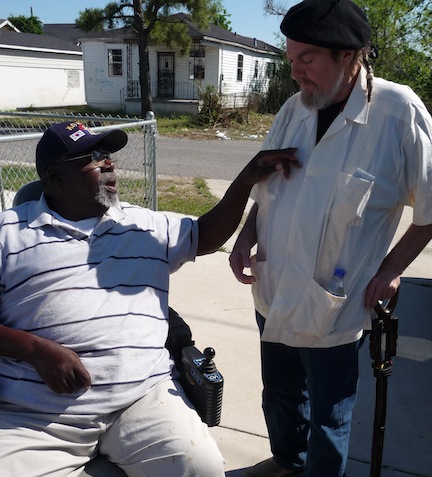 Big Shot: Big Shot rolls with the line, "Ratty second line." Fats Domino's longtime drummer Smokey Johnson (pictured above with Mac) came up with Ratty Number Nine, the second line groove that rolls through New Orleans. And Mac is its Big Shot. As @akadrjohn he's verified, bonafide and tweeting up a storm. This weekend he played the NCAA Big Dance concert along the Mississippi River the day after The Black Keys, and tonight he plays on Jimmy Fallon's show. Questo of The Roots tweeted his compliments to Locked Down and the Big Shot shot back his thanks. "Never been done like I can. Ain't never gonna be done again."
* * * * * *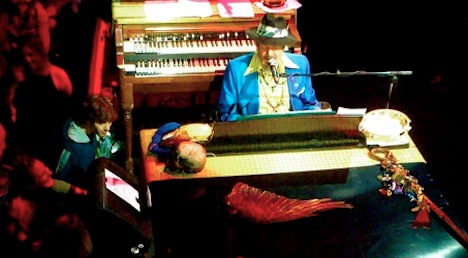 Ice Age"Ain't no age of innocense, ladies and gents." Ice Age addresses the overall fuckupedness of modern American life. "KKK CIA all playin in the same game. Livin in the ice age. You losing jobs, start losing hope using dope / Now you're hanging at the end of a rope." Mac has been clean for 21 years, and celebrates his re-birthday as more of a birthday than the day he was born. The song flashes back to living through desperate days. Mac attends NA meetings as often as he can, showing that it's possible to not only survive, but thrive.
* * * * * *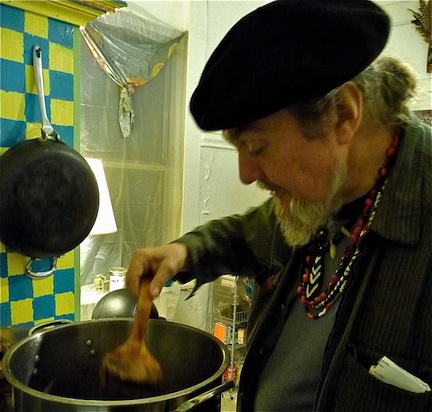 Getaway: The darkly wistful "Will I ever see you again?" describes: "They tried to break us. All we do is bend. A love that will never end." Auerbach kicks in a monster solo beyond what you'd hear on a standard top 40 love song. But these are structurally tight songs, no matter how scorching the instrumentals jams.
* * * * * *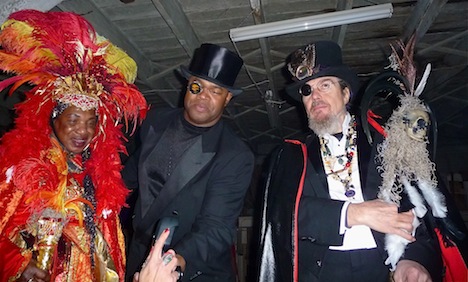 Kingdom of Izzness: "History's a mystery of the chosen few... The world is lost. It's everybody's business in the Kingdom of Izzness." The song is nothing if not existential. The reading around our house included Sartre's philosophy, and Mac talked of hanging out with William S. Burroughs back in the game. With as much critical acclaim as Locked Down is receiving his lyrics will be parsed. And with the twists and turns in the life that led to each track, it's worth the effort. (Pictured above with Mac, Sunpie Barnes and Mother Miriam).
* * * * * *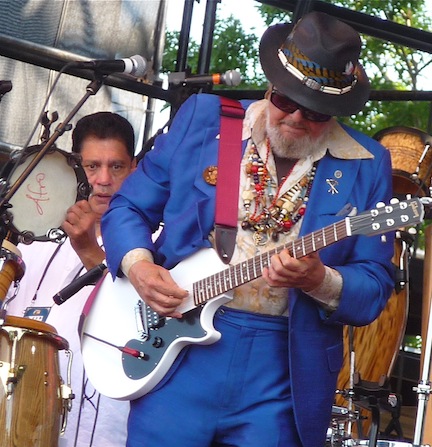 You Lie: "High priced lying, nosy prying." Mac can hold a righteous grudge longer than anyone I know, now that my mother is gone. Decades ago he was fined by a union in New Orleans for having African American members in his band. There's an integrated union now, but Mac sent in a miniscule amount of the fine every year to remind them of the rule that was once on the books. When something is wrong, he's very good at pointing it out until the end of days.

* * * * * *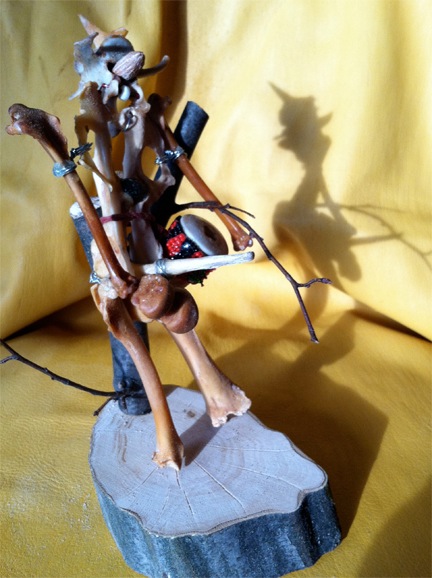 (Papa Leggba photo above by Mz Imani)
Eleggua: This track lists Loa Gods, spinning them into a poem. Mac was born in the right place for a religion that reaches back to African ancients. From personal experience the blessings from his alter work, and they work fast. Mac has worked with sculptor and friend Bellavia to create a series of Orisha gris gris dolls for an auction to help bring a circle of Native American Grandmothers to Louisiana in a Soul Fire blessing of the waters this month. The week-long ceremony culminates in New Orleans on April 20, the Gulf oil spill anniversary. Turtle Women Rising are facilitating the Grandmothers' travel and the Orisha auction.
* * * * * *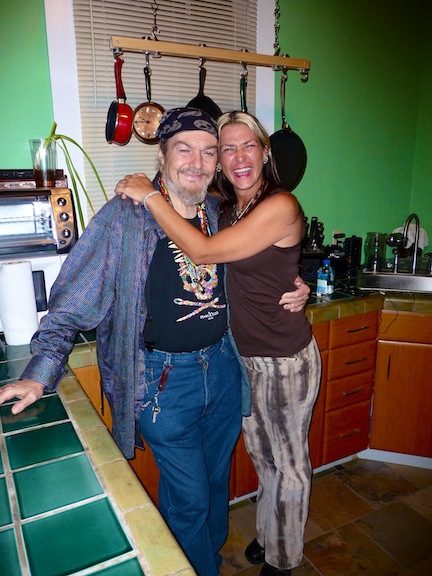 My Children, My Angels: "I love y'all. Ain't nothing you can do about it." It's fitting that Mac's granddaughter and assistant on the road Stephanie introduced him to the music of The Black Keys well before Auerbach sought him out. Family and forgiveness are an increasingly deep part of the flow of his life. One of his angels, Tatiana, pictured above. Mac has lived hard, and is experiencing the regrets that spring from that life. In this song, he's giving unconditional love and offering up his life experience as a cautionary tale. "My babies I wish I never made you blue. My children, my Angels, I'm talking to you."
* * * * * *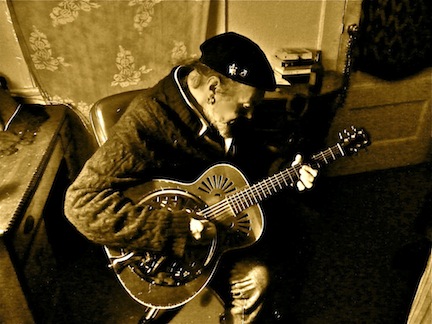 God's Sure Good: "God's been good to me. Better than I've been to myself. Saved my soul when it's all I had to sell." The final track in Locked Down reminds me of lyricist Bobby Charles and his calls with Mac that rolled on for hours as they talked about lyrics and life. It also brings to mind his brilliant composer friend Wardell Quezergue. Wardell was blind, but had a way of lifting up his chin and glowing at you. As Dr. John's collaborators leave the meat world, I'm guessing that they are whispering into Mac's ear from the Spirit Kingdom. He translates it beautifully.
* * * * * *
Photos by Jeff Beninato with lagniappe image: Bella's Chicken Paw Gumbo